Langley City
Langley City Hall is located at 112 Second Street, Langley, WA 98260.
Phone: 360-221-4246.
---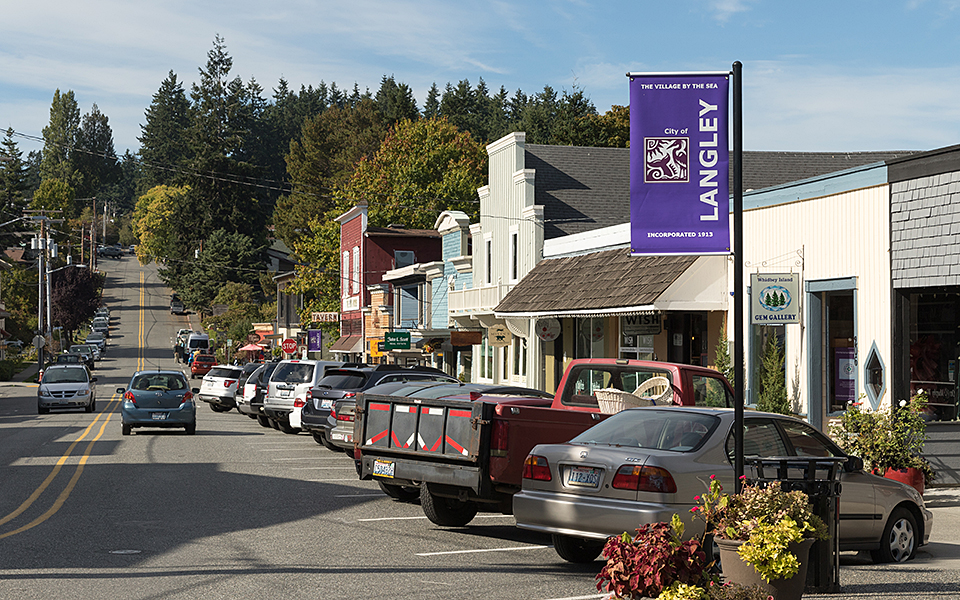 ---
Neighborhoods
Langley [†] nestles on the northeast coast of the southern part of Whidbey Island. Here, protected from storms, it became South Whidbey's main port and town, from its founding in 1891 and into the early 1900s, when transportation around Whidbey Island was primarily by water. It was incorporated in 1913 and is still the only incorporated town on South Whidbey. However, as the 20th century moved forward, the focus of transportation shifted from the water to the highway, and the main highway for Whidbey Island developed along the route now known as SR 525 and SR 20. In 1929 the passenger ferry serving South Whidbey shifted from Langley to Clinton, where today Washington State's vehicle and passenger ferry continues to land. No longer on the main transportation route, Langley nevertheless continued as South Whidbey's commercial center well into the late 20th century.
Langley's success today is both in spite of and because of being off the highway. Important for its success is that it is a beautiful town in a beautiful natural setting, surrounded by forests, on the shore of the Saratoga Passage, and looking east and north to the North Cascades and Camano Island. Being off the highway has fostered a quieter pace and the retention of important parts of its almost 120-year history.
† City of Langley Comprehensive Plan, 2018, www.langleywa.org, accessed August, 2022.
---