Mid-Century Modern Historic District
Post Office: Norwich
Zip Code: 05055
---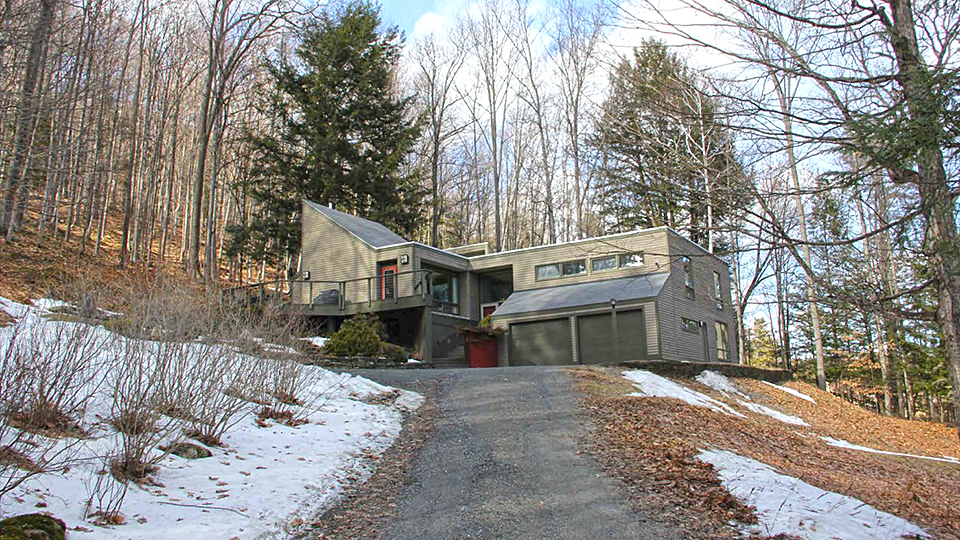 Photo: Brown House, circa 1974, located at 91 Spring Pond Road in the Mid-Century Historic District, Norwich. The District was listed on the National Register of Historic Places in 2018. Photo by Lyssa Papazian, 2017, author of the nomination document, accessed April, 2023.
---
Description
The cluster of modernist homes on Spring Pond Road, Pine Tree Road and a portion of Hopson Road form a neighborhood dominated by architect-designed houses that embody the modern architectural and design trends of mid-20th century America. The neighborhood historic district is defined by three subdivisions that created two new roads and over a dozen home lots. It is located on the outskirts of Norwich village, the commercial, residential, and municipal center of the town, on a rise about a mile west of Main Street. The area in which the historic district is located is rural/residential in character with single family houses on large lots. Many of the houses in the historic district were sited to take advantage of long views to the east of the small valley where the village center lies. In contrast to the traditional, older village center1 and other residential neighborhoods of Norwich, the homes of the Mid-Century Modern Historic District† are distinctly different in style, massing and materials, using flat, shed or low sloped roofs, long lines of ribbon and picture windows, massive stone and brick elements to accent the many flat, plywood or flush board walls, one and two story distinct geometric blocks for massing, and rugged siting, using the hills to maximize the views from upper levels. Overall, the historic district has very good integrity of location, design, setting, feeling, and association and retain sufficient levels of integrity of materials and workmanship.
The houses located within the historic district feature a variety of both traditional and 20th century materials, including a great deal of glass, plywood, flush board, wide weatherboard, and paneled vertical board siding in redwood, cedar, mahogany or other non-native woods, brick and native stone, and membrane and asphalt roofs. The distinctive design features found throughout the district of the Mid-Century Modern and Wrightian styles include flat roofs, ship's prow and long, low gable roof; shed roofs; stone and wood contrasting elements; interior/exterior blending through window walls; interior courtyards; use of brick with stylized mortar and bonding; decorative use of stone elements; brick and wood contrasting elements; use of decks and cantilevers; the dramatic use of a steep site and ledge; use of water features; and the use of modern-style window configurations throughout. The windows and some materials on several homes have been replaced in‑kind or with compatible windows or materials consistent with the style. The overall massing of most homes is intact, though several have additions that are skillfully done to be compatible to the original design.
Significance
The Norwich Mid-Century Modern Historic District is architecturally significant as a cohesive collection of high‑style modern movement homes designed in the Wrightian and Mid-Century Modern styles. It is one of the best concentrated collections of these styles in Vermont, where Mid-Century Modern residential architecture is not common. The homes of the district reflect the academic influence of nearby Dartmouth College where architecture was taught by some of the early practitioners of modern design. Norwich also attracted residents from New York and Boston bringing their own stylistic influences. Many of the distinctive new homes were commissioned or bought by Dartmouth alumni, faculty and administrators. The neighborhood included a world-famous artist, a major American collector of abstract art, and one of the architects themselves. This historic district is remarkably cohesive as a planned residential neighborhood and is significant on the local level. The homes were developed on three subdivisions between 1940 and 1974, the period of significance. The developments included the creation of the new roads Pine Tree and Spring Pond. The subdivisions had restrictions that determined their character or were sold with homes already built which set the architectural tone of the neighborhood. Two of the developers lived adjacent to the new roads and so were personally invested in their look and character.
Dr. George Lord and his family moved to Hopson Road in 1940 - around the time Paul and Sylvia Sample did. They each bought large parcels of land in 1938-39 — possibly carved out of the historic farm on the corner of Elm and Hopson — and built new houses. The Lord house was on the west side of Hopson (now 186 Hopson) and the Sample house and separate studio and barn were across the road on the east side of Hopson 163 & 149 respectively). Both Lord and Sample taught at Dartmouth. Dr. Lord was a professor of surgery at the medical school and Paul Sample taught art and was the artist in residence at the college.
In 1951, Keith & Edna Warner, of Ft. Lauderdale (formerly of Gloversville, NY), bought two large parcels of land on both sides of Hopson Road north of the Lord and Sample properties. Keith Warner had owned a glove factory in New York State with a showroom in New York City and was a major collector of abstract art. They retired to Fort Lauderdale in the mid-1940s but didn't care for life there. They moved instead to Norwich in 1952 because of the vibrant university community, rich arts scene and beautiful landscape. They used Fort Lauderdale Florida architect, Charles Foster McKirahan, to design a home there. In 1952, the Warners built their own modernist house at 96 Hopson and one next door at 112 Hopson. They moved to Norwich and continued to build new modernist homes on lots they subdivided from their large parcels, laying out Pine Tree Road in the process. By 1955, they had built 27 Hillside Road and 60 Pine Tree. By 1956 they had built 24 and 48 Pine Tree Road. These homes were sold shortly after construction to Dartmouth connected families. Professor of Finance at Tuck School, John Griswold bought 112 Hopson. Alumnus and music professor Frederick Sternfeld bought 27 Hillside Road. Alumnus and sociology professor, Francis Merrill bought 24 Pine Tree. Physics professor, Francis Sears bought 48 Pine Tree. In 1956, the Warners sold a parcel of land across Pine Tree from the three modernist homes to a Dartmouth alumnus, Stephen Tenney who was working at the Medical School. Tenney built 21 Pine Tree, a modern but more conventional home than those built by the Warners. In 1958, the Warners sold the last parcel on Pine tree to a Dartmouth administrator, Stephen Welch, who built 70 Pine Tree. The meadow across Hopson Road from the Warner's home was preserved as open land. Keith Warner died in 1959 and the house was sold by his widow in 1963.
Perhaps prompted by the sudden development of the neighborhood by Warner in the early 1950s, Paul and Sylvia Sample had a new modernist house built for themselves on McKenna Road. They sold parcels of land in the Pine Tree Road/Hopson Road neighborhood starting in 1960 and by 1963 sold their former house and studio. In 1960 the parcel across Hopson from the Sample house was sold to the McGeans who built a new house designed by G. Brooke Fleck in 1962 (now #6/7 Pine Tree). In 1962 the Samples sold another large parcel across Hopson to the Gardners who built a new house designed by Allan Gelbin in 1965 (now #16/107 Spring Pond Road). The Silverts, who bought the Sample house and studio in 1963, may have renovated it as the style is more consistent with the mid-century modernism of the neighborhood than the 1940 period.
The Lords moved away from Norwich by the late 1950s. George Lord had filed a subdivision plan for the large property that was updated in 1959 and lots were sold in the 1960s on what became Spring Pond Road which surrounded the small pond there. After the two houses on Sample land – McGean and Gardner off of Pine Tree, the shared driveway became a shared private road. One Lord parcel was sold in 1959, to the Johnsons who built their modernist Deck House bordering the pond on the west (now #14/86 Spring Pond). A last piece of Sample/Gardner land was sold to architect Allan Gelbin in the early 1970s and he designed and built his own Wrightian house there in 1973 (now #13/23 Spring Pond Road.) The last Lord parcel was sold in about 1970 to the Browns who built their modernist house designed by Fleck and Lewis in 1974 (now #15/91 Spring Pond). The Lord and Gardner parcels had deed restrictions that described shared rights of way and pond access as well as set a minimum value for the new homes.
†Lyssa Papazian, Historic Preservation Consultant, Town of Norwich/Norwich Historic Preservation Commission, Norwich Mid-Century Modern Historic Distrcit, nomination document, 2017, National Register of Historic Places, Washington, D.C.
Street Names
Hopson Road • Pine Tree Road • Spring Pond Road
---