Brattleboro Town
Brattleboro Town Hall is located at 230 Main Street, Brattleboro VT 05301.
Phone: 802‑251‑8151.
---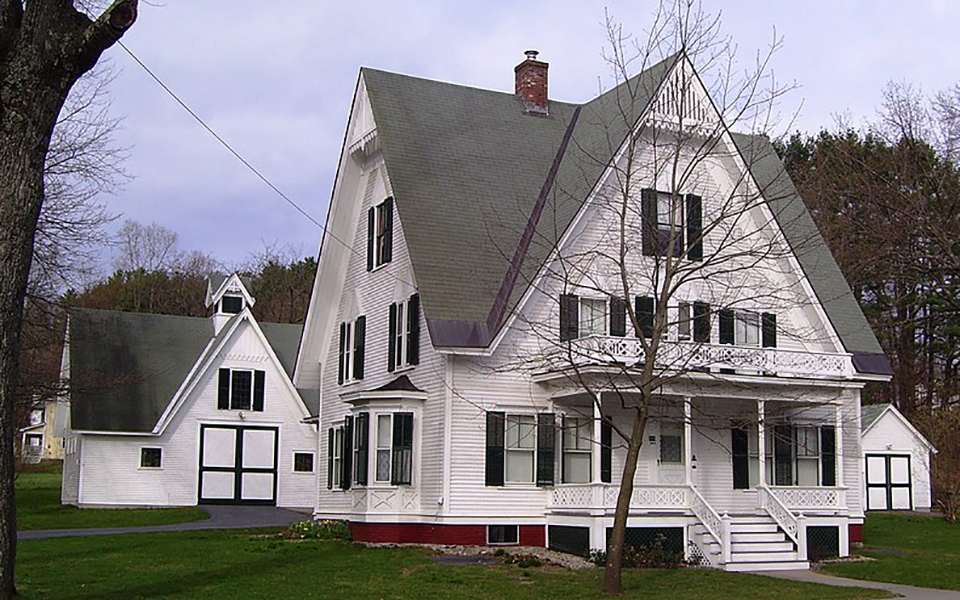 Photo: Lewis Grout House, circa 1880, located at 382 Western Avenue, Brattleboro. Listed on the National Register of Historic Places in 1996. Photographed by User: Beyond My Ken (own work), 2012, [cc-4.0], via Wikimedia Commons, accessed November, 2021.
---
Neighborhoods
Brattleboro
West Brattleboro
Beginnings [1]
Originally a part of New Hampshire, the Town of Brattleboro was chartered by the Governor of New Hampshire in 1753 to Colonel William Brattle of Cambridge, Massachusetts, along with some associated. It was named Brattleborough for the Colonel, whose name appeared first among the grantees.
One of the first to settle outside of Fort Dummer, was Benjamin Moor, in 1757. He was killed by Indians in 1758, and his wife and children carried captive to Canada. In 1760 they were freed by Captain Peter Schuyer. Colonel Josiah Willard gave a lot of 50 acres, in 1763, to Mrs. Moor.
Colonel John Sargent, son of Lieutenant John Sargent, began a settlement in Brattleboro in 1763. That same year, John Arms established a tavern which continued in operation after his death in 1770, run by his widow Susanna and his son, Josiah.
For a long time New York and Vermont battled over claims for the territory. It wasn't until 1784 that disturbances settled and last of the people favoring New York authority conceded, and Vermont prevailed.
Reverend Lewis Grout, A Monograph on The Origin and Early Life of Brattleboro, Press of E. L. Hindreth & Co., Brattleboro, 1899.
---