Front Royal Town
Front Royal Town Hall is located at 16 North Royal Avenue, Front Royal VA 22630; business office: 540‑635‑7799.
---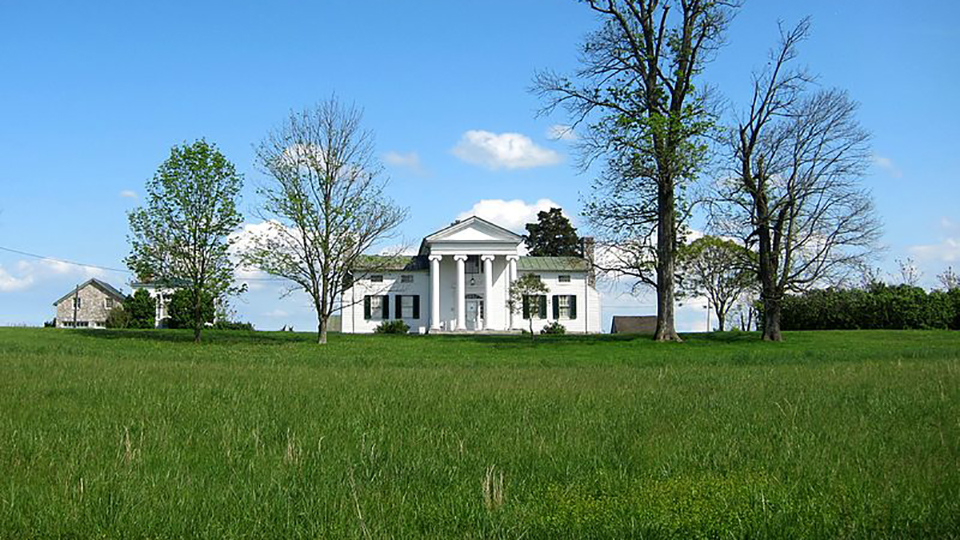 Photo: Erin, circa 1848, located on routes 340/522 north of Front Royal. Listed on the National Register of Historic Places in 1979. Photographed by User:AgnosticPreachersKid (own work), 2016, [cc-4.0], via Wikimedia Commons, accessed October, 2021.
---
Samuels Public Library is located at 538 Villa Avenue; post office at 120 East 3rd Street; Chamber of Commerce, 104 East Main Street.
Neighborhoods
Academy Manor
Applewood Estates
Aspen Hill Farms
Autumn Hills
Beau Ridge
Beford Heights
Belmont
Ben Mar
Bennys Beach
Blue Ridge Heights
Blue Ridge Mountain Estates
Blue Ridge Mt Est
Blue Ridge Shadows
Bowling View
Boyds Mill
Braxton Heights
Cedarville Corners
Cedarville Heights
Chrisman
Christopher Woods
Cloud Estates
Colonial Park
Country Club View
Creekside Estates
Creekside Woods
Crooked Run Farm
Dismal Hollow
Downing Estates
Dungadin
Estates at Lake John
Fairview Court
Fairview Heights
Fletcher
Forest Hills
Forest Manors
Garrison
Green Hill Forest
Happy Creek Knolls
Harmony Manor Estates
Hatcher
High Knob
Highland
Highland Estates
Hill And Dale
Hillidge
Hillside
Hoffman Heights
Kephart
Leadman
Loblolly Estates
Lower Valley
Lynmore Acres
Maddox Woods
Marlow
Mass Farms East
Mass Heights
Milldale Valley Estates
Mosbys Overlook Estates
Mount Vista Estates
Mountain View
Oak Hill
Oakmont
Oden Ridge
Old Town
Parkview
Poca Bella Farms
Point-O-Woods
Potts
Ridgeview Estates
River Ridge on the Shen
Riverton Heights
Riverview
Royal View Estates
Royal Village
Shenadoah Farms
Shenadoah Farms Riverview
Shenandoah
Shenandoah River
Shenandoah Shores
Sherwood Park
Skyline Forest
Sligo Estates
Stonewall Heights
Sunset Village
Taliaferro Manor
Taylor
Tharpe
The Heritage
Thunderbird Ranch
Thunderbird Woods
Tweedie Woods
Twin Run Estates
Valley Farms
Viscose City
Warren Park
Waterford Estates
Williamsburg
Winchester
Wisekal
Woodland Park
Woodside
Historical Background [1]
By 1790, the Town of Front Royal, Virginia was an important crossroads for travelers throughout the Mid-Atlantic States. It remains so today. Situated just west of the Blue Ridge and at the head of the Massanutten Mountain range, near the confluence of the North and South Forks of the Shenandoah River, Front Royal's history reflects European and American migration patterns of the 18th and 19th centuries and the economic and political development of an important, and distinct region of Virginia, the Shenandoah Valley. As part of the Valley, citizens of Front Royal have participated in several transformative movements in Virginia's history. During the American Civil War, their town witnessed battle and occupation. Throughout the 19th century, Front Royal experienced both the positive and negative effects of industrialization. With the creation of the Skyline Drive at its doorstep, Front Royal, was at the forefront of Virginia's development of tourism as a significant sector of its modern economy. Finally, in the late 1950s and throughout the 1960s, some Front Royal citizens brought forth profound change as they campaigned for equal education and voting rights for African Americans.
See: Front Royal Historic District
Johnston, Edna and Smith, Kathryn Gettings, Front Royal Historic District, 2002, nomination document, National Park Service, National Register of Historic Places, Washington D.C.
---