Galveston County, Texas
The Galveston County Courthouse is located at 722 21st Street, Galveston, TX 77550; phone: 409-762-8621.
---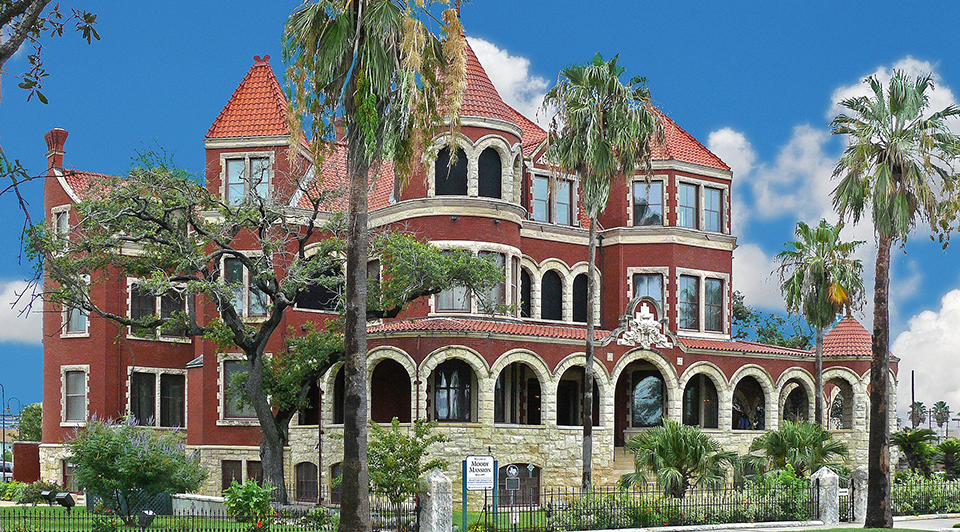 Photo: Willis-Moody Mansion, circa 1893-1895, located at 2618 Broadway, Galveston, TX. Listed on the National Register of Historic Places in 1994. Photographed by User:Jim Evans (own work), 2012, [cc-3.0], via Wikimedia Commons, accessed September, 2021.
---
TOWNS
Bacliff
Bayou Vista City
Clear Lake Shores City
Crystal Beach
Dickinson City
Friendswood City
Gilchrist
Hitchcock City
Jamaica beach City
Kemah City
La Marque City
San Leon
Santa Fe City
Texas City
Tiki Island Vlg
The county was established in 1838 when Texas was still a Republic. A hurricane in 1900 wreaked havoc across the county, killing perhaps 6,000 on Galveston Island alone. Texas City boomed beginning in 1901 as oil pipelines and refineries were built.
HISTORIC SITES
Ashton Villa
Beissner, Henry, House
Bishop's Palace
Cedar Lawn Historic District
Davison, Frank B., House
Denver Court Historic District
East End Historic District (Galveston)
Eiband's
Galveston Orphans Home
Hagemann, John, House
House at 2017-2023 Avenue I
House at 2528 Postoffice St.
Hutchings, Sealy, House
Illies Building-Justine Apartments
Kempner, Daniel Webster, House
Lasker Home for Homeless Children
McKinney-McDonald House
Menard, Michel B., House
Moore, Col. Hugh B. and Helen, House
Moser House
Powhatan House
Sealy, George, House
Silk Stocking Residential Historic District
Steffens-Drewa House Complex
Strand Historic District
Sweeney-Royston House
Ursuline Convent
Williams, Samuel May, House
Willis-Moody Mansion