Tipton County administrative offices are located at 220 Highway 51 North, Covington, TN 38019 ; phone: 901-476-0207.
---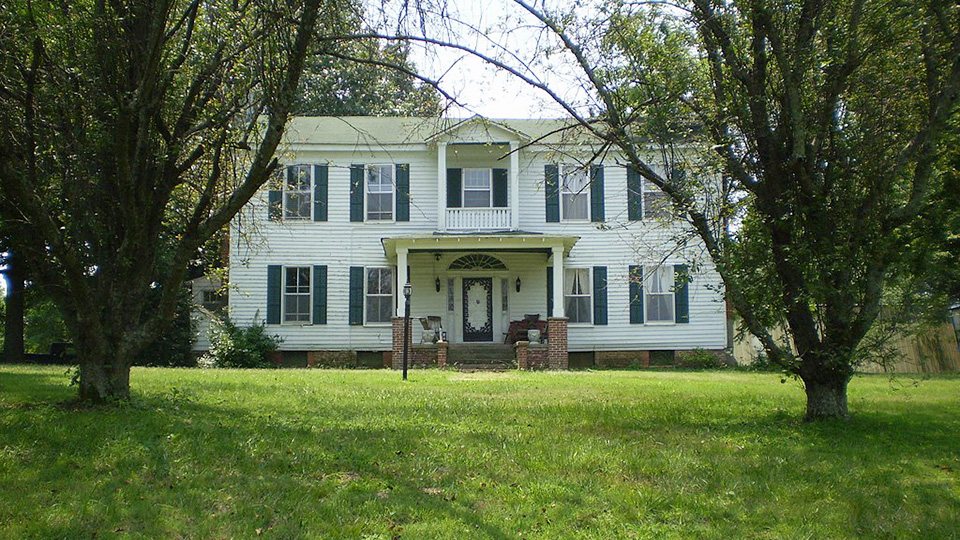 Photo: View of the front of the Taylor House circa 1834, at Oak Hill Farm, 1280 Keeling Road, Stanton. Listed on the National Register of Historic Places in 2013. Photographed by User:Brian Stansberry (own work), 2010, [cc-3.0], via Wikimedia Commons, accessed October, 2023.
---
TOWNS
Atoka Town
Brighton Town
Burlison Town
Garland Town
Gilt Edge City
Mason Town
Munford City
Tipton County [†] is located in southwest Tennessee with the Mississippi River serving as its western border and the Hatchie River forming its northern boundary. The county is largely rural in character and agriculture has historically played an important role in the local economy. Covington is the largest town in the county and serves as the county seat. Munford, Atoka, Mason, Gilt Edge, Burlison, Garland and Brighton are the incorporated areas of the county while Drummonds, Egypt, Mt. Carmel, and Idaville are representative of the many small communities in the county. The county has a variety of topographical features including the rich alluvial soils along the Mississippi River, hilly terrain in its western section and rolling farmland to the north, south and east of Covington.
With a land area of 459 square miles, Tipton County is historically a rural, agriculturally- oriented county. During the 19th century it was noted for its cotton production but by the mid- 20th century it had diversified with soybeans, wheat and corn as other major cash crops. The county retained its predominantly rural character until after World War II when the suburban areas of Memphis began expanding to the north. This expansion has resulted in extensive residential development in the southern section of the county. Since 1980, the county's population has doubled from approximately 33,000 residents to 60,000. In addition to its rural character, Tipton County has a number of small communities which were developed along the county's railroad lines such as Mason in the southeast corner of the county and Brighton and Atoka south of Covington. The coming of the railroads in the 19th century played a major role in the development of the county as did the construction of US Highway 51 in the 1920s. US Highway 51 runs through the county in a north/south direction and is the major federal highway in this section of the state. The highway connects the county seat of Covington with Memphis, approximately 34 miles to the south, and along this highway are many commercial businesses.
† Tipton County Government and Tennessee Historical Commission, Architectural and Historic Survey of Tipton COunty, Tennessee, 2010.
HISTORIC SITES
Rhodes House
South College Street Historic District
South Main Street Historic District
---