Flowers Mill
School District: Neshaminy
Post Office: Langhorne
Zip Code: 19047
Builder(s): McGrath, Realen
---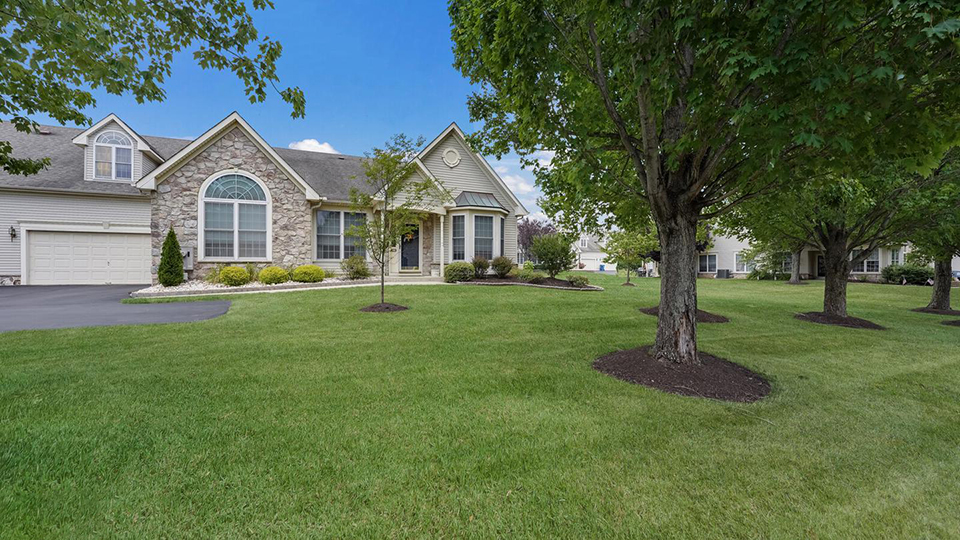 ---
Flowers Mill is a gated, Active Adult (55-plus) subdivision of residences including detached singles, townhomes, and semi-attached twin carriage homes. They were built primarily from 1999 through 2003 by Realen Homes and McGrath Builders.
Access to the Flowers Mill community is from Wood Road or Flowers Mill Road onto Shasta Road, Wood Road onto Bellflower Road, or Wood Road onto Goldfields Avenue;
Adjacent to the subdivision are the Middletown Township Municipal Complex and the Shoppes at Flowers Mills shopping center.
An early Realen marketing brochure stated:
Adult 55+ Community featuring a state-of-the art recreation center with indoor pool, exercise room, card room, library, crafts room with a kiln and a billiards room. Outside is a bocce ball court, outdoor swimming pool, tennis courts and nature trails
Realen built 242 single homes from 1,432 to 2,117 square feet and 136 carriage homes (twins) measuring almost 1,600 square feet and 20 villas ranging from 1,833 to 2,156 square feet. McGrath built 259 townhomes.
All floorplans have 2 bedrooms and at least two baths. Many have a 2-car garage.
Public Water and Public Sewer
Nearby Neighborhoods
Street Names
Bellflower Road • Black Eyed Susan Road • Blue Flax Lane • Bluebonnet Road • Daylily Drive • Goldfields Avenue • Lady Slipper Lane • Persimmon Lane • Poppy Court • Rockcress Way • Sagebrush Lane • Shasta Road • Starflower Lane • Sugarberry Lane • Sweet Pea Lane • Sweet William Way • Tupelo Lane • Yarrow Way • Zinnia Way
---