East Berlin Historic District
Post Office: East Berlin
Zip Code: 17316
---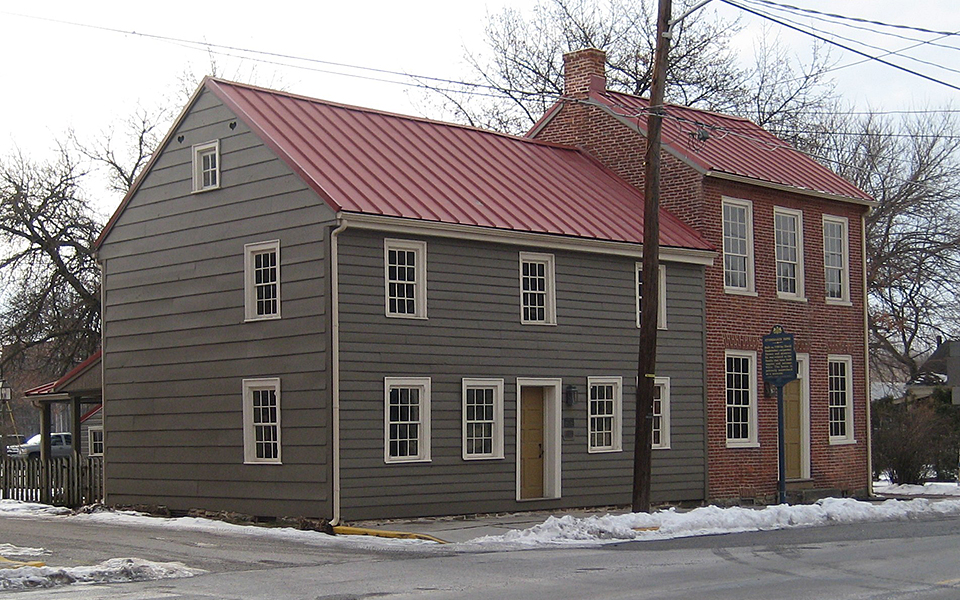 Photo: Studebaker Home, circa 1790, located in the East Berlin Historic District. The District was listed on the National Register of Historic Places in 1985. Photographer: wikipedia username: Smallbones, 2011, public domain; via Wikimedia Commons, accessed August, 2022.
---
The East Berlin Historic District [1] was listed on the National Register of Historic Places in 1985.
East Berlin's [1] significance lies in its architectural expression of an 18th century Pennsylvania German community. A large portion of 18th century structures survive with recognizable original features. In addition the town also illustrates a number of important 19th century styles and motifs, including specific features such as window trim which are particularly distinctive of East Berlin. A substantial number of out buildings also remain as built. The town of East Berlin is also significant as a viable commercial entity, a center for the surrounding farming community. Shortly after it was established, the town had a grist mill which served to process locally grown grain into usable products of flour and meal. The large number of 18th century buildings in the town show that it was from the time of its founding a thriving community. Its architectural make up shows that it continued to thrive through the early 20th century. East Berlin's historic value lies in its ability to convey its evolution as a commercial center from the 18th through the early 20th century with notable examples from several periods and with so few non-contributing elements. Settled principally by people of German descent, the town also represents architectural traditions and preferences which characterize the Pennsylvania Germans. These ethnic features may be observed in the form, plan and detailing of the remaining 18th and early 19th century structures.
East Berlin was laid out in 1764 by John Frankenberger. Initially it was known as "Berlin." Proprietary rights to the town were transferred several times, first in 1774 to Peter Househill, then in 1782 to Andrew Comfort, and in 1794 to John Hildebrand. A mill was established at the west end of the town on the Conewago Creek in 1769.
In 1840, the town had 410 inhabitants. There were at that time 84 dwellings, three taverns, three stores, three apothecaries, two schools, one church shared by the Lutherans and German Reformed congregations and a public library. There were also two grist mills and a fulling mill. East Berlin was incorporated into a borough in 1879.
Of particular importance are the large number of 18th century houses in East Berlin, of log and stone construction. Many of them have substantial original elements, both interior and exterior and display characteristics such as proportion and floor plan associated with Germanic traditions. Some specific features include use of a central chimney, irregular fenestration, two center front doors and a preference of log construction. Also architecturally significant is a group of later buildings from the late 19th century with distinctive decorative trim associated with the Italianate style and apparently exclusive to East Berlin. It consists of molded arched door architraves with modified crossettes. This trim is combined with the use of large, paired brackets and decorated frieze and cornice work.
The town is also noteworthy as the home of the Studebaker family in the 18th and 19th centuries. The Studebakers were wagon builders who eventually developed the Studebaker automobile. The Studebaker home, an 18th century log house with original siding stands on the south side of King Street and is because of its age and minimal alterations as well as its historical associations considered a key building in the district.
"Berlin," as the town was called until the time of its incorporation in 1879, was laid out in 1764 with 85 lots. One hundred additional lots were laid out in 1794. In 1797, the American Gazetteer described East Berlin as a "flourishing town" containing about 100 houses. A 1770 map of Pennsylvania does not show Berlin, suggesting that it had not yet developed into a viable community.
Between 1800 and 1840 the size of the town remained fairly constant. In 1820 the population was 418; in 1840 it was 410; in 1880, 510; in 1900, 668; in 1920, 610 and 1960, 1033. As is evident from these population figures, the largest growth in any 20 year period was between 1880 and 1900 which also coincides with the rather large number of buildings constructed or remodeled during that time.
East Berlin is one of seventeen towns that existed in Adams County in the 19th century. Having been laid out in 1764, it is among the oldest. Its siting is the result of a cross roads, one road leading from Harrisburg to Hanover and eventually Baltimore, and the other from York to the north and west. Another factor in East Berlin's development is the Conewago Creek which loops around the town site on the south, west and north. It provided good water power for grist milling, a principal industry in the 18th and 19th centuries in this rich agricultural area. Eventually, however, East Berlin was by-passed by other, more direct roads leading from the north and west to Baltimore and Philadelphia respectively, allowing East Berlin to become a small center serving the local agricultural area of northeastern Adams County, western York County and southern Cumberland County.
Other towns located on more major thoroughfares have been affected continually by the traffic and services generated by those roads. Still other towns set off from major roads never developed quite as large as East Berlin did. Thus, East Berlin is set apart from other towns in Adams County because of its age and circumstances which created its development and its subsequent slack in growth. As a result, East Berlin has maintained a healthy, but static existence. The town prospered enough to maintain its buildings neatly, but not enough to launch major renewal, growth and construction projects to destroy its early architecture.
East Berlin has become, in effect, an architectural showcase. The Germanic heritage of its early settlers is common knowledge and easily documented. The features of traditional Germanic house construction are also well documented in a large number of sources. Germanic features that appear in the earlier architecture of East Berlin include the general form and plan with a central chimney and off-center door. A variation found frequently in East Berlin and elsewhere probably evolved from the central chimney plan and consists of a four bay facade with two central front doors and inside end chimneys. This type which was a single family dwelling should not be confused with four bay duplexes which were prominent in the late 19th and early 20th centuries.
The relatively rapid growth that East Berlin experienced during the late 19th century is probably the result of the generally prosperous times then, particularly in the 1890's. In 1877, a railroad spur was completed which connected East Berlin with a larger rail line operating between York and Gettysburg, part of the Western Maryland Railroad. Much of the development on Locust Street was the result of the rail line and its ability to haul freight. The train depot was located at Locust and Third Streets. Opposite was a warehouse built in 1897 which later became the location of a coal, feed and lumber business. Both buildings are still standing. Most of the architecture on Locust Street dates from the late 19th century and relates to the businesses and rail activity there.
With the circumstances surrounding East Berlin's history, it is difficult to compare it with other nearby towns. The closest, Abbottstown, four miles to the south, was settled in the 1760's. Located on US Route 30, the major route between Philadelphia and Pittsburgh, it had during the mid 19th century 40-60 dwellings and was approximately half the size of East Berlin. It is not productive to compare or contrast East Berlin with major towns such as Gettysburg, county seat of Adams County, located 18 miles to the southwest; or York, county seat of York County, located 13 miles to the southeast. Both cities as county seats and located on major transportation routes grew larger and faster than East Berlin and with different emphasis.
Bibliographical References
• Rupp, I.D. History of Dauphin, Cumberland, Perry, Bedford, Adams and Franklin, Counties, Pa. Lancaster, PA 1846
• Wheels of Time. East Berlin Bicentennial Publication, 1964
Reed, Paula Stoner, East Berlin Historic District, 1984, nomination document, National Park Service, National Register of Historic Places, Washington, D.C.
Nearby Neighborhoods
Street Names
Abbottstown Street • Harrisburg Street • King Street
---