Oregon Historic District
Post Office: Dayton
Zip Code: 45402
---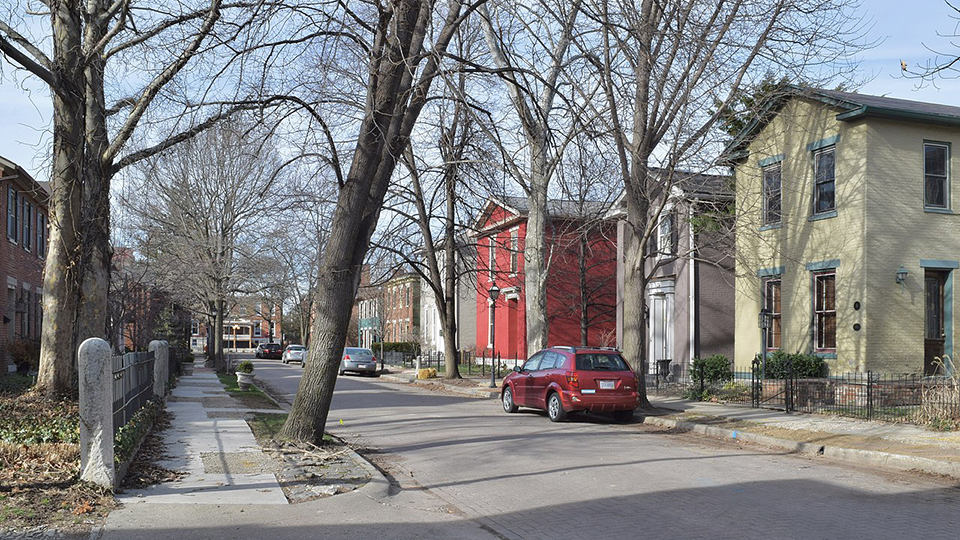 Photo: Tecumseh Street, looking North from Green Street to Sixth Street, Oregon Historic District listed on the National Register of Hstoric Places in 1975; wikipedia username HistoricBuildingFan, photographer, 2017, [cc-4,0] via wikimedia commons, accessed July, 2023.
---
The Oregon Historic District [1] is a National Register Historic District.
The town of Dayton expanded rapidly into a bustling city encouraged by the opening of the Miami and Erie Canal in 1829. The ethnic mixture of the town changed as German immigrants began to settle after 1832. Both of these factors were vital to settlement of the Oregon District just on the other side of the new canal.
Oregon thrived as a residential and commercial district through the 19th and into the 20th centuries. Excellent examples of Dayton's architectural history from 1830 to 1908 line the streets and lanes. The area declined after the Great Flood of 1913 and full-fledged urban blight set in after World War II. The clearance of fine old homes for the construction of a superhighway and urban renewal in the mid 1960s rekindled interest in the area. An urban renewal project designed by Bertrand Goldberg Associates proposed preservation of many of the houses but would have done much to destroy the historic flavor of Oregon and recommended obliteration of its commercial appendage along East Fifth Street and Wayne Avenue. Citizens groups conscious of what had been done with the German Village project in Columbus started the "Burns-Jackson" movement which sputtered along for several years. Preservation minded migrants who came into the historic district have adopted the more historic name "Oregon." The Oregon movement was successful in acquiring local political sanction.
The Oregon Historic District represents a most interesting tableau of the history of immigration into Dayton. Originally platted and settled by Anglo-Saxons, it was to a large extent appropriated by Germans who began arriving by canal boat in 1832. At one time German was the predominant language east of the canal. The vigorous Teutonic artisans and merchants of "Oregon" prospered and merged into the city's upper social strata after the Civil War. As the area declined, particularly after WW II, it became a haven for poverty stricken Appalachian emigrants forced into the northern cities to seek a livelihood by the declining economy of the mountain communities. By the 1970s a less-homogeneous group began settling in Oregon, their common bond and interest being the preservation of cosmopolitan living.
Loren S. Gannon, Jr., Preservation Officer, Montgomery County Historical Society, Oregon Historic District, Dayton Ohio, nomination document, 1974, National Park Service, National Register of Historic Places, Washington, D.C.
Street Names
5th Street East • 6th Street East • Abram Street • Brown Street • Cass Street • Clay Street • Green Street • Hess Street • Jackson Street • Jones Street • Park Manor Drive • Patterson Boulevard South • Tecumseh Street • Trimbach Lane • Van Buren Street • Wayne Avenue
---