Tompkins County, New York
The Tompkins County Courthouse is located at 320 North Tioga Street, Ithaca NY 14850; phone: 607‑274‑5434.
---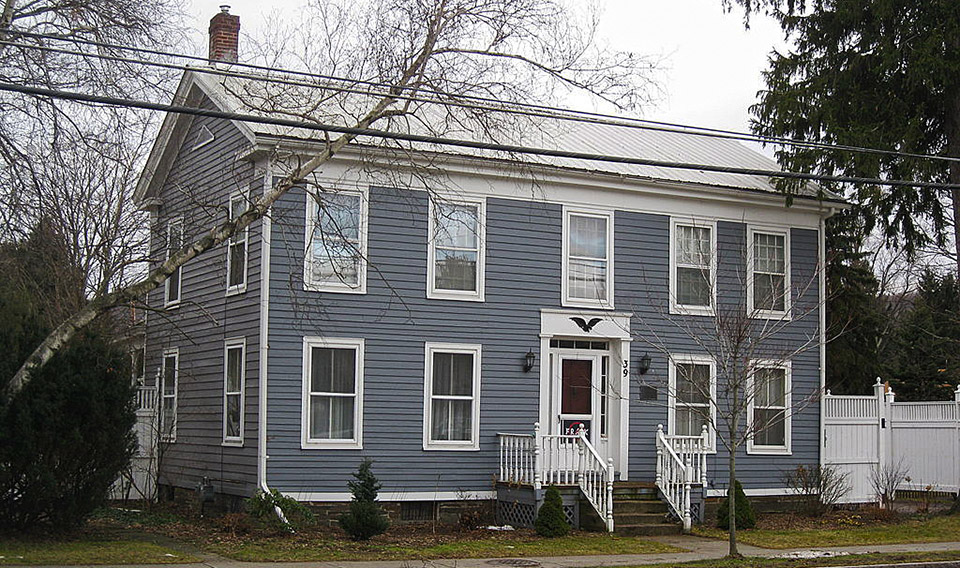 Photo: Luther Clarke House, circa 1820, located at 39 West Main Street, Dryden. Listed on the National Register of Historic Places in 1984. Photographed by wikipedia username: Doug Kerr, own work, 2010, [cc-2.0], accessed September, 2022.
---
TOWNS
Cayuga Heights Vlg
Dryden Town
Enfield Town
Freeville Vlg
Lansing Town
Lansing Vlg
Newfield Town
Ulysses Town
Beginnings [1]
Following the Revolutionary War, Simeon DeWitt, the State Surveyor General and later founder of Ithaca, placed the northern portion of what became Tompkins County in the "New Military Tract," lands to be given to veterans in payment for their military service. The southern portion of what became Tompkins County was owned by a private land development company.
Settlement began around 1792. Some new arrivals were squatters willing to take a chance on finding land; others came seeking their military allotments. Following the first settlers came ministers, lawyers, and merchants. By 1810, the village of Ithaca had a few houses, a sprinkling of stores and taverns, and several mills powered by the fast-moving streams. With the opening of the Ithaca-Owego Turnpike, Ithaca became a trans-shipment point for goods flowing south.
Tompkins County was officially formed by New York State in 1817 and named for Daniel D. Tompkins, a former New York governor and at that time vice president of the United States.
Early settlers were predominantly American-born farmers seeking new land. Some from the East and South brought slaves with them, although their numbers were small. Slavery was abolished in New York State in 1827. Many, but not all, of the people of the county supported emancipation and some helped fugitive slaves make their way to freedom.
The opening of the Erie and Seneca Canals in the early nineteenth century kept local goods flowing to the eastern markets. Railroad development linked Tompkins County with even more destinations beginning in 1832 with the Ithaca-Owego Railroad. By 1870, the County was served by four railroads.
The establishment of Cornell University in 1865 brought stability to the county's economy. The university attracted students, faculty, and many new residents to the county. Ithaca College opened in several downtown Ithaca buildings in 1892. The village of Ithaca had a steady increase in population while most of the towns in the County reached a peak population around 1850 and then dipped to half that level in the early years of the twentieth century. Population in Tompkins County rose gradually over the course of the nineteenth century and into the mid-twentieth.
Tompkins County Planning Department, Tompkins County Comprehensive Plan: Planning for Our Future, 2004, accessed October 2007, www.co.tompkins.ny.us
HISTORIC SITES
Boardman House
Clarke, Luther, House
Clinton House
Cornell Heights Historic District
DeWitt Park Historic District
Deke House
Dryden Historic District
East Hill Historic District
East Robert Hall
Enfield Falls Mill and Miller's House
Forest Home Historic District
Ithaca Downtown Historic District
Jamieson and McKinney Block
Jennings-Marvin House
Lacy-Van Vleet House
Llenroc
Rockwell House
Southworth House
Tibbetts–Rumsey House
White, Andrew Dickson, House
William Austin House
---