Webster Town
Webster Town Hall is located at 1000 Ridge Road, Webster NY 14580.
Phone: 585‑872‑1000.
---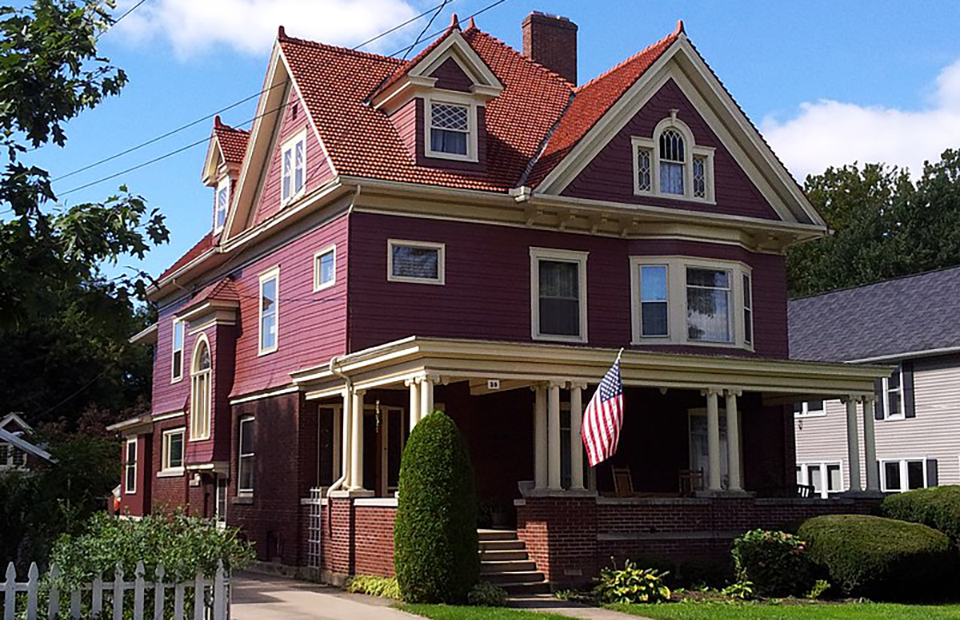 Photo: The George G. Mason House, circa 1910, located at 39 Dunning Avenire, Webster. Listed on the National Register of Historic Places in 2004. Photographed by User:MohawkPhotographer (own work), 2013, [cc-3.0], via Wikimedia Commons, accessed November, 2021.
---
On February 6, 1840, Governor William Seward announced the birth of Webster, New York. Originally part of North Penfield, land was split off to create the new town. Residents numbering 2,235 inhabited the new Webster. The first town meeting was held at John Lett's tavern, south of the present village.  On February 6, 1840, Governor William Seward announced the birth of Webster, New York. Originally part of North Penfield, land was split off to create the new town. Residents numbering 2,235 inhabited the new Webster. The first town meeting was held at John Lett's tavern, south of the present village. [ci.webster.ny.us, accessed November, 2021]
Neighborhoods
Autumn Woods
Bay Meadows
Bay Road Gardens
Beechwoods
Belvedere
Bowling Green
Briarwood Estates
Cambridge Court
Canopy Trail
Coastal View
Colonial Meadows
Countryside Gardens
Crystal Brook
Dewitt Farms
Dunnbridge Estates
Eastwood Estates
Eichmann Resub
Forest Heights
Fuller Addition
Hampstead Estates
Happy Acres
Heartland Estates
Heritage Park
Hillsboro Cove
Klem Homestead
Lake Breeze
Lake Pointe Estates
Maplewoods
Mill Creek Estates
Mill Creek Meadows
Mont Blanc Estates
Oakmonte
Orchard Manor
Pearlwood Manor
Pepper Ridge
Pinegrove
Pioneer Acres
Providence Estates
Revere Farms
Saben Square
Shipbuilders Estates
Shirewood
Shoecraft Farms
Stonebridge
Stonegate
Stony Point Landing
Summit Knolls
Sunset Hills
Sunset Valley
Tobin
Village Manor
Webster Commons
Wentworth Park
Whitley Forest
Willowgate
Woodford Green
Nearby Towns: East Rochester Town • East Rochester Vlg • Penfield Town • Webster Vlg •
---