Bertine Block Historic District
Post Office: Bronx
Zip Code: 10454
---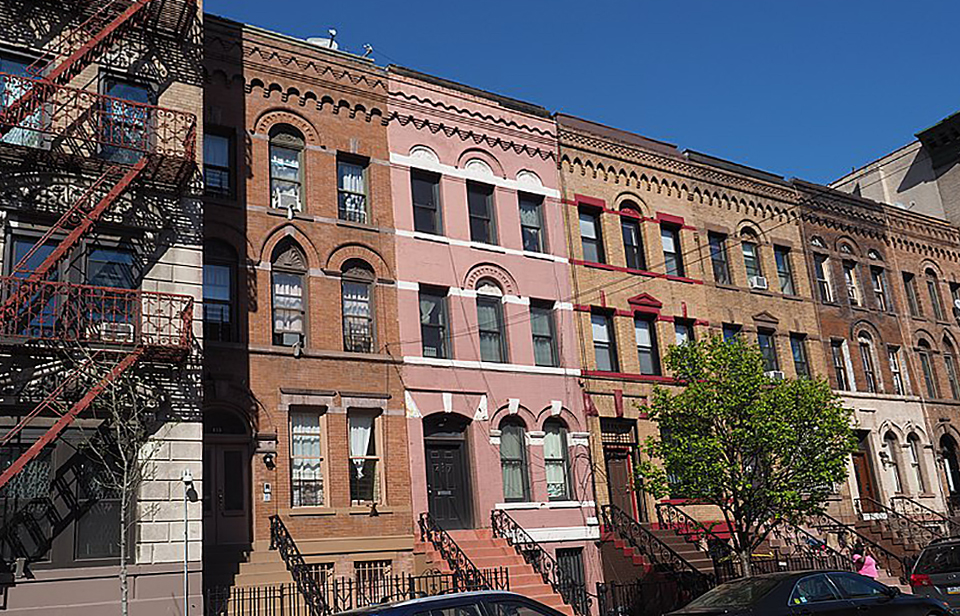 Photo: Row homes on East136th street between Willis Avenue and Brown Place, circa late 1800s, Bronx, NY. Listed as a New Yourk Historic Landmark in 1996. Photographed by User:RoySmith (own work), 2021, [cc-4.0] accessed October, 2021.
---
The Bertine Block Historic District [†] consists of thirty-one residential buildings lining both sides of East 136th Street between Willis Avenue and Brown Place in the Mott Haven section of the Bronx. Within the boundaricis of the district are four groups ofrowhouses and two groups of tenements. Erected between 1877 and 1899, the buildings reflect the history of real estate development in the southwestern portion of the Brom. The buildings in the historic district comprise fine examples of neo-Grec, Queen Anne, Romanesque Revival, and Renaissance Revival design, illustrating the stylistic trends in residential architecture in New York City in the final three decades of the nineteenth century.
Mott Haven was one of the few areas of the Bronx to attract nineteenth-century speculative developers intereste I in constructing rowhouses. Much of this construction occurred following the opening of transit liaes connecting this area to Manhattan. With this transit link, Mott Haven became a convenient locatio 1 drawing middle-class families who sought to purchase single-family rowhouses. Development in the district began in 1877, prior to the inception of mass transit, with the construction of three modest row I ,ouses, designed in the popular neo-Grec style. Most of the buildings in the district, however, were not erected until the 1890s. This development was largely the result of construction by Edward Bertine, the most active builder within the historic district. Bertine built three of the district's four rows, including the so-called "Bertine Block," an exceptional row of Queen Anne houses designed by prominent Manh1 nan architect George Keister.
† Ada0ted from: New York City Landmarks Preservation Commission, Bertine Block Historic District, 1994, www.neighborhoodpreservationcenter.org, accessed October, 2021.
Nearby Neighborhoods
Street Names
136th Street East
---