Harrison Township
Harrison Township municipal offices are located at 114 Bridgeton Pike, Mullica Hill NJ 08062.
Phone: 856‑478‑4111.
---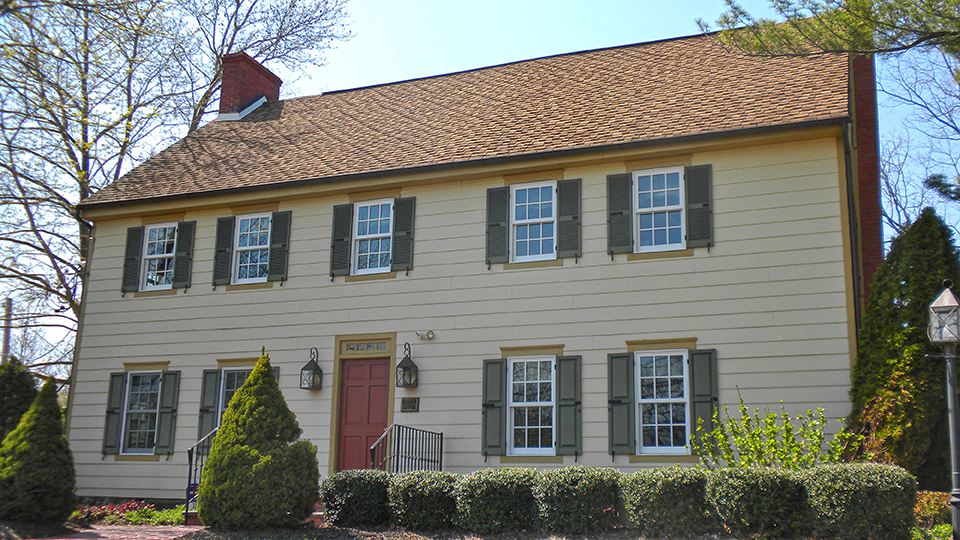 Photo: William Mullica House in the Mullica Hill Historic District. The District was list on the National Register in 1991. Photo by wikipedia Username: Smallbones, public domain, via Wikimedia Commons, accessed September, 2020.
---
Neighborhoods
Antique Row
Arbor Estates
Bella Vista
Brookside Farms
Casella Farms
Cinderella
Country Lane
Crossroads at Mullica Hill
Deer Run
Devonshire
Eagle Acre Estates
Ellis Mill Estates
Enclave
Estates at Devonshire
Harrison Ridge
Harrison Run
Harrisonville Mobile Park
Highlands
Jefferson Walk
Knights Court
Lake Gilman
Mullica Hill
Richwood Crossing
Spring Meadows
Tesoro Court
The Greens at Inverness
Willow Oaks
Woodland Creek
Woodland Estates
Harrison [†] is an incorporated township located in the center of Gloucester County, New Jersey. The township is bounded by six municipalities: East Greenwich Township to the northwest, Mantua Township to the north, Glassboro Borough to the east, Elk Township to the southeast, South Harrison Township to the south, and Woolwich Township to the west.
At the heart of Harrison Township is the historic village of Mullica Hill, established in the early 1700s. Local roadways and the two‑lane federal highway U.S. 322 flow through the historic district before connecting to major transportation corridors such as State Highway 55 and the New Jersey Turnpike. On its western end in Gloucester County, U.S. Route 322 connects to the Commodore Barry Bridge, crossing over the Delaware River.
Harrison Township occupies approximately 12,230 acres or 19.1 square miles on the coastal plain of New Jersey. Harrison's land use reflects its natural setting, its long agricultural past, and the successive waves of suburban residential development that have occurred since the end of World War II. Residential development is concentrated primarily in the center of the township along Main Street and Route 45 and along Route 322, although new subdivisions of residential housing are located in a widening, disconnected circle around that center. During the 1990s, Harrison increased its population by 4,000 residents, a 54 percent increase. As of 2000, nearly half of Harrison Township's land (5,900 acres) was still in agricultural production.
† Delaware Valley Regional Planning Commission, Environmental Resources Inventory for the Township of Harrison, 2020, www.dvrpc.org, accessed September, 2020.
Nearby Towns: Deptford Twp • East Greenwich Twp • Elk Twp • Glassboro Boro • Mantua Twp • Pitman Boro • South Harrison Twp • Wenonah Boro • Woodbury Heights Boro •
---