Cary Town
Cary Town Hall is located at 316 North Academy Street, Cary, NC 27513.
Phone: 919‑469‑4000.
---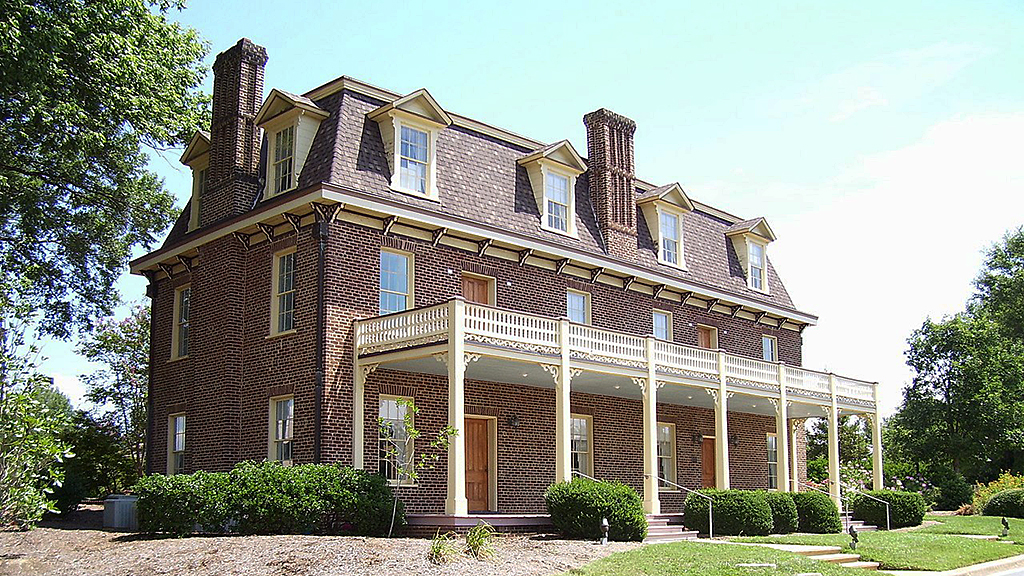 Photo: Page-Walker Hotel, ca. 1868, located at 110 Ambassador Street. Listed on the National Register of Historic Places in 1979. Photographed by User:Heavenly Hedgehog (own work), 2007, [cc-3.0], via Wikimedia Commons, accessed July, 2021.
---
Cary [1] is located in north central North Carolina, just southwest of the state capital at Raleigh. Today, Cary is situated in the middle of the state's 'Research Triangle' and is widely considered a good place to raise a family with its excellent schools and easy access to Raleigh, Chapel Hill and Durham. While the town has grown enormously since the end of World War II and the creation of the Research Triangle Park in 1959, the location, ease of transportation and education system have been Cary's defining character- istics throughout its history.
Neighborhoods
Amberl
Amberly
Applecross
Ardmore
Arlington Ridge
Ashley Woods
Belmont
Benedum Place
Berkeley
Birklands
Birklands
Bishops Gate
Bluffs of Kildaire
Breckenridge
Briarcliff
Brookgreen Forest
Brookridge
Brookstone
Buckhurst
Cambridge
Camden Forest
Canterbury
Carolina Preserve
Carpenter Historic District
Carpenter Village
Carramore
Carrousel Park
Carystone
Cavanaugh Gardens
Cedar Pointe
Charleston Woods
Chatham Pines
Chatham Woods
Chesapeake Landing
Chesapeake Pointe
Cheverly
Churchill Downs
Churchill Estates
Coles Creek
Copperleaf
Cornwall Village
Coronado Village
Cotswold
Coventry Glen
Creekside
Danbury
Danbury at Regency
De Vintage
Devereaux
Downing Village
Dutchess Village
Edgehill Farms
Evans Estates
Farmington Woods
Fieldstone Village
Fishers Creek
Forest Park
Franklin Chase
Glenkirk
Glenridge
Governors Row
Green Level Crossing
Green Level Historic District
Greenwood Acres
Greenwood Forest
Greyhawk Landing
Greystone
Grove at Cary Park Apartments
Hamstead Park
Harmony Glen
Heitage Pine
Hermitage Park
Highcroft Village
Highland Oaks
Highland Park
Highland Village
Highlands
Hilliard Forest
Hills of Rosemont
Hillsdale Forest
Holloway
Huntsmoor
Kilarney Pointe
Kildaire Farms
Lakepointe Village
Lakeridge
Landsdowne
Laurel Park
Linville Ridge
Lochaven
Lochmere
Lochmere Village
Lochridge
MacGregor
MacGregor Downs
MacGregor West
Madison Place
Magnolia Estates
Magnolia Estates
Magnolia Woods
Match Pointe
Maynard Forest
Maynard Oaks
Maynard Summit
McArthur Park
McDonald Woods
Meadowmont
Normandie
Northwoods Crossing
Oakwood Heights
Orchard Villas
Page Wood Forest
Park Grove
Park Place
Park Village
Paxton
Pebble Creek
Picardy Point
Picardy Pointe
Picardy Village
Pink Acres
Pirates Cove
Plantation Estates
Planters Pointe
Preston
Preston Village
Prestwyck
Providence Bluffs
Providence Commons
Regency
Regency Park
Regency Park Estates
Riggsbee Farm
Riverwalk
Royal Oaks
Russell Hills
Samuels Keep
Saratoga
Savon Heights
Scottish Hills
Sherborne
Sherwood Greens
Silver Oaks
Silvercreek
Silvercrest
Silverton
Southbridge
Southchase
Springbrooke
Stone Creek
Stone Creek Village
Stonebridge
Stonecrest
Stonewater
Summer Ridge
Sunset Hills
Sunset Ridge
Tanglewood
The Battery
The Forest
The Highlands
The Overlook
The Park at West Lake
The Ranches
The Reserve
The Retreat at Reedy Creek
Toscana
Trappers Run
Triangle Forest
Tryon Villas
Twin Lakes
Upchurch Farms
Urban Terrace
Walnut Hills
Walnut Ridge
Waterford Place
Weathersby
Weatherstone
Weldon Ridge
Wellington Ridge
Wellsley
Wessex
West Lake
West Park
Westchester Woods
Westfield
Weston Estates
Weston Manor
Weston Oaks
Weston Place
Weston Pointe
Weycroft
Whitebridge
Whittington Park
Williamsburg Commons
Williamsburg Manor
Willoughby Place
Wimbledon
Windbrooke
Windermere
Woodwinds
Wyndfall
Beginnings [2]
Today's Cary began in the 1750s as a settlement called Bradford's Ordinary. About 100 years later, the construction of the North Carolina Railroad between New Bern and Hillsborough placed Bradford's Ordinary on a major transportation route. Soon after, Allison Francis Page, a Wake County farmer and lumberman, bought 300 acres of land nearby and established a sawmill, general store, and post office. He called his development Cary after Samuel Fenton Cary, an Ohio prohibitionist, abolitionist, and Congressman whom Page admired. The Town of Cary was incorporated on April 6, 1871.
In 1868, Page built a hotel to serve railroad passengers coming through Cary. Page sold the hotel to J. R. Walker in 1884; meals and rooms were available to travelers until 1916. It later became a private residence but by the mid-1980s had fallen into disrepair.
Cary Historic Preservation Master Plan, 2011, www.townofcary.org, accessed July, 2021.
Town of Cary, Citizens Guide to Services: 2010-2012, www.townofcary.org, accessed February, 2011.
Nearby Towns: Morrisville Town •
---