Chapel Hill Town
Chapel Hill Town Hall is located at 405 Martin Luther King Jr. Boulevard, Chapel Hill, NC 27514.
Phone: 919‑968‑2743.
---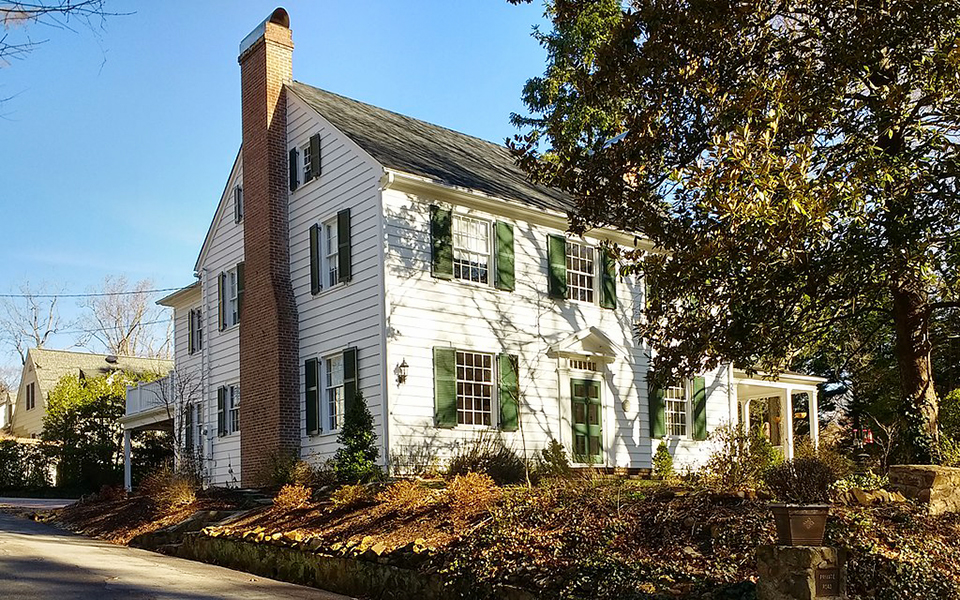 Photo: Arthur C. and Mary S.A. Nash House circa 1863, located at 124 South Boundary Street. Listed on the National Register in 2017. Photographer: wikipedia username: Mx. Granger, 2018, public domain; accessed August, 2021.
---
Chapel Hill [†] and the University of North Carolina share a joint birthday — October 12, 1793. On that day the first lots were sold for the town that became Chapel Hill and the cornerstone was laid for the first building of the university, subsequently known as Old East. The histories of the town and university have been intertwined for more than two centuries.
Neighborhoods
Abbotts Colony
Abernathy Place
Amberidge
Antler Point
Arcadia
Beaver Dam
Beechridge
Beechwood Cove
Big Woods
Birch Meadows
Birchwood Lake Estates
Birnam Woods
Blackberry Hollow
Blenheim Woods
Booker Creek
Boothe Hill
Bowdens Bend
Bradford Place
Briar Chapel
Briarcliff
Brookside Condos
Brookview
Brookwood
Camden Place
Cameron-McCauly Historic District
Carolina Forest
Cates Farm
Cedar Hills
Cedar Lake
Chancellor Square
Chancellors View
Chandler Green
Chesley
Claremont
Coker Hills
Cole Heights
Cole Place
Cole Plaza
Collins Creek
Colonial Heights
Colony Lake
Colony Woods
Columbia Place
Cooper Square Condos
Covered Bridge
Covington Place
Cranebridge
Creek Wood
Creekside
Crescent Ridge
Cub Creek Estates
Culbreth Park
Dogwood Acres
Downing Creek
Durham Estates
Fairoaks
Falconbridge
Falls of New Hope
Farrington Hills
Fawn Ridge
Finley Forest Condos
Flint Hill
Forest Creek
Forsyth
Fox Meadow
Franklin Grove
Franklin Hills
Freeland Place
Glen Ridge
Glenclose
Glenmere
Glenn Heights
Glenview Place
Governors Club
Governors Forest
Governors Lake
Governors Park
Governors Village
Grampian Hills
Greenbridge Condominiums
Greenway
Greenwood
Hamlin Park
Heartwood
Heritage Hills
Hickory Forest
Hidden View
Hideaway Estates
Highland Forest
Highland Meadows
Hills of North Chatham
Hillview
Holly Creek Farm
Homestead Hills
Homestead Village
Horne Hollow
Howells Folley
Hundred Oaks
Hunters Ridge
Hunts Reserve
Jordan Hills
Karen Woods
Kensington Trace
Kings Mill
Kirkwood
Lake Forest Estates
Lake Hogan Farms
Larkspur
Laurel Hill
Laurel Springs
Legacy
Legend Oaks
Luther Edwards
Lystra Estates
Lystra Woods
Maple Ridge
Mayfair
Mccorkle Place
McGregor Place
McGregor Woods
Mill Creek
Mill Valley
Montclair
Morgan Creek
Morgan Glen
Morgan Ridge
Noble Heights
North Forest Hills
North Haven
Northside
Northwood
Oak Crest
Oak Grove
Oak Island
Oakwood
Old Bridge
Oxbow Crossing
Oxford Hills
Parkside
Pickard Mountain
Pickard Oaks
Pine Knob
Pinebrook Estates
Pleasant Green Woods
Pleasant Hills
Polks Landing
Presque Isle Villas
Providence Glen
Quail View
Rangewood
Regent Place
Ridge Springs
Ridgefield
Robbinswood
Rollingwood
Rosemary Village
Scarlet Oak
Sedgefield
Shenandoah
Shepherd Lane Condos
Silver Creek
South Cross
Southbridge
Southern Village
Southwest Acres
Springcrest
Steeplechase
Stone Brook
Stonegate
Stoneridge
Stoneybrook
Stoneycreek
Sturbridge Village
Summerfield Crossing
Sun Forest
Sunset Creek
Sycamore Run
Tanyard Creek
Tavern Hill
Terrell Woods
The Estates at Coles Crossing
The Fells
The Gables
The Highlands
The Meadows
The Oaks
The Orchard
The Preserve at Jordan Lake
The Shire
The Trails
The Woodlands
Thompson Creek
Thompson Woods
Timberlyne
Townside Terrace
Trenton
Tupelo Ridge
Turkey Run
Twin Streams
Tyler Creek
University Acres
University Commons Condos
University Gardens
University Heights
Valley Meadow
Village Green
Villas at Culp Arbor
Vineyard Square
Weatherstone
Westhampton
Westwood
Wexford
Whyteleafe
Willow Terrace
Willowbend Plantation
Winchester Court
Windfall
Windhover
Windsor Park
Windy Hill Farm
Winmore
Wolfs Pond
Woodbridge
Woodhaven
Woodkirk
The original map of the town, drawn in 1798, shows 24 two-acre lots and six four-acre lots wrapping around the fringes of campus. By 1859, the Town covered 820 acres forming a rectangle bounded roughly by Sunset Drive, Penwick Lane, Tenney Circle and Gimghoul Road. The Town retained these boundaries for almost a century with the first modern annexation taking place in 1950. The Town now encompasses about 21 square miles.
An 1879 charter amendment formally established a mayor position and invested it with police power, but it was not until 1895 that the modern Mayor/Council structure began to evolve. Over the next decades, the village also evolved in many ways. In 1940, it had the highest per capita standard of education in the United States with 2,155 Chapel Hillians over 25 possessing an average of 13.7 years of schooling.
† History of Town Government, 2016, www.townofchapelhill.org, accessed September, 2021.
Nearby Towns: Carrboro Town •
---