Charlotte City
Charlotte City Hall is located at 600 East Fourth Street, Charlotte NC 28202.
Phone: 704‑336‑2241.
---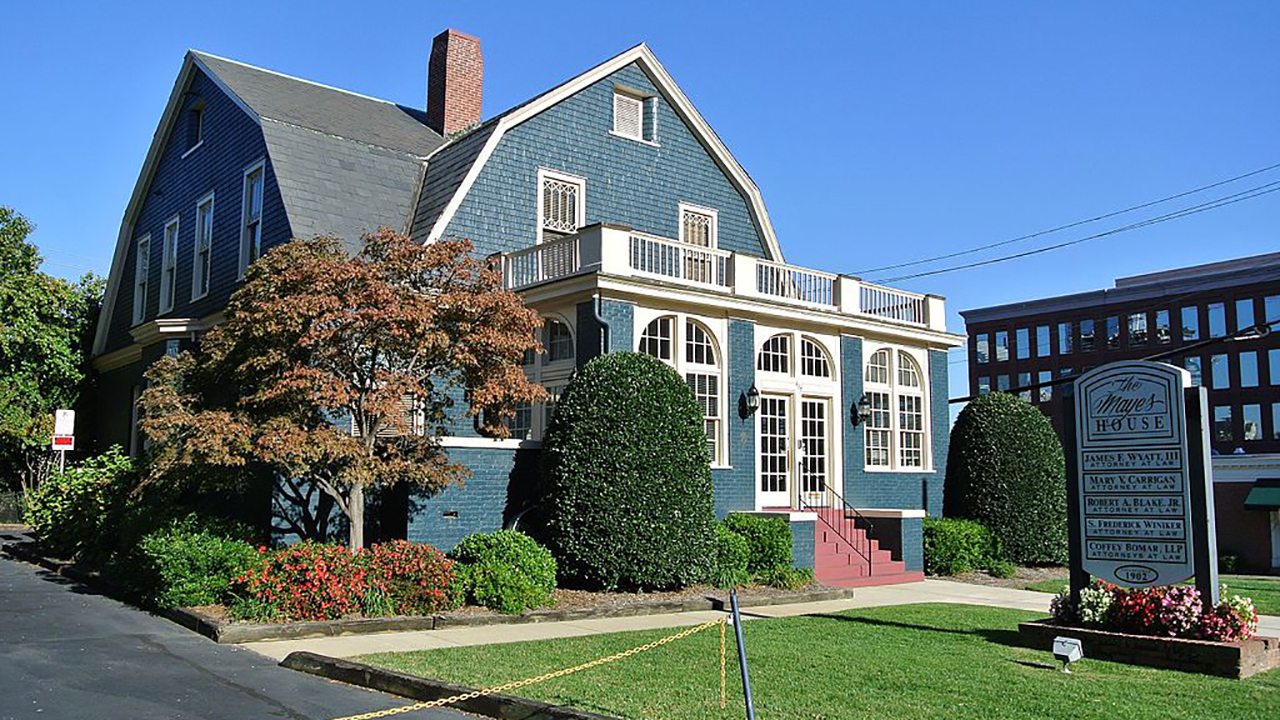 Photo: Mayes House, crca 1902, located at 435 East Morehead Street, Charlotte, NC. Listed on the National Register of Historic Places in 1993. Photographed by User:Ben Wsng (own work), 2016, [cc-4.0), via Wikimedia Commons, accessed August, 2021.
---
Beginnings [1]
In 1765, Henry Eustace McCulloh donated a tract of 360 acres to John Frohock, Abraham Alexander and Thomas Polk, as commissioners, to hold in trust for the County of Mecklenburg, on which to erect a courthouse, prison and stocks. McCulloh was the agent of Augustus Selwyn who owned several immense tracts of land on a grant from the king, making it obligatory upon him to settle them with an average of 1 person to every 200 acres. McCulloh realized that the interests of his employer would be well-served by locating the county seat on his land.
Neighborhoods
Abbotswood
Abbotts Glen
Aberdeen at Berewick
Alexander Hall
Alexander Park
Alexander Place
Alexander Towne
Alexander Woods
Alexsis
Allen Hills
Allenbrook
Allyson Park
Amber Leigh
Amber Ridge
Amberleigh
Amberwood
American Park
Americana Park
Amherst Green
Amity Gardens
Amyington
Andover
Anthem
Apple Tree
Apple Tree Village
Applegate
Appling Ridge
Arbor Creek
Arbor Estates
Arbor Glen
Arbor Hills
Arbor Ridge
Arboretum Crossing
Arborway
Ardrey
Ardrey Commons
Ardrey Woods
Arlington
Arlington Forest
Arlington Hills
Arlington Oaks
Arts District
Arvin Meadows
Arvin Village
Asbury Place
Ashbrook
Ashburn Farms
Ashfield Court
Ashley Park
Ashleytown
Ashton
Ashton Grove
Auburn Place
Audubon Park
Autumn Glen
Autumnwood
Avalon
Avensong
Avery Glen
Avondale
Ayrshire Glen
Ayrsley
Back Creek
Back Creek Chase
Back Creek Downs
Back Creek Farms
Back Creek Forest
Bahama Park
Bainbridge
Ballanmoor
Ballantrae
Ballantyne Country Club
Ballyshannon
Balmoral Park
Barclay Downs
Barley Greens
Barnesby Court
Barringer Woods
Barrington
Battle Forest
Baucom Ridge
Becton Park
Beechwood
Beechwood Acres
Belingrath
Belle Meade
Belle Terre Village
Belle Vista
Bellemeade
Bellmore Hall
Belmar Place
Belmeade Green
Belmont
Bennington
Bennington Place
Bennington Woods
Bent Creek
Bentley Oaks
Berewick
Berewick at Buckland
Berkeley
Berkeley Park
Berkshire
Berkshire on Lawyer
Berwick
Beverly Crest
Beverly Woods
Beverly Woods East
Bevington Pines
Bexley
Bexley at Ballantyne
Biddle Heights
Biddleville
Bingham Park
Birnam Woods
Bishops Ridge
Blakeney Greens
Blakeney Heath
Blakeney Preserve
Blantyre
Bonnie Briar
Boulder Creek
Boxwood East
Brackenbury Estates
Braddock Green
Bradfield Farms
Braemar
Braewick
Brandywine
Brandywine Park
Brantley Oaks
Brawley Farms
Braxton Woods
Brennan Court
Brianna Terrace
Briar Creek
Bridgehampton
Bridlewood
Brief Estates
Brighton
Brighton Woods
Bristol Farms
British Woods
Brittany Oaks
Broadmoor
Brookdale
Brookdale Village
Brookfield
Brookline
Brookmere
Brookmere
Brookstead
Brookstone
Brownes Ferry
Brownestone
Browns Cove
Brynmoor
Buckleigh
Burning Tree
Burtonwood
Butterfield
Cady Lake
Caldwell Commons
Callaway Plantation
Calloway Glen
Calloway Glen
Calton Place
Cambridge
Cambridge Commons
Cameron Wood
Camp Green
Candlelight Forest
Candlewood
Candlewyck
Canipe Farm
Canterbury
Canterbury Place
Capps Hill Village
Capps Hollow
Cardinal Glen
Carlyle
Carmel Acres
Carmel Chace
Carmel Country Club
Carmel Crescent
Carmel Crossing
Carmel Estates
Carmel Forest
Carmel Greens
Carmel Heights
Carmel Hollow
Carmel Park
Carmel Ridge
Carmel South
Carmel Station
Carmel Valley
Carmel Village
Carmel Woods
Carol Ann Woods
Carolina Crossing
Carr Heights
Carrabus Woods
Carriage House
Carriage Oaks
Carrie Hills
Carrington
Carronbridge
Carsons Pond
Casa Linda Estates
Castle Cliff
Castle Gardens
Castleton Gardens
Catawba River
Catawba River Plantation
Cedar
Cedar Croft
Cedar Grove
Cedar Hill
Cedar Lane Farms
Cedar Mill
Cedar Ridge
Cedar Walk
Cedar Wood
Cedar Woods
Cedarbrook
Cedarbrook Acres
Cedars East
Central Park
Centurion Estates
Chadwyck
Chadwyck Place
Chalcombe Court
Challis Farm
Chambery
Chambery
Chantilly
Chapel Cove
Chapel Grove
Charcon Heights
Charleston Place
Charlestowne Manor
Charlotte House
Charlotte Pines
Charndon Village
Charter Brook
Chastain Parc
Chastain Walk
Chatham
Cherokee Forest
Cherry
Cheshire Commons
Cheshunt
Chestnut
Chestnut Lake
Chestnut Ridge
Cheverton
Christenbury Hills
Churchfield
Churchill
Churchill Downs
Cindy Park
Citiside
City View Heights
Claiborne Woods
Clanton Park
Clarkson Green
Clarkson Place
Claybrooke
Clear Creek Estates
Clearbrook
Clinchfield
Clipper Point
Coatbridge
Coatbridge East
Cobblestone
Cobblestone Row
College Downs
Collins Park
Colonial Village
Colonial Village Apartments
Colony Acres
Colony Crossing
Columbine Court
Colvard Park
Colville
Commonwealth Park
Conservatory
Cool Springs
Copper Ridge
Cotswold
Cottonwood
Coulwood
Coulwood Hills
Coulwood Ridge
Country Club
Country Club Estates
Country Club Heights
Country Colony
Country Oaks
Country Roads
Country Walk
Courtside
Coventry
Coventry Woods
Covington
Covington at Providence
Crab Orchard
Crandon Park
Crater Park
Creekshire Estates
Creekshire Village
Creekside at Coulwood
Creekside Village
Cresthill
Crestview
Crestwood
Creswick
Cross Creek
Crossley Village
Crosswinds
Crown Colony
Crown Colony Estates
Crown Vue
Dalebrook
Dalton Village
Danbrooke Park
Darby Acres
Darby Hall
Davis Lake
Davis Meadows
Davis Ridge
Davis Run
Deercreek
Deercross
Deerfield Creek
Deerhurst
Deering Oaks
Derita
Derita Woods
Devongate
Devonshire
Devonwood
Dilworth Chase
Dixie Acres
Dogwood Pines
Double Oaks
Dovewood
Downing Place
Downs at Idlewild
Downtown
Druid Hills
Duncroft
Dunedin
Eagle Nest
Eagle Park
Eagle Ridge
East Dover Terrace
East Forest
East Providence Estates
East Sharon Park
Eastbrook
Eastbrook Woods
Eastern Highlands
Eastfield
Eastfield Meadows
Eastfield Ridge
Eastfield Village
Easthaven
Eastway Park
Eastwood
Eastwood Park
Eastwoods
Echo Hills
Edgefield
Edgemont
Edinborough Woods
Edinburgh
Edmore Estates
Eleanor Park
Elizabeth Oaks
Elizabeth Place
Elizabeth Townes
Ellington Farm
Ellington Park
Elliott Acres
Emerald Point
Enclave
Enderly Park
Endhaven
English Meadows
Essex
Essex Fells
Etalon
Evermay
Faires Farm
Fairfax Woods
Fairfield
Fairfield Park
Fairmeadows
Fairstone
Fairway Downs
Fairway Townhouses
Falcon Ridge
Farmington
Farmington Ridge
Farmwood
Farmwood North
Feather Trace
Featherstone
Featherstone Ridge
Fern Hill
Fieldlark Trails
Fircrest
Firestone
First Ward-Garden District
Five Knolls Estates
Fletcher Creek
Forest Glen
Forest Heights
Forest Pawtuckett
Forest Pond
Forest Ridge
Forestview
Fountaingrove
Four Seasons
Fox Chase
Fox Glen
Fox Ridge Estates
Fox Run
Foxboro
Foxcroft
Foxcroft East
Foxglove
Franciscan Terrace
Franklin Park
French Square
Gaitwood
Garden City
Garden Oaks
Gardens at Eastfield
Gardner Lane
Gatewood
Generals Estates
Generals Pointe
Genesis Park
Giverny
Glen Laurel
Glenbrook Acres
Glencroft
Glendale Acres
Glenfinnan
Glenforest
Glenhaven
Glenview
Glenwater
Glenwood
Glenwood Grove
Glenwood Manor
Golden Hills
Governors Square
Graham Court
Graham Heights
Grass Meadows
Great Oaks
Green Meadows
Green Park
Greenbriar
Greenlefe Village
Greentree
Greenville
Greenwood
Grenelefe
Greycrest
Greyson
Grier Heights
Griers Fork
Griers Grove
Grove Park
Habersham
Hamilton Green
Hamilton Lakes
Hamilton Oaks
Hamilton Village
Hamlin Park
Hammond Lake
Hammonds Station
Hampshire Hills
Hampton Glen
Hampton Green
Hampton Oaks
Hampton Park
Hampton Place
Harbor Club
Harbor Estates
Harbor Oaks
Harbour Woods Estates
Harrington Woods
Harris Glen
Harris Lake
Harris Pointe
Harrison Woods
Hartford Village
Hartwell
Harwood Landing
Hathaway Hills
Hatties Meadow
Havana Park
Hawk Ridge
Hayden Commons
Hearthstone
Heather Glen
Heathermoor
Heatherstone
Heatherwood
Heathrow
Hemby Woods
Henderson Oaks
Heritage Woods
Heron Bay
Herons Pond
Hersham Mews
Heydon Hall
Hickory Acres
Hickory Grove
Hickory Ridge
Hidden Creek
Hidden Forest
Hidden Hills
Hidden Valley
Hide A Way
High Timbers
Highgrove
Highland Creek
Highland Park
Highland Trace
Hillsborough Acres
Hillshire
Hillstone
Holly Grove
Holly Hill Farms
Holly Hills
Homestead
Homestead Glen
Homewood
Homewood Acres
Hope Valley
Hoskins
Houston Hills
Howie Acres
Hubbard Falls
Hubbard Glenn
Hubbard Woods
Hudson Park
Hugh Haven
Huntcliffe
Hunter Acres
Hunter Downes
Hunter Glen
Hunterbrook
Hunters Creek
Hunters Crossing
Hunters Gate
Hunters Glen
Hunters Valley
Hunting Creek
Hunting Ridge
Huntington Forest
Huntington Ridge
Huntingtowne Farms
Hyde Park
Idlewild Brooke
Idlewild Crescent
Idlewild Farms
Idlewild South
Idlewild Woods
Innisfree
Iverness
Iveystone
Ivy Hall
Ivy Meadows
Ivy Ridge
Jamison Place
Jefferson Park
Jordan Manor
Jordans Pond
Karras Commons
Keeneland
Keller Woods
Kellers Glen
Kelsey Glen
Kelsey Woods
Kenilworth
Kensington at Ballantyne
Kensington at Raintree
Keswick
Keyo Park West
Kimmerly Woods
King Acres
Kings Creek
Kings Manor at Ayrsley
Kings Tree
Kingsbridge
Kingsley
Kingston Forest
Kingstree
Kingswood
Kirkland Mews
Knollwood
Kyliglen
Ladley Court
Lake Forest
Lake Providence
Lake Wylie
Lake Wylie
Lakeland Hills
Lakeshore Village
Lakeside Acres
Lakeview Heights
Lakeview Village
Lakewood
Lamplighter Village
Landen Glen
Landen Meadows
Landsdowne
Laney Ridge
Langley
Langston
Lansdowne
Lansford
Larkhaven
Latta Square
Laurel Valley
Laurel Woods
Laureldale
Lauren Park
Lauren Village
Lawing Pond
Lebanon Heights
Lela Court
Lennox Square
Leslie Brooke
Leslie Farms
Lewis Forest
Lexington Commons
Lincoln Heights
Linda Vista Place
Linden Estates
Linden Oaks
Lions Gate
Little Rock Acres
Little Rock Woods
Lockwood
Long Creek
Loren Farms
Lost Tree
Lynton Place
Madison Oaks
Madison Park
Magnolia Place
Mallard Creek Crossing
Mallard Forest
Mallard Grove
Mallard Lake
Mallard Ridge
Mallard Square
Mallard Trace
Mallard Woods
Mammoth Oaks
Manchester
Maplecrest
Mapleton
Maplewood
Markham Village
Marlborough Woods
Marlwood Acres
Marlwood Forest
Marsh Estates
Martin Lakes
Matthews Grove
Matthews Ridge
Mayfair
Mayfield Park
McAlpine Forest
McAlpine Glen
McAlpine Woods
McCarron
McClintock Woods
McClure Acres
McCoy Crossing
McCrorey Heights
McDowell Farms
McDowell Meadows
McDowell Place
McGregor Downs
McIntyre
McKee Place
McKee Plantation
McKee Woods
Meadow Hill
Meadowbrook
Meadowbrook Forest
Meadowhill
Meadows
Mecklenburg Acres
Medearis
Medford Acres
Mellwood
Melynda Woods
Merry Oaks
Mia Manor
Michaels Landing
Midwood
Milhaven Park
Milhaven Woods
Mill Creek
Mill Valley
Milton Acres
Milton Commons
Milton Park
Mint Hill Estates
Mintworth Village
Miranda
Mission Hills
Mitchell Glen
Montclair Park
Montclaire
Montclaire South
Montibello
Montibello Crossing
Monticello Terrace
Montreux
Montreux
Moores Chapel
Moores Park
Morningside
Morris Farms
Morris Field
Morris Village
Morrison Place
Morrisons Glen
Morrocroft Estates
Mount Holly Estates
Mountain Island Lake
Mountain Point
Mountainbrook
Mt Isle Estates
Mt Isle Harbor
Mulberry Pond
Myers Park Manor
Myrtle Square
Nations Village
Neely Glen
Nevin Creek
Nevin Glen
New Stonehaven
Newcastle
Newell
Newell Place
Newman Manor
Norcroft
North Creek
North End
Northampton
Northbrook
Northlake
Northridge Village
Northwood
Northwood Estates
Nottingham Estates
Oakbrooke
Oakdale Crossing
Oakdale Forest
Oakdale Green
Oakdale Grove
Oakdale Place
Oakdale Village
Oakdale Woods
Oakhurst
Oaklawn Park
Oaklawn Terrace
Oakridge
Oakshire
Oakton
Oberbeck Farm
Oberbeck Village
Old Concord
Old Farm
Old Foxcroft
Old Oaks
Old Providence
Old Salem
Old Savannah
Old Stone Crossing
Old Woods
Olde Colony
Olde Georgetown
Olde Heritage
Olde Providence
Olde Stonehaven
Olde Sycamore
Olde White Manor
Olde Whitehall
Olmsted Park
Optimist Park
Orchard Knoll
Orchard Trace
Orchid Hill
Overlook
Oxford Glen
Oxford Hunt
Oxfordshire
Palisades
Park at Newell Crossing
Park Grove
Park Place
Park Plaza
Park Ridge
Park South Station
Park Vista
Park Walk
Park West
Parkdale
Parkers Crossing
Parkview
Parkview East
Parkwalk
Paw Creek
Peachtree Estates
Peachtree Hills
Pellyn Grove
Pellyn Wood
Pence Pond
Pharr Acres
Pierpointe
Pine Harbor Estates
Pine Island
Pine Knoll
Pine Valley
Pinebrook
Pinecrest
Pinecroft
Pines of Woodlawn
Piper Glen
Plantation Falls Estates
Planters Walk
Plaza Acres
Plaza Hills
Plaza Park
Plaza Ridge
Pleasant Valley
Polo Club at Mountain Island Lake
Polo Club at Weddington
Polo View
Ponderosa
Poplar Springs
Portofino
Potters Glen
Potters Trace
Preservation Pointe
Preston Forest
Preston Place
Preston Village
Princeton
Pritchard Place
Prosperity Place
Prosperity Ridge
Providence Acres
Providence Arbours
Providence Colony
Providence Commons
Providence Country Club
Providence Crossing
Providence Forest
Providence Glen
Providence Heights
Providence Landing
Providence Park
Providence Pines
Providence Place
Providence Plantation
Providence Pointe
Providence Springs
Providence West
Providence Woods
Provincetowne
Pullengreen
Quail Acres
Quail Hill
Quail Hollow
Quail Hollow Estates
Quail Park
Quail Ridge
Quail Run
Quail View
Queens Grant
Queens Station
Queens Towers
Radbourne
Raeburn
Raintree
Raintree Greens
Rama Woods
Ramblewood
Randolph Park
Random Woods
Ravencrest
Ravenridge
Ravenswood
Rea Woods
Reavencrest
Red Oak Estates
Reedy Creek
Reedy Creek Plantation
Reflections
Regal Heights
Reid Meadows
Reid Park
Renaissance Gardens
Renaissance on Carmel
Reunion
Revolution Park
Reynolds Walk
Richmond Hills
Ridgebrook
Ridgemont
Ridgewood
River Oaks
River Vista
River Walk Plantation
Riverbend
Riverpointe
Riverview Acres
Riverwood
Riviera
Robinhood Woods
Robinson Woods
Robyns Glen
Rockbridge
Rockbrook
Rockledge
Rockwell Park
Rocky Ridge
Rocky River Village
Rolling Acres
Rolling Hills
Rolling Oaks
Rollingwood
Rosecliff
Rosecroft
Rosegate
Rosewood
Rossmore
Roxborough
Royal Crest
Royal Oaks
Royden
Rozzelles Landing
Running Deer
Rutledge Grove
Sadler Ridge
Saint Johns Ridge
Saint Michaels
Sanctuary
Sarah Hall
Sardis Court
Sardis Cove
Sardis Croft
Sardis Forest
Sardis Glen
Sardis Hills
Sardis Oaks
Sardis Road
Sardis Woods
Savannah Commons
Scaleywood
Scotland Colony
Scots Hill
Scotsborough
Second Ward
Sedgewood Place
Selwyn Farms
Selwyn Park
Selwyn Village
Settlers Landing
Seven Eagles
Seven Oaks
Seversville
Shadow Lake
Shady Glen
Shady Hills
Shady Knoll
Shamrock Gardens
Shamrock Gardens
Shamrock Green
Shamrock Hills
Shamrock Terrace
Shannon Green
Shannon Park
Sharon Chase
Sharon Commons
Sharon Forest
Sharon Hills
Sharon Lakes
Sharon Place
Sharon South
Sharon Woods
Sharonbrook
Sharonview Place
Sharonwood Acres
Sheffield
Sheffield Park
Shelburne
Shelton
Sherbrook
Signature Ridge at Highland Creek
Silver Court
Silverstone
Silverwood
Sinclair Place
Singing Springs
Sir Johns Hill
Skybrook
Slater Ridge
Slater Springs
Slatewood
Smallwood
Somerset Springs
Sonoma Village
South End
South Hall
South Hill
South Park
Southampton Commons
Southbridge
Southbridge Forest
Southbrook
Southbury
Southend
Southgate
Southpark
Southpark Corners
Southpoint Landing
Southridge
Southwood
Spencer Park
Spicewood Acres
Spring Park
Spring Valley
Spring Woods
Springbrook
Springcroft
Springfield
Springfield Square
Springhurst at Hickory Grove
Springsteen
Springwood
St Clair
St Claire
St George Place
St Ives
Stallworth
Starmount
Starmount Forest
Statesville Avenue Terrace
Steel Oaks
Steele Creek
Steele Creek Landing
Steelechase
Steelecroft
Steelecroft Place
Steeplechase
Sterling Heights
Stewarts Crossing
Stillwater
Stone Bluff
Stone Creek
Stone Orchard
Stone Park
Stone Ridge
Stonebriar
Stonebridge
Stonebrook
Stonecrest
Stonecroft
Stonefield
Stonegate
Stonegrove
Stonehaven
Stoneridge
Stoney Creek
Stoney Pointe
Stoney Ridge
Stoneybrook
Stonington
Stowe Creek
Stratford Pond
Strathmoor
Strider Ridge
Sturnbridge
Sullivans Trace
Summerfield
Summerlake
Summerlin
Summerville
Summit Hills
Sunset Oaks
Sunset on Linda Vista
Sunset Park
Sunset Village
Sunstone
Susanna Place
Swan Run
Sweetwater
Sycamore Grove
Tanbridge Commons
Tanglewood
Taragate Farms
Tarawoods
Taylor Place
Tealbriar
Terrabrook
The Arts District
The Avenues at Ayrsley
The Gates at Bridgehampton
The Village at Brierfield
The Village at Tottenham
The Villages of Leacroft
Thomasboro
Thompson Brook
Thompson Glen
Thornhill
Thornton Oaks
Thuringer Court
Tibble Creek
Timber Creek
Timberlake
Timberlands
Timberstone
Todd Park
Towne Meadows at Treyburn
Tracy Glenn
Traditions
Treetop
Trellis Pointe
Trexler Acres
Treyburn
Trianon
Trillium Fields
Trinity Park
Tryon Hills
Tuckaway Park
Turnberry
Turtle Rock
Twelve Oaks
Twin Oaks
Tyler Woods
University Heights
University Park
University Terrace
Usher Estates
Valley Grove
Valley Ridge
Valleybrook
Vanderbilt at Providence
Vanderbrook
Vauxhall Court
Vermillion
Verndale Farms
Versailles
Victoria Park
Victory Hollow
Villa Heights
Village of Ashley Ridge
Villages at Back Creek
Villages at Rosedale
Villages of Avonlea
Villages of Leacroft
Villas at Ballantyne Trace
Vineyard Glen
Vineyards on Lake Wylie
Virginia Manor
Waggoners Glen
Waldon Park
Walkers Creek
Wallace Creek
Walnut Creek
Walnut Grove
Walnut Hill
Washington Heights
Watauga Village
Waterford
Waterhaven
Waterleaf
Waterlyn
Watermark
Waters of Steele Creek
Waverly
Waverly Hall
Weddington Meadows
Weddington Ridge
Wedgewood
Wedgewood Commons
Wedgewood North
Wellesford
Wellington
Wendover Heights
Wendover Hill
Wendover Park
Wessex Square
West View
Westbourne
Westchester
Westdale
Westerly Hills
Westerwood
Westmoreland
Weston Glen
Weston Woods
Westover Hills
Westwood
Westwood Park
Wexford
Wheaton Grove
Whispering Oaks
Whispering Pines
Whitby Pond
White Forest
White Oak Park
Whitegate
Wildflower Pond
Wildwood
Wildwood Meadows
Williams Glenn
Williamsburg
Williamsburg South
Willow Creek
Willowmere
Wilmore
Wilmore Walk
Wilora Landing
Wilora Woods
Wilshire
Wilson Glen
Wilton Wood
Wiltshire Manor
Winchester
Windermere
Winding Creek
Windsong Trails
Windsong Village
Windsor Forest
Windsor Grove Homes
Windsor Park
Windsor Ridge
Windswept
Windward Cove
Windwood
Windy Ridge
Wing Pointe
Wingate
Winget Pond
Winterfield
Winterglen
Withers Grove
Withrow Downs
Wolfe Ridge
Woodberry Forest
Woodbridge
Woodburn
Woodbury
Woodcreek
Woodford Green
Woodland Station
Woodlands
Woodmere
Woodridge
Woods at Coulwood
Woodsdale Acres
Woodside Village
Woodstone
Wren Acres
Wynchase
Wyndham
Wyndham Place
Wynridge Estates
Yachtsman Point
Yorkshire
Yorkwood
Charlotte was officially established as the county seat in 1774. From 1685 until that time there was much contention among various interests competing locations. In 1774 Charlotte covered less than 100 acres of land, but population increased steadily. In 1778 a law was enacted permitting the laying off of 80 additional lots as all of the original ones had been taken.
The history of both Charlotte and Mecklenburg County during the last quarter of the 19th century is chiefly an account of the growth of the manufacturing industries. As these grew, agriculture and the trades were developed to supply the increased demands, and as the city grew, public buildings were erected and improvements made for the benefit of the public.
A water works plant was established in 1882, and purchased by the City in 1899. Gas lights had been put into operation as early as 1857. Street cars were running by 1887 with electric power substituted for horse power in 1893. In 1883 the Southern Bell Telephone Company began erecting poles. An ordinance prohibiting the sale of tobacco on Sunday was enacted in 1877. A sewage system was established in 1881, and a crematory for waste disposal was established in 1896.
A new city hall was built in 1891 and a county courthouse built in 1896. A U. S. Federal building and post office in 1891.
D. A. Tompkins, History of Mecklenburg County and The City of Charlotte from 1740 to 1903, Volume One, Observer Printing House, Charlotte, 1903.
Nearby Towns: Charlottesville City • Charlottesville City •
---