Missoula County, Montana
---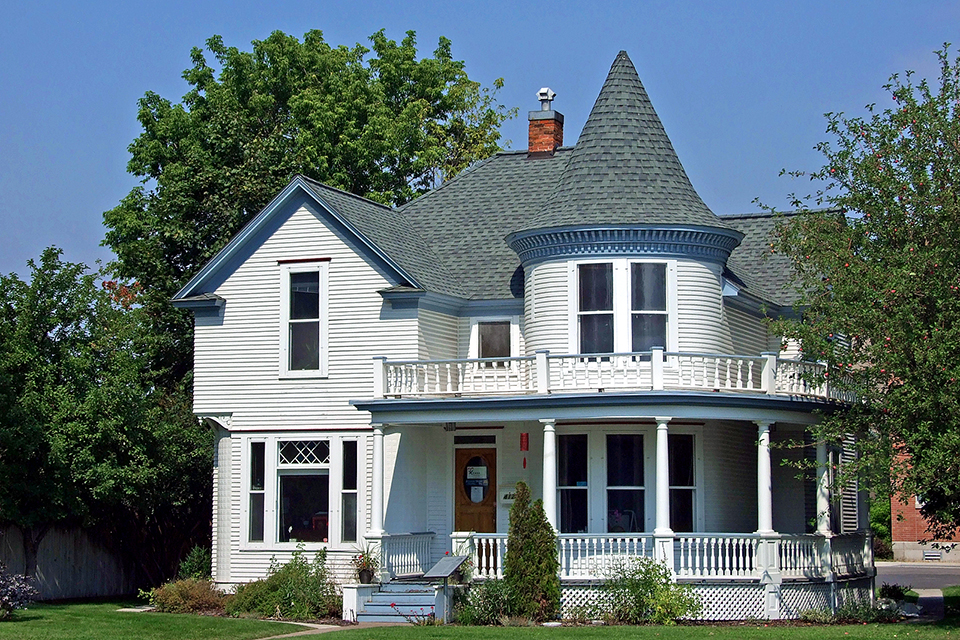 Photo: John S. Johnston House, circa late 1890s with early 1900s addition, located at 412 W. Alder Street, Missoula. Listed on the National Register of Historic Places in 1984. Photographed by User:Robstutz (own work), 2012, [cc-3.0], via Wikimedia Commons, accessed January, 2022.
---
TOWNS
Bonner-West Riverside
Clinton
East Missoula
Evaro
Frenchtown
Lolo
Seeley Lake
Wye
The Missoula County Courthouse is located at 200 West Broadway, Missoula, MT 59802; phone: 406-721-5700.
Missoula County was part of the Montana Territory from 1864-1889 when Montana was admitted to the Union.
The first county seat was at "Hell Gate" in 1860, 4 miles west of the present site of the City of Missoula.
HISTORIC SITES
Apartment Building at 116 Spruce Street
Atlantic Hotel
Bellows House
Belmont Hotel
Bluebird Building
Brunswick Hotel
Camp Paxson Boy Scout Camp (24MO77)
Carnegie Public Library
Catholic Block Historic District
Christie, Thomas J., House
Cook Farm
DeSmet Schoolhouse
Dixon-Duncan Block
East Pine Street Historic District
Evaro School
Flynn Farm
Forkenbrock Funeral Home
Fort Fizzle Site
Fort Missoula Historic District
Gibson, A. J., House
Graham Apartments
Herzog, J. M., House
Higgins Block
Johnston, John S., House
Keith and Ross Block
Keith, John M., House
Laird's Lodge Historic District
Lenox Flats
Lower Rattlesnake Historic District
McCormick Neighborhood Historic District
Missoula County Courthouse
Missoula Southside Historic District
Mrs. Lydia McCaffery's Furnished Rooms
Northside Missoula Railroad Historic District
Paxson, Edgar, House
Prescott, Clarence R., House
Reid House
Saint John the Baptist Catholic Church
Simons Block
Stark School
Sterling, Fred T., House
Toole, John R., House
Traveler's Rest
U.S. Forest Service Remount Depot
University Apartments
University Area Historic District
University of Montana Historic District
---