Ramsey County Courthouse is located at 15 West Kellogg Boulevard, St Paul MN 55102; phone: 651‑266‑8350.
---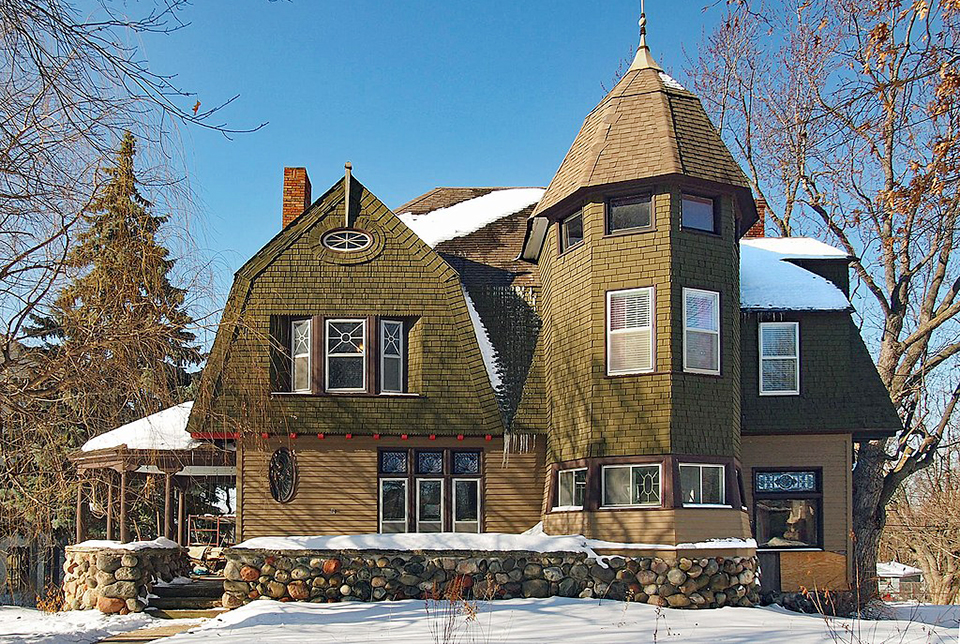 Photo: Charles W. Schneider House, circa 1887, located at 1750 Ames Place East, Hazel Park neighborhood, Saint Paul, MN. Listed on the National Register of Historic Places in 1978. Photographed by user:McGhiever (own work), 2013, [cc-3.0], via Wikimedia Commons, accessed September, 2021.
---
TOWNS
Arden Hills City
Gem Lake City
Lauderdale City
Little Canada City
Maplewood City
Mounds View City
New Brighton City
North Oaks City
North Saint Paul City
Roseville City
Vadnais Heights City
White Bear Lake City
White Bear Twp
Beginnings1]
Established October 27, 1849, this county was named in honor of Alexander Ramsey, the first governor of Minnesota Territory. He was born near Harrisburg, Pa., September 8, 1815; studied at Lafayette College; was admitted to the practice of law in 1839; was a Whig member of Congress from Pennsylvania, 1843 to 1847; was appointed by President Taylor, April 2, 1849, as governor of this Territory; arrived in St Paul, May 27; and commenced his official duties here June 1, 1849. He continued in this office to May 15, 1853. In 1851 Governor Ramsey negotiated important treaties with the Sioux at Traverse with the Sioux and Mendota, and in 1863 with the Ojibways where the Pembina trail crossed the Red Lake river, by these treaties opening to settlement the greater part of southern and western Minnesota. He was the second mayor of St. Paul in 1855. After the admission of Minnesota as a state, he was elected its second governor, and had this office from January 2, 1860, to July 10, 1863, during the very trying times of the civil war and the Sioux war. Being in Washington on business for the state when the news of the fall of Fort Sumter was received, he at once tendered to President Lincoln a regiment of one thousand men from Minnesota, this being the first offer of armed support to the government. Ramsey was United States senator, 1863 to 1875; and secretary of war, in the cabinet of President Hayes, 1879 to 1881. He was president of the Minnesota Historical Society, 1849-63, and from 1891 until his death in St.Paul, April 22,1903. The Minnesota legislature has provided that his statue will be placed in the Statuary Hall of the national capitol, being one of the two in this state thus honored.
When this county was first established in 1849, as one of the nine counties into which the new territory was originally divided, it reached north to Mille Lacs and to the upper Mississippi in the present Aitkin county. In 1857, with the formation of Anoka, Isanti, Mille Lacs, and Aitkin counties, Ramsey retained only a small part of its former area and became the smallest county of Minnesota. Its county seat, St. Paul, has been continuously the capital of the territory and state.
Upham, Warren, Minnesota Geographic Names, Minnesota Historical Society Collection, Volume XVII, 1920, Minnesota Historical Society, Saint Paul
HISTORIC SITES
Armstrong, John M., House
Beebe, Dr. Ward, House
Brings, Joseph, House
Brooks, Edward, Sr. and Markell, House
Brunson, Benjamin, House
Bullard, Casiville, House
Burbank-Livingston-Griggs House
Butler, Pierce and Walter, House
Cobb, Cyrus B., House
Dahl, William, House
Davern, William and Catherine, Farm House
Fitzgerald, F. Scott, House
Foss House
Gibbs, Heman, Farmstead
Giesen-Hauser House
Heimbach, Edward and Elizabeth, House and Carriage House
Hill's James, J., North Oaks Farm
Hill, James J., House
Hinkel, Jacob, House
Historic Hill District
Hobe, E. H., House-Solheim
Irvine Park Historic District
Irvine, Horace Hills, House
Kellogg, Frank B., House
Lee, Olaf, House
Lowertown Historic District
Luckert, David, House
McGill, Andrew R., House
Minnesota State Capitol
Muench, Adolf, House
Noyes, Charles P., Cottage
Ramsey, Alexander, House
Ramsey, Justus, Stone House
Rau/Strong House
Rochat-Louise-Sauerwein Block
Schneider, Charles W., House
Spangenberg, Frederick, House
St. Paul City Hall and Ramsey County Courthouse
St. Paul Seminary Historic District
Vienna and Earl Apartment Buildings
Waldman, Anthony, House
Weber, Martin, House
West Summit Avenue Historic District
Woodland Park Historic District
Yoerg, Anthony, Sr., House
---