---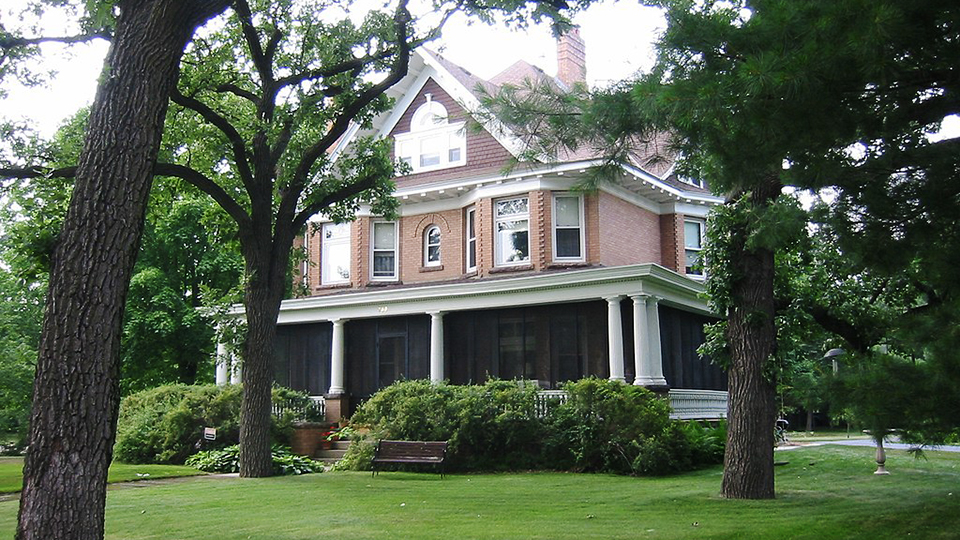 Photo: Rober C. Dunn House, circa 1902 Colonial Revival, located at 708 South 4th Street, Princeton. Listed on the National Register of Historic Places in 1985. Photographed by User:Elkman (own work), 2007, [cc-3.0], via Wikimedia Commons, accessed September, 2021.
---
According to the Mille Lacs County Assessor's Office in 2013, Mille Lacs County [†] contains a total of 373,120 acres of land. Of that, 29% were classified as agricultural acres in 2013, showing a slight increase since 2000. The major crops in the County include corn, oats, and soybeans; dairy and livestock farming are also an important part of the County's agriculture. The county contains remnants of what was once predominantly red and white pine forests. Approximately 36% of the County is forested. The northern portion of the County is populated by stands of aspen, birch, oak, and pine. Many of these areas have been acquired by the state for use as recreation areas, or have been designated as State Wildlife Areas.
There are several major surface water areas within Mille Lacs County, including portions of Mille Lacs Lake and the Rum River. These waters and their shorelands are protected by State and County regulations in order to preserve and enhance water quality. These and other water bodies are used as the County's water source, and to provide recreational opportunities such as boating, swimming, and fishing.
Mille Lacs Lake, the second largest lake in Minnesota, is a shallow basin with 132,520 acres of surface area. Approximately 68,378 acres lie within Mille Lacs County. Mille Lacs Lake is an economic driver in the northern portion of the County, with dozens of resorts and countless water recreation-dependent businesses in the area. The health of Mille Lacs Lake is directly tied to the health of the local economy.
The economic base of Mille Lacs County changes dramatically from north to south. The northern end is home to the County's primary tourism and lumber sectors, along with smaller scale retail, manufacturing, and farming operations. The natural landscape and soils of the southern portion of the County make it suitable for larger scale farming and agriculture operations; proximity to the Twin Cities metro area (Minneapolis / St. Paul)and larger population base has stimulated larger scale manufacturing, production, and retail businesses.
† Mille Lacs County Comprehensive Plan, 2013, www.millelacs.mn.gov, accessed September, 2021.