Heritage Hill Historic District
Post Office: Grand Rapids
Zip Code: 49503
---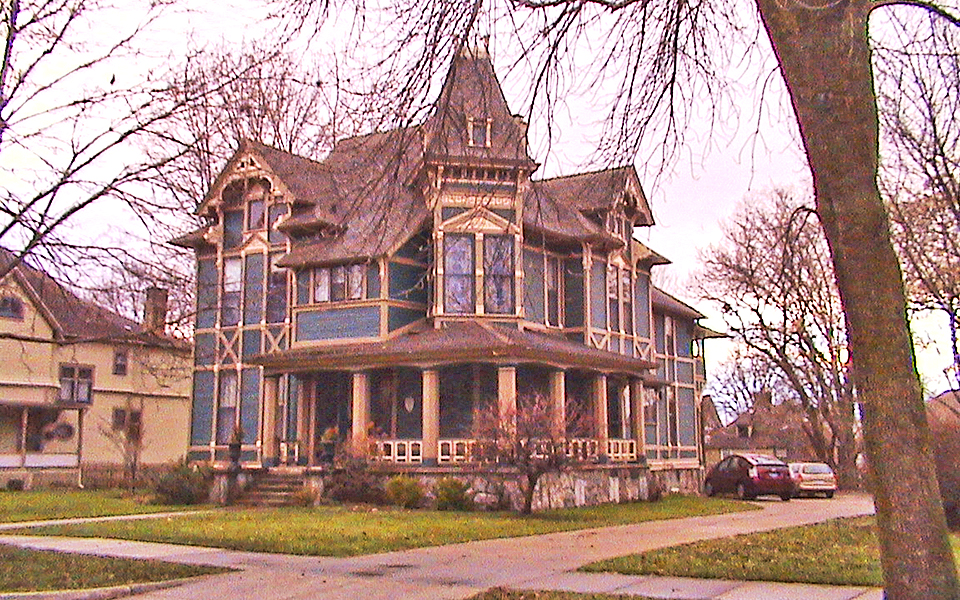 Photo: Victorian House in the Heritage Hill Historic District, Grand Rapids. The District was listed on the National Register in 1971. Kent County, Public Domain, 2007, via Wikimedia Commons, accessed July, 2022.
---
Heritage Hill was designated in the Neighborhoods category of the American Planning Association's "Great Places in America" for 2012.
The Heritage Hill Historic District (bounded by Michigan Avenue on the North, Pleasant Street on the South, Union Avenue on the East, and Clarendon Place and Jefferson Avenue on the West) was listed on the National Register of Historic Places in 1971. A boundary increase amendment was added in 1976 to include the 600 block of Union Street.
Heritage Hill [‡] consists of around 1,300 homes of a variety of styles and sizes. Most of the homes were built between the 1840s and 1920s for single-family residences. Since its development, major changes have occurred in the area, both for better and for worse. In the 1930s and 1940s, many houses were turned into apartment buildings to help accommodate young professionals interested in living downtown. Also, in the 1960s and 1970s, many large houses were converted into multi-unit residences or office buildings. During these years intense efforts of preservation began as many local residents took into account the beauty and uniqueness of Heritage Hill and saw these changes as a setback for the community. These efforts in the late 1960s and early 1970s have contributed to Heritage Hill staying primarily a residential neighborhood with only few small office areas scattered throughout.
‡ Heritage Hill: A Brief Overview and Suggested Walking Tour, Calvin College, Grand Rapids, MI, www.calvin,edu, accessed February, 2013.
Nearby Neighborhoods
Street Names
Antisdel Place NE • Avalon Terrace SE • Campbell Place NE • Case Avenue SE • Cherry Street SE • Clifton Place NE • College Avenue NE • College Avenue SE • Crescent Street NE • Fountain Street NE • Fulton Street East • Gay Avenue SE • Ghida Place NE • Heritage Commons Street SE • Irving Street SE • Jefferson Avenue SE • Lafayette Avenue NE • Lafayette Avenue SE • Logan Street SE • Lyon Street NE • Madison Avenue SE • Michigan Street NE • Morris Avenue SE • Oakley Place NE • Paris Avenue SE • Pleasant Street SE • Portsmouth Place NE • Prospect Avenue NE • Prospect Avenue SE • State Street SE • Union Avenue NE • Union Avenue SE • Washington Street SE • Wealthy Street SE
---