Kalamazoo County, Michigan
---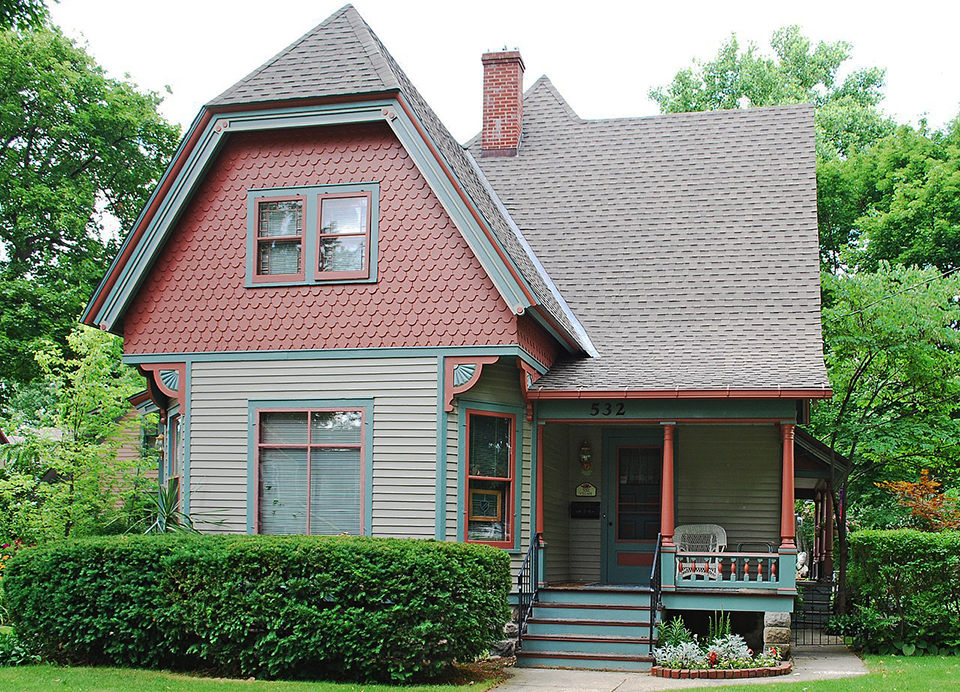 Photo: Peter B. Appeldorn House, circa 1895, located at532 Village Street, KalamazooI. Listed on the National Register of Historic Places in 1983. Photographed by User:Andrew Jameson (own work), 2010, [cc-3.0], via Wikimedia Commons, accessed September, 2021.
---
TOWNS
Alamo Twp
Augusta Vlg
Brady Twp
Charleston Twp
Climax Twp
Climax Vlg
Comstock Twp
Cooper Twp
Galesburg City
Kalamazoo Twp
Oshtemo Twp
Parchment City
Pavilion Twp
Portage City
Prairie Rounde Twp
Richland Twp
Richland Vlg
Ross Twp
Schoolcraft Twp
Schoolcraft Vlg
Texas Twp
Vicksburg Vlg
Wakeshma Twp
Kalamazoo County Administrative Offices are located at 201 West Kalamazoo Avenue, Kalamazoo, MI 49007; phone: 269-383-8840.
The county was first organized in 1830. The county seat (Kalamazoo, then named Bronson Village) was designated in 1831.
HISTORIC SITES
Acres, The
Appeldorn, Peter B., House
Booth-Dunham Estate
Bronson Park Historic District
Brown, Isaac, House
Burdick--South Historic District
Delano, William S., House
Gibbs, John, House
Gilbert, Henry, House
Gregory, Richard and Mary Woodward, House
Haymarket Historic District
Henderson Park-West Main Hill Historic District
Kendall, Silas W., House
Lilienfeld, David, House
Marlborough, The
Montague, Henry, House
Oaklands, The
Potter, Allen, Octagon House
Prentice, Alonzo T., House
Richland Historic District
Roberts, Martin W., House
Rose Place Historic District
Shaffer, Enoch, House
South Street Historic District
Stevens, Andrew J., House
Stuart Area Historic District
Stuart, Charles E., House
Thomas, Dr. Nathan M., House
Vine Area Historic District
Welsh, William L., Terrace
Western State Normal School Historic District