Eaton Rapids City
Eaton Rapids City Hall is located at 200 S Main St, Eaton Rapids, MI 48827
Phone: 517-663-8118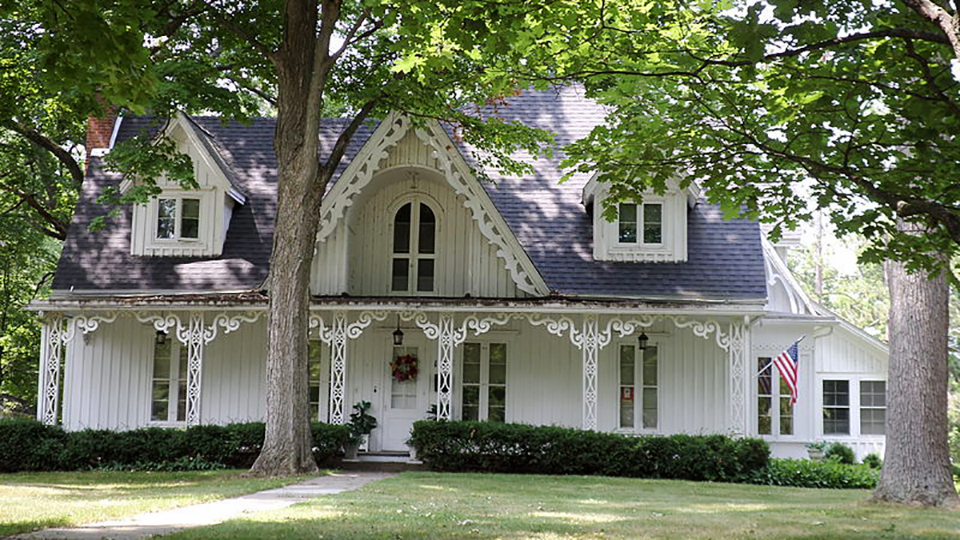 Photo: Isaac N. Reynolds House, ca. 1866, 123 N. East Street, Eaton Rapids, MI. Listed on the National Register of Historic Places in 1974. Photographed by User:kennethaw88 (own work), 2014, [cc-by-4.0 (creative commons), accessed October, 2020.
---
Neighborhoods
Eaton Rapids [†] is a small City, just about 3.5 square miles, located in Eaton County Michigan, a part of the South Central prosperity region that is almost equidistant between Detroit and Lake Michigan. The prosperity region fully encompasses what is also known as the tri-county region that includes Ingham, Eaton, and Clinton counties. It is a powerful region anchored by large-scale political and economic actors: the state's capitol, General Motors in Lansing, and Michigan State University in East Lansing. In relation to this hub of employment, entertainment, and retail, Eaton Rapids is a "bedroom community" within a thirty- minute commute. While Eaton Rapids offers more than a typical bedroom community with its traditional downtown uniquely situated on an island, the most recent recession has proved hard to rebound from compared to the region's major institutions. Historically, Eaton Rapids' position along the Grand River was a boon for the local economy as it was a conduit for generating wealth. When the area was first settled in the mid-1830s, the supply of timber and water power was a big draw. In 1837, the Old Red Mill was built to use the power of the stream to grind corn, and later a sawmill and wool carding mill were developed on the river. To this day, the river remains a source of pride to the community, an asset to be better integrated and enhanced to serve as a recreational focal point. Eaton Rapids became a City in 1881 and transitioned well into the heyday of manufacturing toward the middle of the 20th century. In fact, Harlow Curtice, an Eaton Rapids area native, went on to become the President of General Motors in 1953 and was selected as Time Magazine's Man of the Year in 1955.
The transition to the new service-based economy of the 21st century has not been as smooth for much of the Midwest, but the City does continue to enjoy some advantages that are favorable for succeeding in the modern economic climate. For instance, the downtown is on the list of Registered Historic Places in Michigan as "Island City Historic District," which makes it both traditional and unique. These types of distinctions matter as younger generations choose "place" first and job "second." Features that set a city apart and offer a high quality of life have a chance of retaining talent, who can now work anywhere in the global economy but can only live in one place.
† City of Eaton Rapids, Master Plan, 2020, www.mirisingtide.org, accessed September, 2020.
---