Annapolis City
Annapolis City Hall is located at 160 Duke of Gloucester Street, Annapolis, MD 21401.
Phone: 410‑263‑7997.
---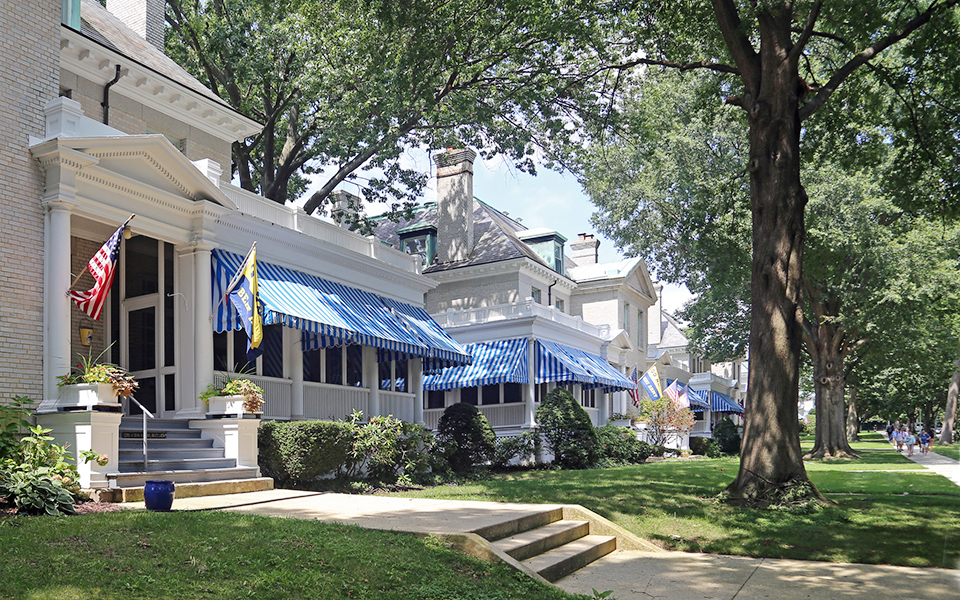 Captains Row, U.S. Naval Academy copyright © 2018 by Philip "Flip" Krugler. flipspix.smugmug.com.
---
Neighborhoods
Actons Landing
Admiral Heights
Admiral Terry
Admirals Reach
Admirals View
Amberley
Ambridge
Anchorage
Annapolis Cove
Annapolis Overlook
Annapolis Ridge
Arundel on the Bay
Atlantis
August Woods
Bancroft
Bay Dale Ridge
Bay Head
Bay Highlands
Bay Ridge
Bay Ridge Landing
Bay View Estates
Bayhead
Baywoods
Beacon Hill
Beacon View
Beaver Hill Dam
Beechwood Hill
Belle Grove
Bethany Court
Bittersweet
Blackwalnut Cove
Bon Haven
Boucher Landing
Briarwood
Brice Manor
Brice Manor West
Brickyard Hill
Broad Creek
Broadview Estates
Browns Woods
Cape St Claire
Cape St John
Carriage Hills
Carrs Manor
Cathedral West
Cedar Crest Manor
Cedar Lane Farm
Cedar Park
Cedar Ridge
Chatham Lane
Cherrystone
Chesapeake Harbor
Chesapeake Landing
Chesapeake Oaks
Chesapeake Preserve
Child Point Estates
Chinkapin Acres
College Parkway Place
Colony Hills
Columbus Court
Copperwood
Courts at Belle Pointe
Creekside Cove
Crosspointe
Downtown
Dreams Landing
Dutch Glen
Eagle Pointe
Eastport
Eatons Landing
Epping Farms
Epping Forest
Fairwinds
Ferry Farms
Fishing Creek Farm
Forest Glen
Forest Hills
Forest Hills
Forest Square
Four Seasons at St Margarets
Garden Farm
Georgetown Estates
Georgetown Grove
Grandview at Annapolis
Great Meadow
Greenbriar
Greenholly
Greenwood Acres
Harmony Acres
Harness Creek
Harness Creek Overlook
Harness Creek Park
Harness Gardens
Hawkins Cove
Heritage
Heritage Harbor
Hickory Hill
Hicks Subdivision
Highland Beach
Highland Woods
Hillsmere
Hillsmere Estates
Hilltop Village
Homewood
Hunt Meadow
Hyde Park
Inglehart
Keyes Farm
King James Landing
Kingsport
Kitty Creek
Knightsbridge
Lake Heron
Landings at Spa Creek
Lighthouse Landing
Lincoln Heights
Lindamoor
Magothy Manor
Magothy Meadows
Manresa Overlook
Mariners Cove
Mariners Landing
Mariners Point
Martins Cove Farm
Maryville
McGuckian
Melvin Road
Meredith Homes
Merideth Creek
Mill Creek Landing
Monticello
Mulberry Hill
Newport
North Green Condos
North River Forest
North Severnside
Oakwood
Old Mill Bottom Estates
Olde Bloomfield
Olde Town Manor
Orchard Beach
Osprey Landing
Overlook at Broad Creek
Oxford Landing
Oyster Harbor
Painters Hill
Palmers
Park Place
Parole
Pleasant Place
Pleasant Plains
Presidents Hill
Primrose Acres
Providence
Regatta Bay
Residences at Park Place
Revell Downs
Riders Glen
Riva
Riva Commons
Riva Trace
Riva Woods
Rivergate
Riverview
Riverwalk
Rolling Hills
Rolling Knolls
Romar Estates
Rosewood
Saefern
Saint Margarets
Saltaire
Scotts Crossing
Seabreeze
Severn Grove
Severn House
Severn Manor
Shearwater
Sherwood Forest
South Haven Beach
South River
Southwoods
Spa Creek
St Margarets
Stevens Park
Stillwoods
Stonecreek
Stonehurst
Stonewater Estates
The Downs
Tidewater
Tidewater Colony
Tidewater Garden
Tidewater Towns
Tilghmans Landing
Timber Creek
Tower View
Truxton Heights
Tydings on the Bay
Tyler Heights
Tyler Village
Victor Haven
Vineyards Of Annapolis
Walnut Ridge
Wardour
Watergate
Waters Edge
Waters Ridge
Wellsview
West Annapolis
Whiskey Bottom
Whispering Woods
Whitehall Beach
Whitehall Manor
Wild Rose Shores
Wilshire
Winchester Heights
Windfern Forest
Windgate
Windmill Hill Estates
Windsor Estates
Windsor Ridge
Windswept
Woodlore
Woods Landing
Wyatts Hill
Yorktown Manor
The downtown core of the city was designated the Colonial Annapolis Historic District in 1965, a National Historic Landmark. The district retains many elements of the original town plan (surveyed in 1695), and is home to more than 100 extant 18th-century buildings.
Beginnings [1]
In 1695 Francis Nicholson, Governor of Maryland, conceived an idealized baroque city plan of streets radiating from two circles to be superimposed on the existing Colonial town grid of Annapolis. The Nicholson Plan exists today in somewhat modified form. The circles are Church and State Circles, and have evolved from pure circles to irregular ovoids. Elements like Bloomsbury Square and the Garden southeast of State Circle (known in 1743 as Public Circle) were never fully realized and streets like Cornhill were added.
Annapolis as described in 1904 [2]
Annapolis, the state capital, is also the county seat. In 1694 it supplanted St. Mary's city as the seat of government in the colony, and grew to be the "Paris of America," the abode of wealth, elegance, and fashion. In the Senate Chamber of the historic old State House Washington resigned his commission as commander-in-chief, to the Continental Congress, at the close of the Revolution; on State House Hill, where Revolutionary troops encamped, is a heroic statue of Baron de Kalb, commander of the Maryland Line on the gory field of Camden. Near the State House is the Executive Mansion, and in the vicinity are numerous specimens of eighteenth century architecture. The city and county are rich in historical associations. Eden, the last of the colonial governors, died in Annapolis, and his grave is on the Severn. Tombs of the early settlers, bearing still familiar names, and other traces of the past preserve county history. The Maryland Gazette, first printed in 1745, is one of the Annapolis newspapers. The United States Naval Academy is a government reservation adjoining the city. The population of Annapolis is 8,525. It was named after Queen Anne. Agriculture and horticulture are leading industries of the county, and its manufacturing interests are numerous, and some of them of great importance. South Baltimore, in the northern part of the county, is a manufacturing center, with car-works and other large plants; Brooklyn has various industries; Annapolis, a port of entry, is a leading center of the oyster industry. Tobacco, wheat, corn, vegetables, and fruits are grown, and woodland areas have heavy growths of oak, pine, and other trees.
Historic Annapolis Inns
Downtown Annapolis offers many historic inns, three of which are included on the National Trust for Historic Preservation "Historic Hotels of America" program. For those who want 'total immersion' in the historic Annapolis experience, check out: Governor Calvert House, Robert Johnson House, or the Maryland Inn; for details visit www.historichotels.org.
Jennifer Sankowski and Sean Geoghan, University of Maryland, Annapolis Town Plan, Historic American Buildings Survey, [HABS MD 2-ANNA], memory.loc.gov, accessed August, 2013.
Gambrill, J. Montgomery, Leading Events of Maryland History, 1904, Athenaeum Press, Ginn & Company, Boston
Nearby Towns: Highland Beach Town •
---