Woodford County, Kentucky
---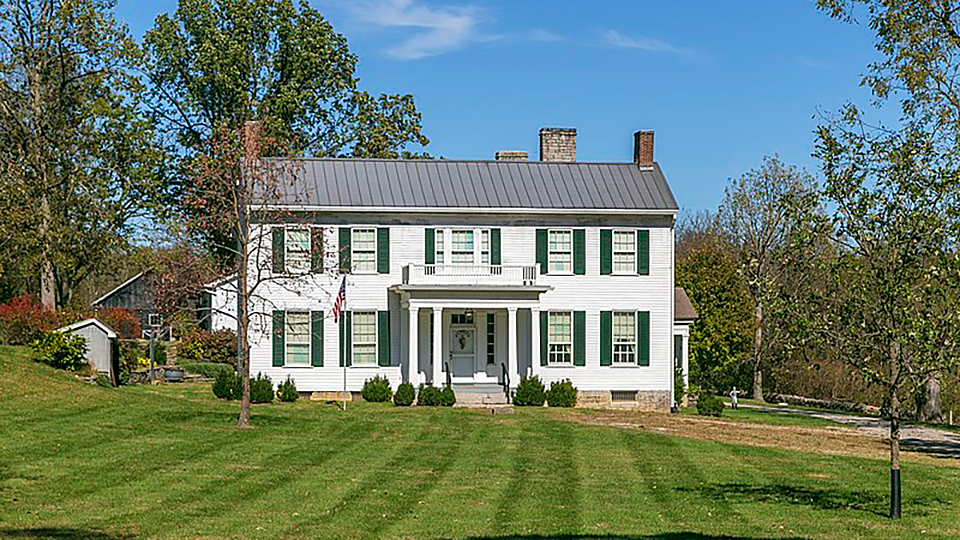 Photo: William Garrett House, circa 1812, 1834, located off Route 169, Keene. Listed on the National Register of Historic Places in 1978. Photographed by Wikipedia username: Christopher L. Riley (own work), 2019, [cc 4.0], via Wikimedia Commons, accessed January, 2023.
---
TOWNS
Woodford County administrative offices are located at 103 South Main Street, Versailles, KY 40383; phone: 859-873-3711.
Woodford County [1] is located in Central Kentucky, 15 miles west of Lexington. The county is bordered on the west by the Kentucky River and northeast by Elkhorn Creek. Transportation corridors include U.S. 60, 62, and 421, Interstate 64, and the Bluegrass Parkway. The county seat of Versailles was established in 1792 making it one of the oldest communities in Kentucky. Downtown has many historic sites dating back to that era. Midway College was established in 1847 as the first female orphan school in the nation. Agriculture is the foundation for the community. The University of Kentucky Animal Research Center, located in Woodford County, is a 1,500 acre state of the art facility dedicated to beef, sheep, swine, and agronomic research. Woodford County agribusinesses serve local producers as well as international clients. New livestock feed technology, biotechnology research, and diverse entrepreneurship opportunities position agriculture at the gateway for expansion in the near future.
Woodford County Agricultural Development Council, Update of County Comprehensive Plan, 2015, www.agpolicy.ky.gov, accessed October, 2015.
HISTORIC SITES
Airy Mount
Alexander Plantation House
Allen, John, House
Arnold-Wooldridge House
Ayres House
Big Sink Rural Historic District
Big Spring Baptist Church
Black, Charles, Farm
Blackburn, Edward M., House
Broadhead, Lucas, House
Carter House
Clifton--McCraken Rural Historic District
Cole, Richard, Homestead
Cooper House
Crittenden, John Jordan, Birthplace Cabin
Downtown Versailles Historic District
DuPuy, Joel, House
Edgewood
Edwards, Thomas, House and Quarters
Elkwood
Garrett, William, House
Graham, John, House
Guyn's Mill Historic District
Guyn, Robert, Jr., House
Hammon, Ezra, House
Harris, A. T., House
Hogan Quarters
Humphries Estate Quarters
Jennings, Dr. William, House
Jouett, Capt. Jack, House
Labrot & Graham Distillery
Leavy Tobacco Barn
Lyne, Thomas, House
Martyrs Monument in Midway
McCrackin, Cyrus, House and Quarters
Midway Historic District
Miller's House at Mortonsville Mill
Moore, George F., Place
Morgan Street Historic District
Moss Side
Muldrow, Andrew, Quarters
Nuckols, Claiborne W., Farmstead
Nugent's Crossroad Historic District
Paul Family Complex
Payne, Lewis, House
Pinkerton Hall
Pleasant Lawn
Robertson Place
Rose Hill Historic District
Scearce House
Shipp House
South Main Street Historic District
Stone House at Fisher's Mill
Stone House on Beale's Run
Stone House on Clifton Pike
Stone House on Steele's Grant
Stone House on Tanner's Creek
Taylor, E. W., House
Thomas, Solomon, House
W.B. Spring House
Wallace Station Historic District
Wallace, Samuel, House
Wallace--Alford Farmstead
Wilson, Benjamin, House
Wyndehurst
---