---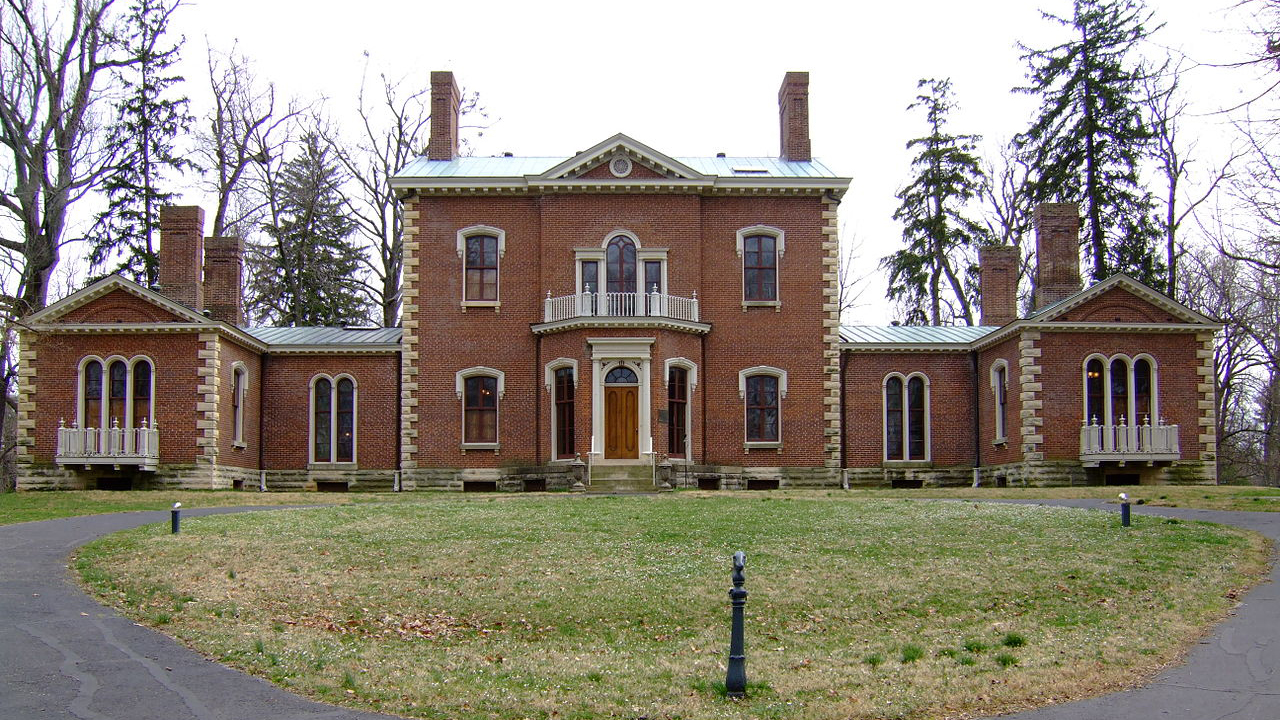 Photo: Ashland, ca. 1811, located at 120 Sycamore Road. Mansion and Plantation of statesman, Henry Clay. Listed on the National Register of Historic Places in 1966. Photographed by user:Analogue Kid (own work), 2007, [cc-3.0], via Wikimedia Commons, accessed July, 2021.
---
TOWNS
Athens
Centerville
Georgetown
The Fayette County Courthouse is located at 200 East Main Street, Lexington, KY 40507; phone: 859-258-3000.
In 1974 Fayette County and the City of Lexington merged their governments forming a consolidated city-county, the Lexington-Fayette Urban County government. The county was one of the original three counties formed in 1780 when Kentucky County (Virginia) was divided into Fayette, Jefferson and Lincoln counties.
HISTORIC SITES
Allen, James House
Ashland Park Historic District
Ashland
Athens Historic District
Barton, Abraham, House
Basye, T. D., House
Bates Log House
Battle Row
Beck, James Burnie, House
Bell Court Neighborhood Historic District
Bell Place
Bell, John, House
Bell, William C., House
Botherum
Bowman Houses
Bowman Mill Road Rural Historic District
Brand-Barrow House
Brown, Joshua, House
Buenna Hill
Burrier, John, House
Cave Place
Clark, John, House
Cleveland-Rogers House
Cloud House
Conant, William, House
Constitution Historic District
Corinthia
Delta
Downtown Commercial District
Elley Villa
Elsmere Park Historic District
Fairlawn
Featherston, Edmonson and Clark Houses
Grant, George W., House
Gratz Park Historic District
Grimes House and Mill Complex
Hall, Augustus, House
Hart, Col. Thomas, Historic District
Hartland
Hathaway Houses
Hayes, Samuel T., House
Headley, George, House
Helm Place
Higgins Block
Innes House
January, Thomas, House
Kennedy, Matthew, House
Kinkead House
Kinkead, Henry P., House
Lemon Hill
Lemon, James, Houses
Lewis Manor
Lincoln, Mary Todd, House
Loudoun House
Mansfield
Maxwell Place
McCann, Benjamin, House
McCann, Neal, House
McCauley, John, House
McConnell, James, House
McConnell, William, House
McCracken-Wilgus House
McGarvey, Dr. John, House
McPheeters, Charles, House
Moore-Redd-Frazer House
Morton, William, House
North Broadway-Short Street Historic District
North Limestone Commercial District
Northside Historic Residential District
Paris Pike Historic District
Payne, Henry, House
Pisgah Rural Historic District
Poindexter, William, House
Pope, Sen. John and Eliza, House
Poplar Grove
Price, Pugh, House
Price, Williamson, House
Ramsey, Lewis, Jr., House
Redd Road Rural Historic District
Ridgely House
Rogers, Joseph Hale, House
Rose Hill
Russel, Robert, House
Scott and Wilson Houses District
Shady Side
Shelby Family Houses
Shryack, Frederick, House
South Hill Historic District
Southeast Lexington Residential and Commercial District
Spring Hill Farm
Steele, Drewsilla, House
Stony Point
Todd, William Lytle, House
Watkins, Thomas B., House
Watt, Henry, House
Waveland
West Fayette County Rural Historic District
West High Street Historic District (Lexington)
Western Suburb Historic District
Woodland
Woodlands Historic District
Woodstock
Woodward Heights Neighborhood Historic District
Worley, Allen, and Foushee Houses
---