Evansville City
Evansville City Hall is located at 1 NW Martin Luther King Jr Boulevard, Evansville IN 47708.
Phone: 812‑435‑6141.
---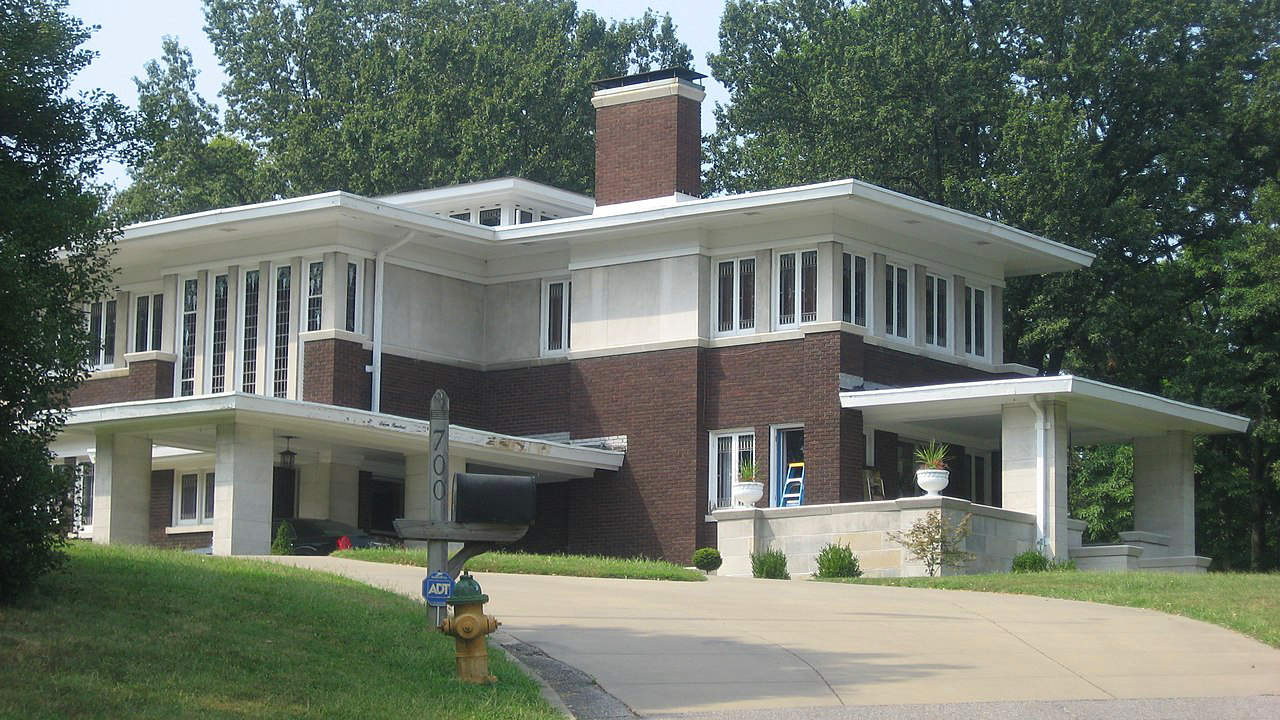 Photo: Michael D. Helfrich House, circa 1920, located at 700 Helfrich Lane, Evansville. Listed on the National Register of Historic Places in 1984. Photographed by User:Nyttend (own work), 2011, via Wikimedia Commons, accessed August, 2021.
---
The Downtown Evansville Multiple Resource Area was listed on the National Register of Historic Places in 1982. Selected text, below, was transcribed from a copy of the original nomination document. [1]
With relative completeness, the historic resources of Downtown Evansville depict the entire history of the city from its earliest settlement to the contemporary era. The passage of the Downtown from crude river settlement to civic locale fairly represents the phenomenon of urbanism common to 19th-century America. The various actors involved in Evansville's physical and cultural character-trade, immigration, industry and natural resources are all sharply illustrated by the resources extant in the Downtown today.
Neighborhoods
Akin Park
Amhearst Manor
Ballard
Balz
Barth
Bayard Park Historic District
Bellemeade
Berlin Heights
Blankenburgh
Brite Place
Carrington Meadows
Country Club Meadows
Country Trace
Cullen
Culver
Culver Historic District
Dexter
Dixie Bee Add
Donjay
Downtown Historic District
Eastland Estates
Eastview
Eastview Terrace
Evergreen Heights
Garvin Park
Garvinwood
Glenwood
Goosetown
Grandview
Hart Place
Hilltop
Holiday
Hoosier
Howell
Idlewild
Iroquois Gardens
Jacobsville
Kathleen-Jeanette
Kenwood
Kumlers Add
Lamasco
Longworth Place
Lorraine Park
Lynn View
Meadowbrook
Meridian
Mount Auburn
North Country Club
Oak Hill
Old Erie
Oxford Place
Parkside Terrace
Picardy
Poplar Grove
Rolling Green
Rolling Green
Roses Addition
Ross Center
Skydeal Terrace
Sonntag Place
Spring Park
Sterling Downs
Stringtown
Tepe Park
The Glenns
The Orchard
The Seasons
Timber Park
University South
Vancouver Add
Vanderburg Add
Webbs
Western Terrace
Westside
Wheeler
Willemette
Windsong
Wynnfield
Zeidler Add
The founding of Evansville and its first growth was inexorably linked to the trans-montane migration of the post-Revolutionary War era. The region of Southwestern Indiana in the immediate vicinity of Evansville was sparsely settled before 1800. A vigorous pre-historic conurbation may have existed in the 15th Century or earlier, according to recent archaeological evidence, but there seemed to be little pre-and post-European interface in the Evansville area. The Scots-Irish pioneers who settled the site which became Downtown Evansville arrived in about 1814, and quickly joined other western communities in acquiring the trappings of civilization. The 1814 Plan of Evansville — re-platted in 1817 — called for easily developed blocks laid out on a regularized grid system of commodious streets oriented to the widely bending Ohio River.
The village of Evansville languished for several decades following its establishment. In spite of growing river trade-spurred by the arrival of the steamboat on Ohio waters in 1811 — Evansville remained a very small village until close to mid-century. The construction and completion of the Wabash-Erie Canal in 1853 with Evansville as its southern terminus gave the local economy a boost and provided the town's first major link with lands to the north. Although the canal never lived up to anyone's expectations, railroads connecting Evansville with cities to the north soon followed. Traffic on the Ohio River continued to flourish, and inroads were made into the Green and Wabash river systems to the south and north.
Coincidental with the completion of the first major trade network was the arrival of the city's first major wave of immigration. These German Forty-Eighters formed an industrious cohort which left its mark on Evansville in the form of several institutions and buildings which survive today. In ensuing waves came black immigrants after the end of the Civil War and a second cohort of Germans in the late 1880s.
Aside from an enviable site and strategic situation with respect to other cities, Evansville boasted plentiful natural resources and an aggressive industrial element which exploited them. The Evansville region was rich in various minerals – particularly coal – and records of an industry designed to extract and process them go back far into the city's history. In addition, hardwood timber resources were plentiful close-by Evansville in the period of its industrial expansion, and several extant historic resources can be traced to some aspect of this industry.
Stern, Douglas L., preparer, Historic Resources of Downtown Evansville, Indiana, 1981, National Park Service, National Register of Historic Places, Nomination Document, Washington D.C.
---