Springfield City
Springfield City Hall is located at 300 South 7th Street, Springfield IL 62701.
Phone: 217‑789‑2200.
---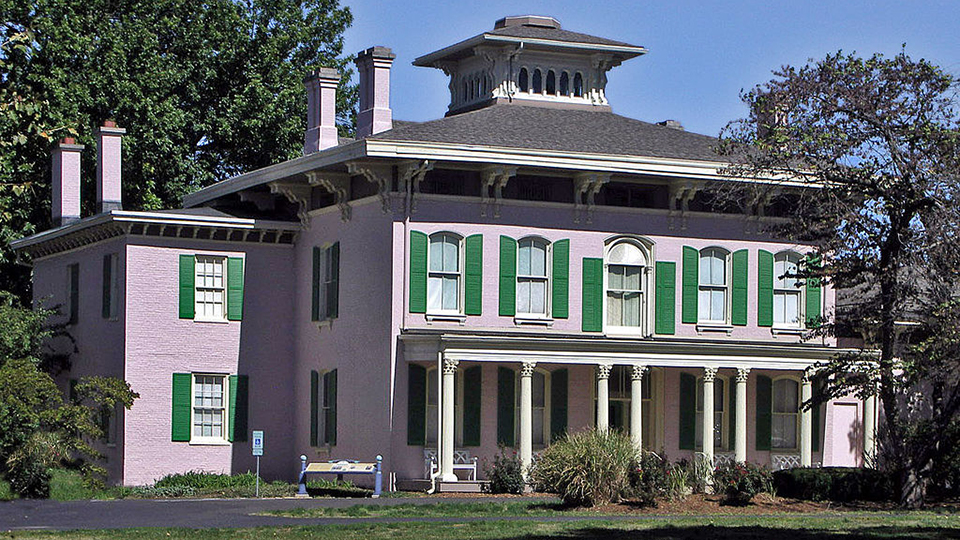 Photo: Edwards Place, circa 1833, located at 700 North 4th Street, Springfield. Listed on the National Register of Historic Places in 1984. Photographed by User:Notmatisse (own work), 2004, [cc-3.0] via Wikimedia Commons, accessed August, 2021.
---
Beginnings [1]
About the year 1818 an old bachelor emigrated from North Carolina to Illinois, remaining for a time in Macoupin county, and from there he came on to what is now Sangamon county. He was so charmed with the country in the neighborhood, he determined to make it his future home. Returning to North Carolina, be induced his father, Henry Kelly, and four brothers to join him in forming a new settlement. John Kelly, one of the brothers, built a cabin, near which is now the northwest corner of Jefferson and Second streets. In this cabin the first court of Sangamon county was held.
Neighborhoods
Adloff Estates
Applebee Farms
Arrowhead Pointe
Blackburn Lake Estates
Bluff Wood
Bluffs West
Bogey Hills
Boulder Creek
Breckenridge
Breckenridge Manor
Brentwood
Briarcliff
Buckingham Place
Buckley Ridge
Bunn Park
Camelot
Centennial Park Place
Central Historic District
Chapel Hills
Chatham Knolls
Cherry Hills
Churchill Estates
Cider Mill
Clover Acres
Cobblestone
Cobblestone Estates
Collingwood Estates
Colony West
Cottonhill Estates
Country Club Acres
Country Club Estates
Country Club Manor
Country Club Road
Country Lake Estates
Country Meadows
Country Place
Country Town Estates
Country Valley
Crown Point Estates
Crows Mill
Deer Path Estates
Deerfield
Deerwoood Lake
East Bluff Petersburg
Eastside
Eastview
Edlen Estates
Elkhart Hill Estates
Fairway Oaks
Fallingbrook
Fallingbrook Estates
Fallingbrook West
Flaggland
Forest Hills
Forest View
Fox Meadows
Fox Meadows West
Foxfield Estates
Foxx Creek Estates
Franklin Park Estates
Ginger Creek
Glen Aire
Glen Aire
Glendale Estates
Glenwood Lake Estates
Glenwood Park
Grand Central
Grand Oaks
Grandview
Grant Ridge Estates
Grants Meadow
Green Acres
Green Haven
Greenwood Estates
Griffiths Creek Estates
Hanover Hills
Harmony Court
Harrison Park
Harvard Park
Hawthorne Place
Heritage Point Estates New Ber
Hickory Hills
Highlander Estates
Hilltop Place
Holiday Estates
Holiday Hills
Horse Creek
Hunting Meadows
Hurstborne
Hyde Park
Iles Park
Indian Hills
Irisdale
Irongate
Ivy Glen
Jefferson Park
Jerome
Kings Point
Knoles Meadows
Knollwood
Knox Knolls
Koke Mill East
Koke Mill West
Lake Forest
Lake Knolls
Lake Lawn
Lake Petersburg
Lake Pointe
Laketown
Lakeview Estates
Lakewind Acres
Leland Grove
Leland Knolls
Lexington Heights
Lincoln Green Estates
Lincoln Greens
Lincoln Park
Lincolnshire
Lindsay Place
Lonergan Lake
Mallard Lake Estates
Manchester woods
Manor Hill
Mather and Wells
Meadowbrook
Meadowbrook West
Mill Creek
Monroe Park
Montvale
Morningside Hghts
Morningside Place
Near South
North Lake Shore
North Pointe
Northgate
Oak Hills
Oak Knolls
Oak Mill Estates
Oak Park
Oak Park Estates
Oak Ridge
Oakbrook Estates
Oaks
Oakwood Estates
Old Aristocracy Hill
Old Hickory
Old Tipton Estates
Olde Bradfordton Place
Orendorff Place
Palisades
Panther Creek
Panther Creek West
Park Forest Place
Park Place
Parkview
Pasfield Park Place
Pasfield Park West
Peterson Estates
Pillsbury Mills
Pine Creek
Pioneer Park
Piper Glen
Polo Club Estates
Prairie Grove
Presidential Lake Estates
Quail Meadows
Quail Ridge
Rail Estates
Riddle Hill
Rolling Hills
Salem Estates
Sandy Creek
Savannah Pointe
Scarborough Place
Shalom
Sherwood
Silent Rain
Sim Western Acres
Southbrooke
Southernview Acres
Southlawn
Southpark
Southwinds
Southwoods
Spring Crest
Springfield Lake
Springfield South
Starwood Courts
Sugarcreek
Sunset Lake
Sweetbriar
Tara Hill
The Prarie at Brookside Glen
The Rail Meadows
The Reserve
The Timbers
The Willows
The Woodlands at South Fork
Timber Creek
Timberlane
Timberline Trail
Timberview
Trace
Trevi Gardens
Tudor Point
Twin Lakes
University Heights
Val E Vue
Varsity Court
Vinegar Hill
Walnut Glen
Walnut Hills
Walnut Park
Walnut Valley
Washington Park
Wayside Meadows
Wellington Estates
West Koke Mill
West Side
Westchester
Western Acres
Western Knolls
Westfair
Westgate
Westminster
Westview Park
Westwinds
Wildwood
Windrow New Berlin
Woodlake Estates
Woods Farm
Woodstock
Wyndmoor
Youngston
Youngston Hills
Several other families were persuaded by the Kellys to settle in the neighborhood, and in the spring of 1821 quite a flourishing settlement existed — in fact, there were a greater number in the vicinity of what now constitute the city of Springfield than any other settlement in the county. To this fact was due the selection of Springfield as the temporary county seat of Sangamon county, when organized.
Springfield is situated upon a beautiful prairie stretching from the Sangamon river on the north, to the timber lands which line its tributaries on the south. It is one hundred and eighty-five miles southwest of Chicago, and ninety-seven, miles distant from St. Louis, by the Chicago, Alton & St. Louis Railroad.
As already stated, the Kelly family were the first to settle in the neighborhood. Another family of emigrants, named Doggett, arrived in the year 1820. They settled a little south and east of the old Hutchinson's cemetery. No other settlements were made in the immediate locality until the spring of 1821, when several families were added to the infant colony, which was then known as Newsonville.
Prominent among the emigrants of 1821, were Charles R. Matheny and Elijah Iles. Mr. Iles was a Kentuckian by birth, but had emigrated to Missouri some years previous, but becoming dissatisfied with that country, he concluded to locate in the "country of the Sangamo." Ascending the Illinois river on a flat boat, he disembarked at Beardstown, which then consisted of a single log cabin, and that unoccupied. Striking boldly across the country, be made hie way to the new settlement, and found a welcome in the family of the elder Kelly. "Better living," said he, "I never enjoyed. Kelly's cabin was a home indeed. Johnny cake, venison and wild honey every day, with roast pig on Sundays. Ah!" sighed the old man, as he concluded, "those happy days are over."
The population of Springfield gradually increased, it being the most important town in the county by Pascal P. Enos and Elijah Iles and the first plat of the town was made in 1823, under the name of "Calhoun," the proprietors of the town not being favorable to the name given it by the commissioners, selected to locate the county seat. But the name of Calhoun was not more favorably received by the people who had located here than Springfield was by the owners of the plat, and as the post office had been established under the name of Springfield, it never really became known by the name under which it was platted.
Inter-State Publishing, History of Sangamon County Illinois, 1881, Chicago.
Nearby Towns: Leland Grove City •
---