Kootenai County, Idaho
---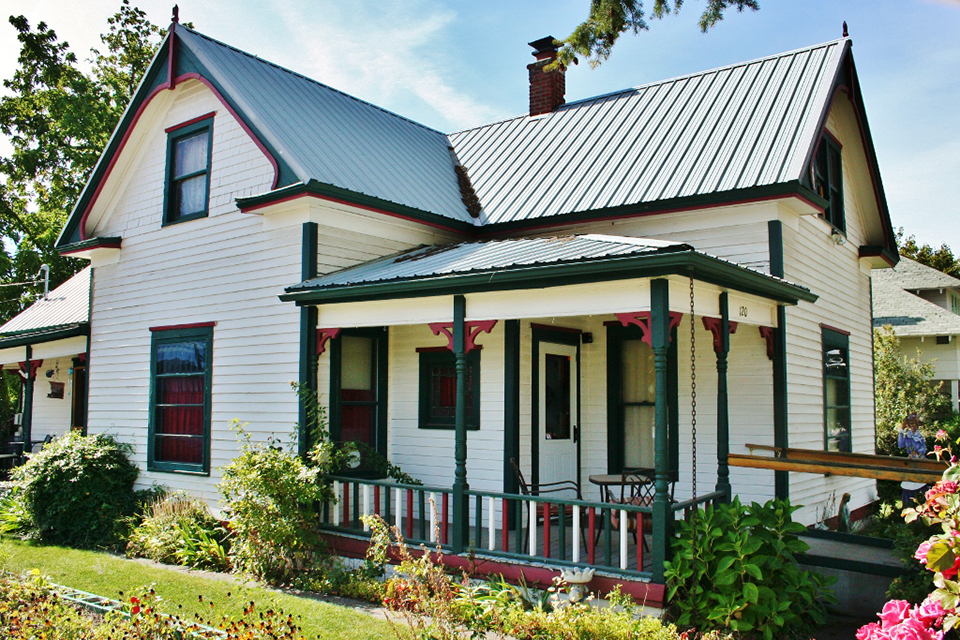 Photo: Samuel and Ann Young House, circa 1900, located at120 4th Avenue, Post Falls. Listed on the National Register of Historic Places in 1997. Photographed by User:Nancy Reilly Young (own work), 2014 [cc-3.0 ], via Wikimedia Commons, accessed March, 2023.
---
TOWNS
Athol City
Bayview
Dalton Gardens City
Fernan Lake Vlg
Harrison City
Hauser City
Huetter City
Medimont
Spirit Lake City
State Line Vlg
Worley City
County administrative offices are located at 451 Government Way, Coeur d'Alene ID 83816; phone: 208-446-1620.
Beginnings [1]
Kootenai County's original political boundaries were established on December 22, 1864, and the first County Seat was located at Sin-na-ac-qua-teen, a trading post located on the Clark Fork River. At that time, this region was a sustainable home for several native peoples. The Coeur d'Alenes, the Spokans, the Colvilles, the Kutenais, and the Kalispels all flourished here due to the abundance of nature's wealth. The area was known throughout Indian Country as Coeur d'Alene Territory; the Coeur d'Alene received this name from the french trappers because of the shrewd bartering techniques that these natives had.
Kootenai County once encompassed approximately three (3) times the 1245 square miles that it presently spans. What is known today as Bonner and Boundary Counties were created from Kootenai's northern region in 1907 as a single county. Thereafter, in 1915, Benewah County was created from the southern region of Kootenai County. The County Seat was relocated first to Rathdrum, and later, in 1907, to its present Coeur d'Alene location.
Idaho's oldest building, the mission at Cataldo, was built in the 1840s. The late 1800s brought a rapid transition of the region's environmental, economic and social structures as natural resource enterprises became the major source of income for the vicinity. Communities grew and prospered as the mountains were logged, the valleys were mined, and the prairies were cultivated. Steamers on the Coeur d'Alene River and Lake brought ore out. The River and Lake floated logs to the mills. Rathdrum developed as a major supply point for the Coeur d'Alene mining district and a rail center connecting Eastern Washington with Canada and Montana via Lake Pend Oreille steamboats. A rail line connecting the present day cities of Hauser and Coeur d'Alene was built in 1886 and caused a decline in Rathdrum's commercial trade. A rail line built at the turn of the century replaced the River and Lake steamers serving the Silver Valley. Post Falls was an early electrical generating facility, primarily for the mines.
HISTORIC SITES
Boyd and Alta Hamilton House
Clark House
Crane, Silas W., and Elizabeth, House
Davey, Harvey M., House
Finch, John A., Caretaker's House
Gray, John P. and Stella, House
Harrison Commercial Historic District
Kootenai County Courthouse
Spirit Lake Historic District
Thunborg, Jacob and Cristina, House
Young, Samuel and Ann, House
---