Washington City
Washington City Hall is located at 102 East Liberty Street, Washington, GA 30673.
Phone: 706‑678‑3277.
---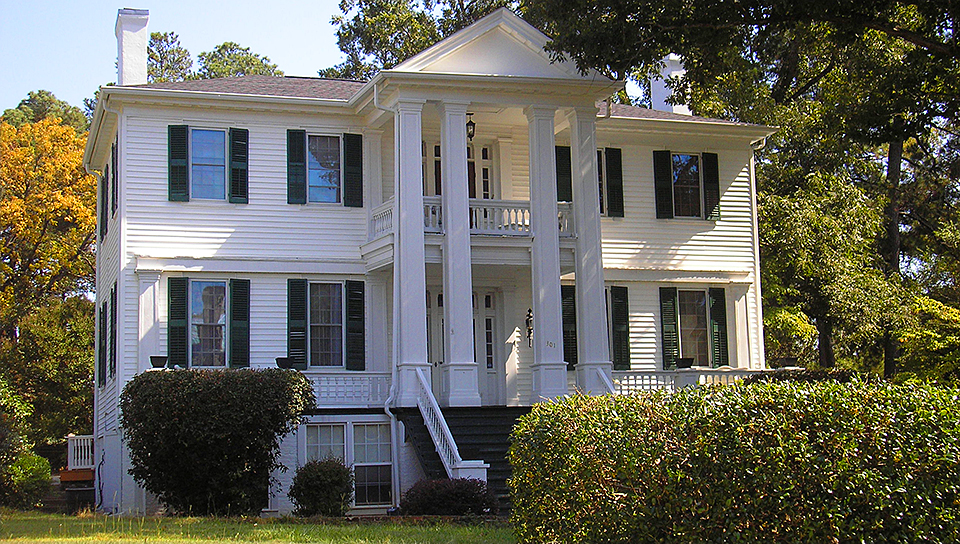 Photo: Holly Court, circa 1840, located at 301 South Alexander Street, Washington. Listed on the National Register of Historic Places in 1972. Photographer: wikipedia username: Blastoids, 2012, [cc-3.0]; accessed November, 2022.
---
Neighborhoods
Barnett Crossing
Forest Hills
Haverhill Acres
Jackson Heights
Washington as described in 1940 [1]
Washington, seat of Wilkes County, was laid out in 1780 and for a time was the principal town in the upper country north of Augusta. Many fine old houses and the narrow, tree-shaded streets give this town unusual charm. Such commercial enterprises as cotton factories and textile mills were long discouraged by its citizens, but recently a shirt factory has been established and is operated by northern capital.
The streets of the town are so well marked that a stranger can find his way without difficulty. The highway follows Robert Toombs Avenue, on which are many of the oldest houses.
The Franklin House, 359 East Robert Toombs Avenue, erected in 1840, is a handsome, white board structure with massive Doric columns. The house is placed with a side toward the street and is sheltered by several fine old trees. At one time the lot comprised extensive acreage, but parts of the land have been sold and now only an average-sized city lot remains.
The Samuel Barnett House, set back from the street on Robert Toombs Avenue, opposite the Franklin House, is a two-story frame house with a broad, one-story porch. Built in 1820, it was later occupied by Samuel Barnett, who served as railroad commissioner of Georgia in 1879. When the father of Woodrow Wilson came to Washington as a visiting pastor to a Presbyterian Church, he frequently brought small Woodrow with him to stay a few days with the Barnetts.
The Robert Toombs House, Robert Toombs Avenue, erected between 1794 and 1801, was bought and remodeled by Robert Toombs on January 1, 1837, and has remained in the possession of the Toombs family since that time. Two-story Doric columns adorn the veranda, and French windows lead into cool, high-ceiling rooms where the furnishings remain much as they were in the 1860s.
Federal Works Agency, Works Progress Administration, Federal Writers' Program and the Georgia Board of Education, Georgia: A Guide to Its Towns and Countryside, American Guide Series, University of Georgia Press, 1940.
---