Lawrenceville City
Lawrenceville City Hall is located at 70 South Clayton Street, Lawrenceville, GA 30046.
Phone: 770‑963‑2414.
---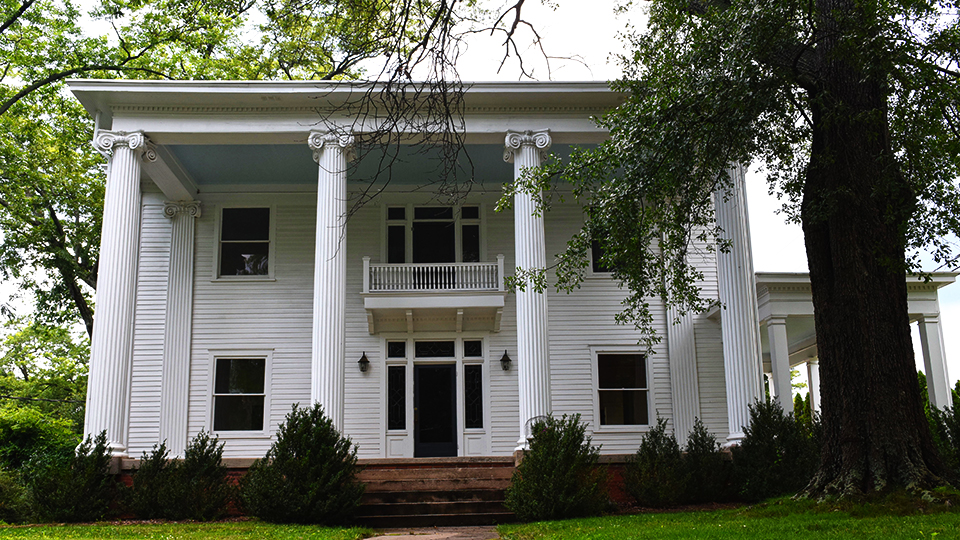 Photograph: Clarence R. Ware House, circa 1910, located at 293 Notrth Perry Street. Listed on the National Register of Historic Places in 1982. Photographed by wikipedia username: Jim Roberts, own work, 2017 [cc-4.0], accessed October, 2022.
---
Lawrenceville was incorporated in 1821 and named for Captain James Lawrence, a naval hero who lost his life in the War of 1812. The city is the seat of government for Gwinnett County.
Lawrenceville is home to Georgia Gwinnett College, established in 2006 as the State's first new 4-year college in more than 100 years.
Neighborhoods
Abbeyhill Park
Aberdon Forest
Acadia Woods
Adams Landing
Adams Mill
Alcovy Falls
Alcovy Landing
Alcovy Reserve
Alcovy Springs
Alcovy Woods Estates
Alexander Pointe
Allen Bettie Estates
Allens Landing
Ambur Cove
Ambur Lakes
Amelia Grove
Ansley Brook
Arbor at Fairview
Arbors at Sugarloaf
Arlington Point
Arnold Mill Station
Arrowhead
Ashland Manor
Ashland Park
Ashley Crossing
Ashton Place
Atkinson Park
Audubon Forest
Austins Landing
Austins Pointe
Autum View
Autumn Crest
Autumn Lake
Autumn Trace
Autumn View
Avalon Forest
Avalon Park
Avington Glen
Bailey Farms
Ballantrae
Barringer Park
Bay Lake
Bennington Square
Bethesda Cove
Bethesda Estates
Birch River Parke
Birchwood
Bowman Meadows
Bramlett Shoals
Bramlett Station
Brandon Mill
Brands Plantation
Brays Crossing
Brays Mill
Brentwood Gates
Brickshire Park
Brighton Estates
Bristol Downs
Brook Forest
Brooks Chase
Brooks Crossing
Brookstone
Buckingham
Bucks Crossing
Burnham Ridge
Camden Square
Canterbury Cove
Carlysle
Castle Royale
Castlebrooke
Cedar Forest
Cedar Oak
Cedar Valley
Cedar Woods
Chadwick Lakes
Chadwick Pointe
Chandler Estates
Chandler Park
Chandler Pond
Chandler Woods
Chapel Station
Charleston Commons
Charleston Square
Charter Club
Charter Club
Chatam Woods
Chateau Royale
Chestnut Grove
Churchill Commons
Clairemont
Clairidge Crossing
Cobblestone Square
Coldwater Creek
Collins Hill Heights
Connemara Crossing
Coopers Pond
Copperfield
Country Club Place
Country Oaks
Craigdale Estates
Cramac Plantation
Creekside Crossing
Creekside Estates
Crescent Cove
Cricket Hill
Cricket Ridge
Crystal River
Davis Mill Estates
Davis Mill Woods
Deer Oaks
Deer Run
Desiree
Dogwood Forest
Dunagan Farms
Dunlin Fields
Eagle Crossing
Edgewater
Emerald Springs
Emerson Place
Ensorbrook Farms
Estates at Great Oaks
Fairfield Oaks
Fairview Pointe
Fairview Station
Falconcrest
Farm Estates
Farmwood
Five Forks Manor
Flowers Crossing
Forest at James Ridge
Forest Hills
Forest River
Foster Trace
Fosters Cove
Fountain Cove
Fountain Glen
Fountain Lakes
Freeman Crossing
Garden Gate
Garrison Square
Gates Mill
Gatewood Acres
Gatewood Arbor
Georgian Hills
Glen Crest
Glen Forest
Glen Meadows
Glen Oaks Racquet Club
Glencrest Park
Glencrest Place
Glenloch
Glynwater
Grayland Hills
Great Oaks Landing
Green Bridge Creek
Greenfield Estates
Gunter Estates
Hadaway
Hambridge
Hanarry Pointe
Harrison Cove
Harrisons Ridge
Hawks Bluff Townhomes
Hearthstone
Helens Manor
Heritage Commons
Heritage Forest
Heritage Park
Heritage Place
Heritage Square
Heritage Station
Herrington Place
Herrington Ridge
Herrington Walk
Hidden Acres
Hidden Valley
Highbranch Glen
Highgate
Highland Manor
Highland Oaks
Hunt Ridge
Huntcliff
Hunters Cove
Hunters Creek
Hunters Crossing
Hunters Ridge
Hunters Station
Huntington Falls
Huntington Landing
Independence Square
Inglenook
James Ridge
Jefferson Station
Kendall Park
Kensington Creek Manor
Kensington Park
Kentshire
King Trace
Kings Hill
Kingsport
Kingston
Knightsbridge Square
Knollwood Lakes
La Mancha
Lake Washington
Lakeview Plantation
Landings at River Park
Landress Ridge
Laurel Oaks
Laurelton
Lawrence Forest
Leatherwood Estates
Lendon Lane Estates
Leta Farms
Lexington Park
Lexington Place
Little Suwanee Pointe
Longmont
Lynnfield Park
Madison Chase
Madison Landing
Magnolia Place
Mark Four Estates
Marthas Plantation
Martin Heights
Mauldins Lake
Mayfield Farms
Mcintosh Place
McKendree Farms
McKendree Heights
Meadow Grove
Meadow Pond
Meadow Trace
Meadow View
Meadow Wood
Melrose
Mill Creek Estates
Mill Ridge
Min Maude Estates
Miramonte Ridge
Moorings at River Park
Mount Royal
Murphy Estates
New Hope Estates
Newbury Oaks
North River Colony
Northcrest Acres
Northfield
Northgate
Oak Brook Forest
Oak Green Park
Oak Hall
Oak Manor
Oak Village
Oakdale Woods
Oakland Chase
Oakland Downs
Oakland Park
Oakland Trace
Oakland Walk
Oakmont
Oaktree Meadows
Olde Athens
Olde Peachtree Station
Orchard Grove
Orchard Mill
Overlook Green
Paces Landing
Paces Woods
Padens Chase
Park Creek
Park Haven
Park Place
Parkside Village
Patriots Point
Patterson Mill
Patterson Park
Peachtree Parc
Peachtree Place
Peachtree Shoals
Peachtree Woods
Pendleton Park
Piccadilly Place
Pine Cone Acres
Pine Ridge
Pines at Spring Brook
Plantation Gate
Planters Cove
Planters Walk
Poole Creek Forest
Prestonwood
Prestwyck
Primrose
Princeton Woods
Prospect Commons
Prospect Creek
Prospect Downs
Prospect Estates
Prospect Mill
Prospect Station
Providence Plantation
Quail Crossing
Quinn Ridge Forest
Rae Woods
Rambling Woods
Regal Forest
Reserve at Lakeside
Reserve at Turnberry
Ridgeview
Ridgewood
River Bridge
River Colony at Pinehurst
River Haven
River Hill at Sugarloaf
River Mill Station
River Oaks Village
River Overlook
River Parc at Sugarloaf
River Stone
Rivergate
Rivershyre
Riverwood
Riverwood Park
Rock Springs
Rosemont
Russell Ridge Acres
Sacketts Point
Saddle Shoals
Saddlebend
Safehaven Point
Sagamore Hills
Sandalwood
Scenic Crossing
Scenic Overlook
Sentinel Ridge
Shannon Woods
Silver Oak
Silver Ridge
Simonton Preserve
Somerset Place
South Gate
South Oaks
Southampton at Springbrook
Spring Hill Estates
Spring Valley
Springbottom
Springfield Estates
Springlake Falls
St Martin
Steeplechase
Sterling Hills
Still Lake
Stone Mill
Stonebrook
Stonecreek
Stonewall Mill
Straw Valley
Strawbridge
Sugarloaf Forest
Sugarloaf Manor
Summerville
Sunnydale
Suwanee Pointe
Sweetwater Bluff
Sweetwater Crossing
Sweetwater Estates
Sweetwater Oaks
Sweetwater Oaks
Sweetwater Townhomes
Sycamore Crossing
Tapestry
Taylor Oaks
The Arbor at Fairview
The Downs
The Fielding
The Forest at Sugarloaf
The Glen at Simonton
The Hadaway
The Infield
The Meadows
The Preserve
The Springs at Rockhouse
The Summit at North Cliff
The Village at Nelms Pointe
The Village at Wellington
The Villas of Knollwood Lakes
The Waverly
Thornbrooke
Thousand Oaks
Timber Gate
Timber Ridge
Timbercrest
Tribble Mill Walk
Turtle Creek
Turtle Creek Lakes
Tuscany Park
Twelve Oaks
Twin Branches
Twin Brooks
Village at Huntcrest
Village at Telfair
Village Gate
Villages at Huntcrest
Villas at Bethesda
Vintage Pointe
Wakefield Forest
Waterbury Cove
Waterford Downs
Waterford Park
Waterstone Place
Watsons Bluff
Waverly Crossing
Waverly Woods
Wellington Estates
Westchester Commons
Westfield
Westover
Westwood
White Oak Place
Whitehawk
Whitley Oak Springs
Whitlock Farms
Whitney Place
Wildcat Lakes
Willow Bend
Willow Mill
Willow Pointe
Willow Run
Willow Springs Forest
Wilson Manor
Winding Trail
Windsor Brook
Windsor Chase
Windsor Farms
Windwood Creek
Winn Crossing
Winnsong Chase
Wisteria Estates
Wood Hollow
Woodington
Woodland Park Estates
Woods of Sweetwater
Worthington Manor
Worthington Ridge
Wyndham Place
Wyndsor Grove
Wynfield Park
Wynhaven
Yorktowne
Lawrenceville defines itself as the historic governmental, healthcare, educational and economic hub of Gwinnett County, with a long tradition of close-knit neighborhoods, civic pride and a strong, vibrant central business district. With the explosive growth of Gwinnett County over the last forty years, Lawrenceville has evolved from the local market town for the neighboring countryside to a small urban center amidst the ever-spreading neighborhoods and strip commercial centers. Lawrenceville desires to mature into an urban focal point within the County, with a number of cultural, recreational, educational, lifestyle and employment opportunities.
Nearby Towns: Snellville City • Suwanee City •
---