Sacramento City
Sacramento City Hall is located at 915 I Street, Sacramento, CA 95814.
Phone: 916‑264‑5011.
---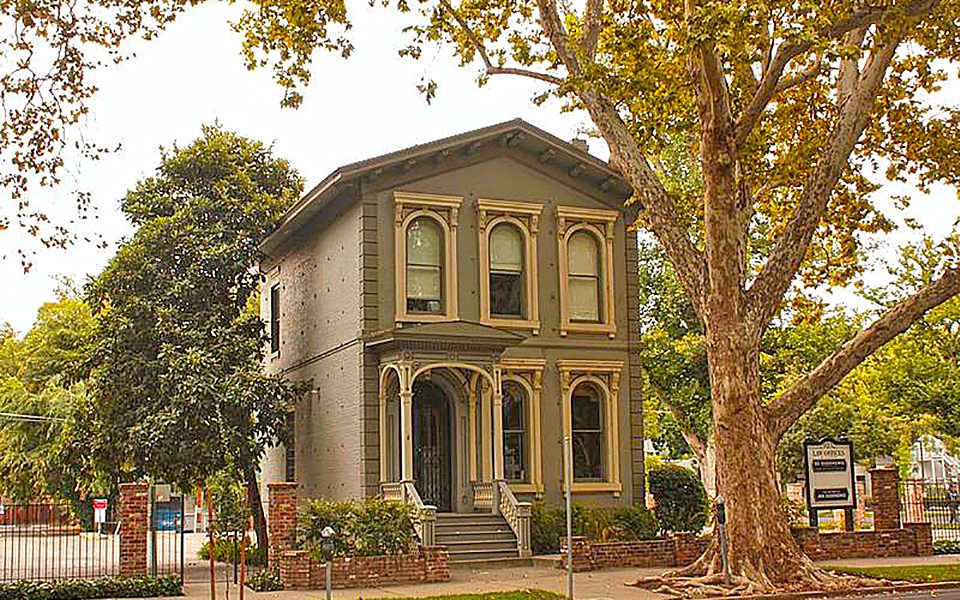 Photo: Van Voorhies House, circa 1869, located at 925 G St. Sacramento. Listed on the National Register of Historic Places in 1977. Photographed by User:AmandaLaQueso (own work), 2014, [cc-3.0], via Wikimedia Commons, accessed October, 2021.
---
Beginnings [1]
Flat stretches of unclaimed land, the navigable river, which was named Sacramento in honor of the sacrament, by Jose Moraga, commandant of the presidio of San Jose, and tractable Indians for workers drew the attention of Capt. John Augustus Sutter, the pioneer settler, in 1839. The Swiss ex-army officer took up a 50,000-acre grant by swearing allegiance to the Mexican flag, and built a principality named "New Helvetia" in memory of the old country. He ruled in baronial splendor, with Indians as his subjects, and a fort of timber and adobe brick as his castle, with twelve guns mounted on the ramparts. Sutter built forges and shops, grazed herds on his lands, trapped for furs, and carried on a lively trade. The spot was a haven for settlers in the tide of overland emigration in the early 1840's. In 1848 the town of Sacramento was laid out on Sutter's farm, and the first lots were sold in January, 1849.
Neighborhoods
Acme Acres
Alkali Flat Historic District
Alta Vista Estates
Altos Acres
Amara Condominiums
Antelope Meadows
Arcade Oaks
Arcade Park
Arcadia Gardens
Arcadian Estates
Arden Fair
Arden Manor
Arden Oaks
Arden Park
Arlington Park
Arroyo Vista Estates
Ashley Oaks Haven
Autumnwood
Avondale
Barrington Square
Bella Rose Condos
Bella Rose Villas
Belmont Estates
Ben Ali
Bohemian Village
Boulder Glen
Boulevard Park
Boulevard Terrace
Bowling Green
Bradshaw Woods
Brentwood
Bridgecreek
Bridgeview at Riverlake
Brisas Del Rio
Brittany Park
Brookfield
Brookfield Meadows
Burlingame Terrace
Cabrillo Park
Calvine Crossing
Cambay West Village
Camellia Acres
Camellia Gardens
Camellia Heights
Camellia Park
Campus Commons
Capitol Avenue Historic District
Carella Gardens
Carleton
Carnation Garden Village
Carriage Lane Condominiums
Casa Loma Terrace
Cathedral Square Historic District
Central Oak Park
Chaparral
Chardonnay
Charter Pointe
Chelsea Park
Churchill Downs
City Farms
Cloverdale Park
Cobble Stone Glen
Coleman Ranch
College Glen
College Greens
College Greens East
College Manor
Coloma Heights
Coloma Terrace
Colonial Acres
Colonial Heights
Colonial Manor
Colonial Terrace
Colonial Village
Cottonridge
Country Club Estates
Countryside
Creekside
Crestgate
Curtis Oaks
Curtis Park
Deerfield
Del Paso Heights
Del Paso Manor
Del Paso Park
Del Verde Square
Discovery Village
Dos Rios Triangle
Downtown
Dreher Tract
Duncan Estates
East Del Paso Heights
East Sacramento
Edison Avenue Gardens
Ehrhardt Estates
Elder Creek Ranch
Ellenwood Court
Elmhurst
Elmhurt
Evergreen Estates
Fair Way Estates
Fairgrounds
Florin
Florin Estates
Florin Glen
Florin Terrace
Folsom Estates
Foothill Farms
Foothill Oaks
Foothill Terrace
Four Oaks Tract
Four Seasons at Westshore
Franklin Villa Estates
Frates Ranch
Freeport Manor
Fremont Park Historic District
Fruitridge Gardens
Fruitridge Manor
Fruitridge Oaks
Fruitridge Park
Fruitridge Vista
Garden Oaks
Gardena Park
Gardenland
Garfield Landing
Gary Gardens
Gatewate North
Gateway Center
Gateway West
Glen Elder
Glen Orchard
Glen Rachael Estates
Glenbrook
Glenbrook East
Glenbrook Estates
Glenwood Meadows
Glenwood Park
Golden Meadows
Golf Course Terrace
Golf Course Village
Green Acres
Green Tree
Greenhaven
Greenholme
Greenland
Greenmont
Guild Estates
Haggin Park
Hagginwood
Hampton Station
Hampton Village
Harvard Park
Heritage Park
Heritage Place
Hillsdale
Hollywood Park
Homeland
Howell Clark
Howell Clark Tract
Ivy Glen at West Park
Johnson Heights
Land Park
Lawrence Park
Little Pocket
Machado
Madison Villa Estates
Madison Woods
Mangan Park
Manlove Estates
Mansion Flats
Manzanita Gardens
Maple Park
Mariemont Estates
Marina Oaks
Mariner Point
Marion Heights
Marshall Park Historic District
Mayfair Gardens
Maywood Gardens
McClatchy Park
McKinley Park
Meaadowview Village
Meadow Lane Park
Meadow Wood
Meadowbrook
Meadowview Estates
Meadowview Manor
Medical Center
Meister Terrace
Merchant Auditorium Historic District
Merchant Street Historic District
Mesa Grande
Metro Commons
Midtown
Millrose
Monte Vista
Monterey Terrace
Morrison Brooks Estates
Myrtle Hollow
Natomas Creek
Natomas Crossing
Natomas Park
Natomas Village
New Era Park
New Glendale
Newton Booth
North City Farms
North Laguna
North Oak Park
North Sacramento
Northborough
Northgate
Northpoint Park
Northpointe
Northrop Estates
Norwood Estates
Oak Creek Estates
Oak Grove
Oak Knoll
Oak Park
Oak Plains
Oak Ridge Acres
Oak Terrace Condos
Oakmont Terrace
Old Sacramento
Orange Grove Oaks
Overbrook
Park River Estates
Parkcrest Estates
Parker Homes
Parkridge
Parkview Village
Parkway Estates
Parkway Greens
Parkway Meadows
Pavilions
Pavilions Condominiums
Pen Park Estates
Penland Park
Penthouses at Capitol Park
Pepperwood
Pinedale Estates
Pocket
Point West
Poverty Ridge
Powell
Premier Garden
Rancho Coronado
Rancho Del Paso
Rancho Silva
Regency Park
Richards
Richardson Village
Richmond Grove
Ridge Point
Ridgeway Terrace
River Bend Estates
River City Commons
River Gardens
River Park Estates
River Village
River Walk
Riverbend
Riverchase
Riverdale North
Riverfront Plaza Condos
Rivergate
Riverside Estates
Riverside Manor
Riverside North
Riverside Terrace
Robbins Village
Robla
Rose Heights
Rosedale
Rosemont Downs
Rosemont Park
Rosemont South
Rosemont Square
Rosswood
Ryland Gardens
Santa Anita
Santa Paula Manor
Saratoga Townhomes
Saunders
Scottsdale
Scottsdale East
Scottsdale Mead
Serenade at Regency Park
Sherman Oaks Estates
Sierra Oaks
Silver Legends
Silver Meadows
Silver Springs
South City Farms
South East
South Gate Meadows
South Hagginwood
South Land Park
South Natomas
South Oak Park
South Side Historic District
South Woods
Southfield
Southgate Meadows
Southland Village Condos
Southside Park
Southwoods
Spruce Ranch
Steamboat Bend
Stonewoods
Strawberry Manor
Summerfield
Sunnyside
Sunrise Countryside
Sunrise Greens
Sunrise Village
Sunrise Vineyards
Sutter Place
Swallows Nest
Swanston Acres
Swanston Estates
Swanston Palms
Swanston Park
Tahoe Park East
Tahoe Park South
Tallac Village
Tamarindo
Thornwood Terrace
Timberlake
Tokay Meadows
Tokay Park
Twin Rivers
University Estates
University Park
Upper Land Park
Valley Glen
Valley Hi
Valley Hi Village
Valleyview Acres
Verner Glen
Verner Oaks
Vienna Woods
Villa Palazzo
Villa Royale
Villa San Juan
Village Green
Village Greens Condos
Village Square
Vintage Meadows
Vintage Park
Vista Del Rio
Vista Del Venda
Walnut Acres Estates
Washington Historic District
Waters Edge
West Del Paso Heights
Westborough Village
Westlake
Westlake Village
Westley Estates
Wildhawk
Wildhawk Estates
Wildhawk West Village
Wilhaggin Oaks
Wilhaggin Park
Wilhaggin West
Willi's
Willow Glen
Willow Ranch
Willow Rock
Willow Woods
Willowcreek
Wills Acre
Winn Park Historic District
Winter Park
Wolf Heights
Woodbine
Woodbine Parkway
Woodbridge East
Woodgate
Woodgate West
Woodside Condos
Woodside East
Wyndgate
It was Sutter's boss carpenter, James W. Marshall, who, on January 24, 1848, found the first gold flake while building a mill for Sutter near Coloma on the South Fork of the American River, which resulted in the great gold rush of 1849 and the 1850's and in California's admission to the Union as a State. It also led to Sutter's ruin. Trampling hordes from the East overran his hospitable fort, stole his cattle, drove off his Indians, disputed his rights to the land. His white retainers deserted for the mines. Meantime, millions of dollars in gold dust passed over Sutter's landing. He moved to Pennsylvania in 1873, with only a small pension from California, and died at Washington, D.C., in 1880, after vainly beseeching Congress for the restoration of his property.
The settlement became the supply center for the northern mines of the mother lode. Thousands of gold-hungry men came pouring in to outfit for the diggings. The 1850 census showed 6,820, and the population soon jumped to 10,000, with gold seekers camped along the river bank in tents, frame houses, and even under trees; a packing box or a strip of canvas was considered good housing. Bearded men from the mines flashed pokes of gold dust with assumed indifference, and spent grandly in saloons, fandango halls, and gambling houses. The most profitable mining was done by entrepreneurs, who took it out of the miners' pockets. Bitter struggles took place between squatters and men who claimed titles to farmlands.
Three disastrous floods came between 1849 and 1853, and in 1852 a fire wiped out two-thirds of the town. In 1849 Sacramento had offered $1,000,000 for the honor of being the State capital. The Legislature met in 1852, sitting on hot ashes, and when it officially became the capital in 1854, flood debris was still in evidence. The floods caused epidemics, and corpses were shoved into the swollen river to drift away. Levees were finally built, and the town pulled itself up out of the foot-deep dust of summer and the hub-deep mire of the rainy season. For many years the water remained unpalatable for those who had the temerity to drink it. Few did.
In 1856 Sacramento was the terminus of the first railroad in California, built as a short line to Folsom by Theodore Dehone Judah, the young engineer who planned the first transcontinental railroad through the passes of the Sierra Nevada. Four years later came the Pony Express, which ran until 1861, when the transcontinental telegraph went through.
The Central Pacific Railroad joined East and West in 1869. Judah's financial sponsors were all Sacramento storekeepers: Collis P. Huntington, Mark Hopkins, Charles Crocker, and Leland Stanford, the "Big Four." The Central Pacific branched out and became the Southern Pacific, the "octopus" of Frank Norris' novel, which for 40 years practically controlled the State. Large-scale wheat growing and cattle raising soon after lost their lead to more lucrative fields of fruit, vineyards, cotton, and vegetables. Land prices rose, and Sacramento's prosperity with them.
Sacramento's position as the capital was challenged by Berkeley in 1907, and later by San Jose and Monterey, but with little effect. The river channel was dredged in 1911, and seagoing vessels could reach the city when the river stage was high. The early years of depression saw several State hunger marches, and in 1938 refugees from the labor troubles in Nevada City camped for a week outside the fairgrounds.
Some of the earliest unions in California were formed in Sacramento, which was rated a "good town" for labor. Industry got a start with the gold rush, and soon boiler plants, farm machine factories,, breweries, carriage shops, and processing plants were humming.
Federal Writers' Project, Works Progress Administration, California: A Guide to the Golden State, American Guide Series, Hastings House, Publishers, New York, 1939.
---