Mulberry City
Mulberry City Hall is locatef at, 207 North Main Street. Mulberry, AR. 72947.
Phone: 479-997-1321
---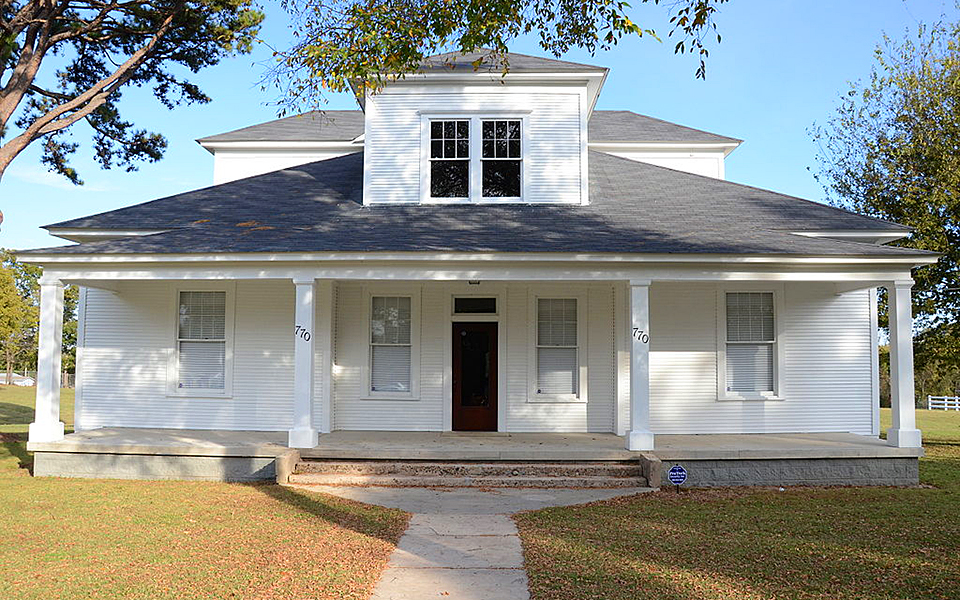 Photo: Bryant-Lasater House, circa 1900, located at 770 North Main Street. Mulberry. Listed on the National Register of Historic Places in 2007. Photographed by User:Valis55 (own work), 2017, [cc-4.0], via Wikimedia Commons, accessed August, 2022.
---
Neighborhoods
Bryant
Hicks
North Mulberry
Pleasant Hill
Tobe House
West End
Beginnings
The community of Mulberry [1], which was on the line of the Little Rock and Fort Smith Railroad, was originally known as Crawford Courthouse (or Crawford Old Court House, depending on the source) and had a post office established in 1832. By 1839, it was located on the main road between Ozark and Van Buren. The name of the community was changed to Pleasant Hill in 1838 and it also became a part of Franklin County at the same time. In 1877, the community's name was changed once again, to Mulberry, and in 1896, the community went back to Crawford County.
The town of Mulberry [2], in the Arkansas River Valley, has been a recreational and farmland center since being settled around the time of the Louisiana Purchase. Early settlers called the area "Mulberry" because of the large mulberry trees lining its banks. During the Civil War, Mulberry suffered heavily, despite there being few battles nearby. Both Confederate and Federal guerillas operated in the area, destroying crops, stealing, plundering, and harassing citizens. Many families lost their possessions and livelihoods. Things improved with the coming of the Little Rock and Fort Smith Railroad in 1876, however, as a permanent settlement near its path was desired. According to Goodspeed's Biographical&Historical Memoirs of Northwestern Arkansas, Thomas A. Carter bought the land east of the main road to the river—a road that later became Mulberry's Main Street. Robert Henry Hicks, farmer and barrister, purchased the property on the west.
Ralph S. Wilcox, National Register & Survey Coordinator, Arkansas Historic Preservation Program, Bryant-Lasarer House, nomination document, National Register of Historic Places, Washington, D.C.
City of Mulberry, Arkansas, Mulberry's History, www.cityofmulberry.org/index.php/about-mulberry/mulberry-s-history.html, accessed August, 2022/
---