Milwaukee City
Milwaukee City Hall is located at 200 East Wells Street, Milwaukee WI 53202.
Phone: 414‑286‑2221.
---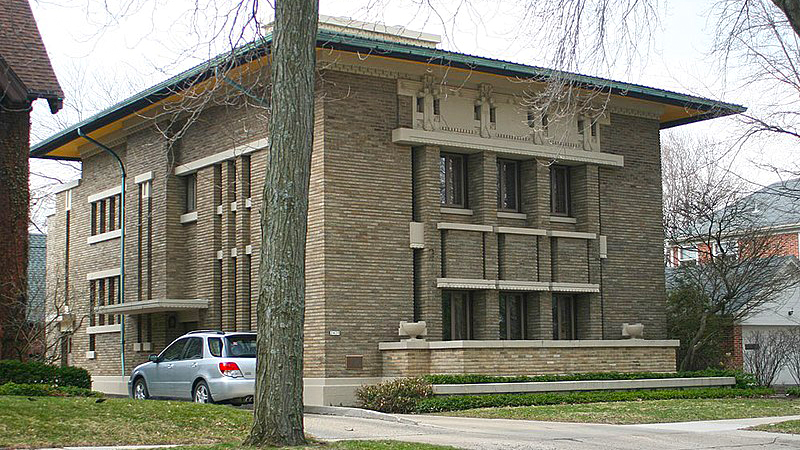 Photo: Frederick C. Bogk House, circa. 1917, located at 2420 North Terrace Avenue. Home was designed by Frank Lloyd Wright. Listed on the National Register of Historic Places in 1972. Photographed by User:Freekee (own work), 2009, [cc--3.0], via Wikimedia Commons, accessed July, 2021.
---
Beginnings [1]
Milwaukee was founded at the confluence of the Milwaukee and Menomonee Rivers, which meet about one-half mile from the western shore of Lake Michigan. The geology of the area, like the entire Great Lakes region, was shaped, as we know it today, by glaciers which covered it at various periods. Prehistoric shorelines exist above the present lake level as terraces, wave-cut cliffs, and abandoned gravel and sand beaches. The soil is primarily glacial drift.
Neighborhoods
47th Street Bungalow Historic District
All Saints Cathedral Historic District
American System-Built Homes Historic District
Arlington Heights
Arlington Park
Art-ella Heights
Auers
Avenues West
Basse's
Bay View
Bluemound Terrace
Bradley Estates
Brady Street Historic District
Brentwood
Brewers Hill Historic District
Bronzeville
Burnham Park
Cambridge Woods
Capitol Drive Gardens
Capitol Highlands
Cass and Wells Historic District
Cherokee Point
Clarks Addition
Clement Manor
Cold Spring Heights
Cold Spring Park
Cold Spring Park Historic District
Colonial Highlands
Columbia Park
Concord Hill
Concordia Heights
Concordia Historic District
Courtland Park
Crawford Woods
Daltons
Downtown
East Side
East Side Commercial Historic District
East Town
East Village
Edgewater Heights
Enderis Park
Fairview Manor
Fairway Place
First Ward Triangle Historic District
Fitzgerald
Florence Park
Folsom Park
Forest Lane
Forward Bay View
Franklin Heights
Garden Homes Historic District
Georgian Court
Gilmans
Glenside
Golden Gate
Grand View
Grant Boulevard Historic District
Grantosa Heights
Grantosa Highlands
Granville
Grasslyn Manor
Harambee
Hathaways
Hauser Homes
Havenwoods
Heritage Heights
Heritage Woods
Highland Heights
Hillside
Holler Park
Honey Creek
Honey Creek Heights
Honey Creek Meadows
Howard Manor
Jackson Park
Jacobus Park
Johnsons Woods
Jones Island
Josey Heights
Kilbourn Towers
Kirks
Kosciuskos
Lapham Park
Layton Boulevard West
Layton Park
Lenox Heights
Lincoln Village
Linsey Heights
Lisbon Park
Long Island Parksites
Mallory Manor
Marks
Martin Drive
McKinley Subdivision
Meadow Park Heights
Melody View
Menomonee River Hills
Menomonee Valley
Merrill Park
Metcalfe Park
Midtown
Mill Acres
Millroad Park
Millwood Park
Mitchell Street Historic District
North Gardens
North Lake Drive Estates Historic District
North Lake Drive Historic District
North Meadows
North Point North Historic District
North Point South Historic District
Northridge Lakes
Oak Hill
Oak Knoll
Oak Park
Oklahoma.
Old North Milwaukee
Old World Third Street Historic District
Orchard Heights
Ornes
Pabst Brewery Complex Historic District
Pabst Project
Park Knoll Estates
Park West
Parkside Heights
Parkway Hills
Parkway Terrace
Piggsville
Poll-ber Heights
Polonia
Prospect Heights
Prospect Hill
R Mack Acres
Rainbow Ridge
Residence Park
Reynolds Park
Richards
Ridgedale
Ridgeview
River Highlands
River Park
River View
Rivers Bend
Riverside Park
Riverton Heights
Riverwest
Roosevelt Grove
Sampsons
Sherman Boulevard Historic District
Sherman Gardens
Sherman Park
Shirley Park
Silver Spring Highlands
Sleepy Hollow Estates
Southpoint
Southview Heights
Stacys
Story Hill
Sunnyside
Supreme Heights
Tara Vista Estates
The Heritage
The Point
Third Ward
Third Ward
Thomas Cabeens
Thurston Woods
Timmerman West
Tippecanoe
University Hill
Uptown Crossing
Villa Du Cour
Walkers Point
Walnut Hill
Warnimonts Terrace
Washington Heights
Washington Park
Wechselbergs
Wedgewood Park
West Mount Heights
West Town
West View Heights
Westgate Park
Wetor Heights
White Manor Park
Whitnall Arms Condos
Wichman
Wilson Park
Zenith Parksite
Originally, low wetlands comprised the banks of both rivers and the estuary extending to the lake, with the exception of a narrow strip of dunes along the lakeshore. The protected inland water and the abundance of fish and waterfowl attracted indigenous peoples even in prehistoric times. Prior to white settlement, Potawatomi and Ottawa Indians occupied the site, as evidenced by archaeological remains.
The rivers divided the area into three distinct sections, which influenced the pattern of original white settlement and development. Each was developed by different owners with separate plats. East of the Milwaukee River was owned by Morgan L. Martin and Solomon Juneau whose plat was filed in 1835. West of the river was developed by Byron Kilbourn and was also platted in 1835. The section south of the Milwaukee and Menomonee Rivers was plated by George H. Walker in 1845, although the plat was not recorded until 1854. Respectively each area assumed the name of its major proprietor: the eastside was Juneautown; the westside was Kilbourntown; and the southside was Walker's Point. In all three cases, the plats are typical nineteenth century gridiron plans with rectangular blocks, superimposed over the existing topography. The few exceptions were diagonal . streets which followed the Milwaukee River, or were pre-existing trails. Due to the separation of the three areas by the water courses, most east-west streets did not align and had different names.
Settlement [2]
In 1795 Jacques Vieau established a fur-trading post at Milwaukee, which he made his winter home until 1818 when Solomon Juneau, who had married his daughter, succeeded his father-in-law. Juneau is generally spoken of as founder of the city and was found by our early American settlers in possession of the site on which Milwaukee now stands. He first sold village lots to Milwaukeeans in 1835, and a Park and an Avenue in the City are named after him. Milwaukee was incorporated as a city in 1846; Wisconsin was admitted as a State, May 29th, 1848. By 1890, the population of Milwaukee was more than 200,000.
The material used for early building in Milwaukee was largely a cream-colored brick, from which the city was often referred to as "Cream City."
The Historic Resources of the West Side Area, Milwaukee, Wisconsin, nomination document, 1985, National Register of Historic Places, NR# 64000955, National Park Service, Washington, D.C.
Milwaukee: A Half Century's Progress, 1846-1896, Souvenir Book, Consolidated Illustrating Company, Milwaukee, 1896.
Nearby Towns: Shorewood Vlg • Wauwatosa City • West Allis City •
---