The Winooski River
---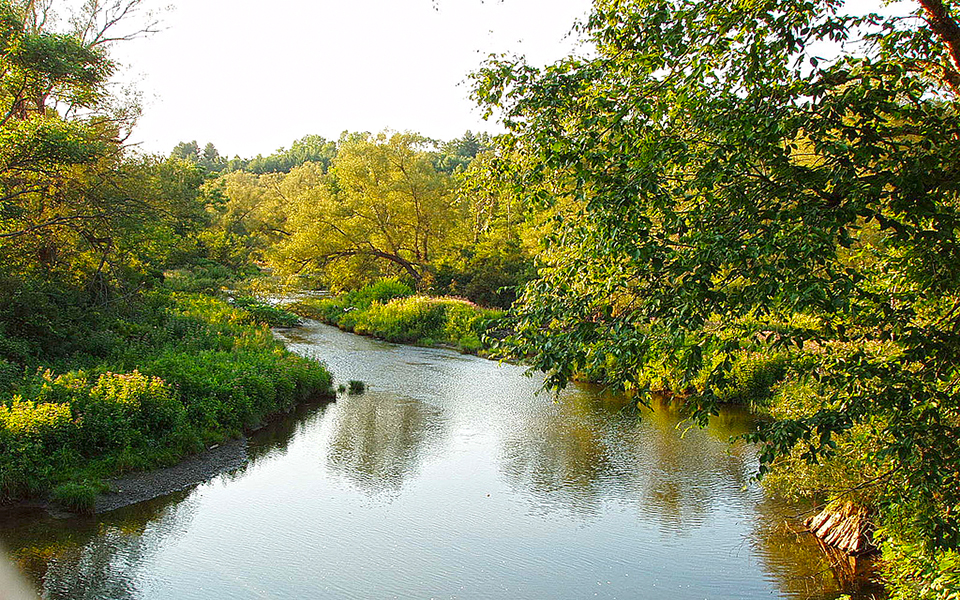 ---
The Winooski River has its source in the northeast corner of Washington County in the town of Cabot then courses for approximately 90 miles northwesterly and flows into Lake Champlain in the town of Colchester just north of Burlington. It has a drainage area of approximately 1,080 square miles or about 11.9% of Vermont. The basin occupies all of Washington County, a little less than half of Chittenden County and small parts of Lamoille and Orange Counties. For a river length of 33 miles from the mouth to Jonesville, the valley is not more than 12 miles wide, but just to the east at Bolton where the river cuts through the Green Mountains, the valley spreads out to a width of over 30 miles.
The Winooski River has seven important tributaries, three of which enter from the north: the Little River joining below the village of Waterbury; the North Branch joining at the city of Montpelier; and Kingsbury Branch joining in East Montpelier. The four branches flowing from the south are the Huntington River coming in at the village of Jonesville, the Mad River joining in Middlesex; the Dog River entering just west of the city of Montpelier, and the Stevens Branch just north of Montpelier.
The land use and land cover of the Winooski watershed is very diverse from cities such as Burlington, Winooski, Barre, and Montpelier to the farmland of Cabot and resort and ski areas of Stowe and the Mad River valley. Table 1 below gives the relative percentages of land area in different uses or with different land cover types. The information is based on relatively old satellite photographs now but can be compared to other basin or watersheds because the same photographs were used to determine their land use/land cover.
† Water Quality and Aquatic Habitat Assessment Report, 2008, anrweb.vt.gov, accessed August, 2021.
---