Grand County, Utah
Grand County administrative offices are located at 125 East Center Street, Moab, UT 84532. Phone: 435-259-1321.
---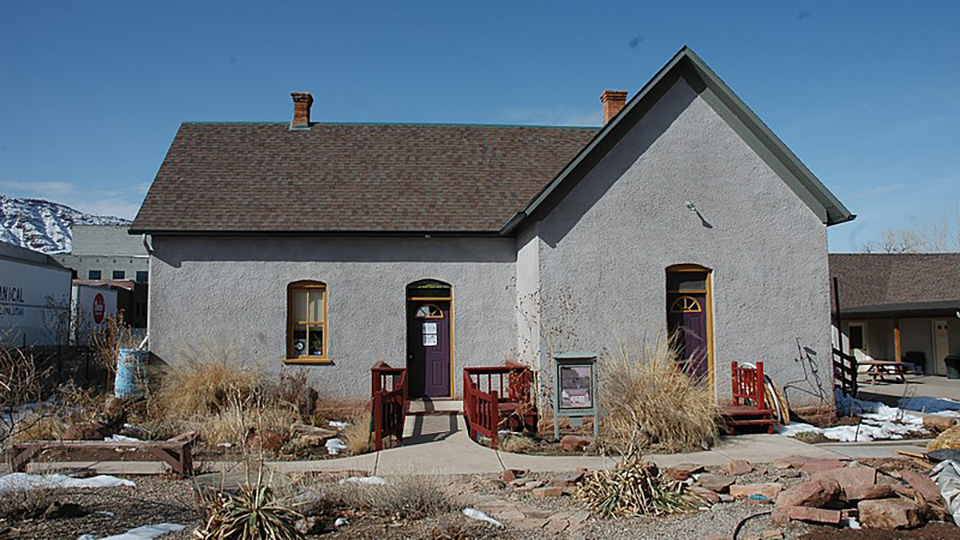 Photo: John Henry Shafer House, circa 1884, located at 500 South 400 East, Moab. Listed on the National Register of Historic Places in 2001. Photographed by Wikipedia Username:Tricia Simpson (own work), 2010, [cc-3.0], via Wikimedia Commons, accessed February, 2023.
---
TOWNS
Beginnings [1]
Archeological evidence suggests that the Moab area and surrounding country was inhabited by a tribe of ancient Indians, the Ancestral Puebloans (Anasazi), perhaps as early as 10,000 years ago. The present town of Moab sits on the ruins of pueblo farming communities dating from the 11th and 12th centuries. The Indians left in the middle of the 13th century for unknown reasons. Nomadic Ute tribes greeted the first Europeans to arrive in the Canyonlands area.
In 1855 Mormon missionaries attempted to settle the area and established the Elk Mountain Mission but a Ute Indian attack forced the mission to close after only 3 months. For the next 3 decades the future site of Moab was used intermittently by trappers, prospectors, and cattleman. Permanent settlement was not achieved until the 1870s.
The first people to settle in the fertile Spanish Valley, named after the "Old Spanish Trail," which ran through it, were the Mormon pioneers in 1877. These early settlers, coming in from the north, encountered the deep canyon walls of the Grand River (officially renamed the Colorado River in May, 1921) and were unable to take wagons over, or around, the steep canyon walls.
They unloaded their supplies, took their wagons apart, and lowered them by rope over the ledge 1 piece at a time. They then drove their oxen over a high, rocky canyon rim and lead them down deep sand dunes to the wagon parts. After the wagons were reassembled and supplies reloaded, they made their way through sand almost one foot deep until they came to the river. They then had to find a place that was free of quicksand, yet shallow enough to permit them to cross this large and treacherous river. This crossing was made below the present river bridge and it is where settlers later put in a ferry, which served as the only means across the river, until a bridge was built in 1911.
† History, www.grandcountyutah.net, accessed February, 2023.
HISTORIC SITES
Moab Cabin
Rock House-Custodian's Residence
Shafer, John Henry, House
Star Hall
Taylor, Arthur, House
Thompson Wash Rock Art District
Warner, Orlando W., House
Wolfe Ranch Historical District
---
Home
Whats New
Site Index
LivingPlaces.com © 1997‑2023
Search
Contact
Privacy
Disclaimer