Johnson City
Johnson City Hall is located at 601 East Main Street, Johnson City, TN 37601.
Phone: 423‑434‑6000.
---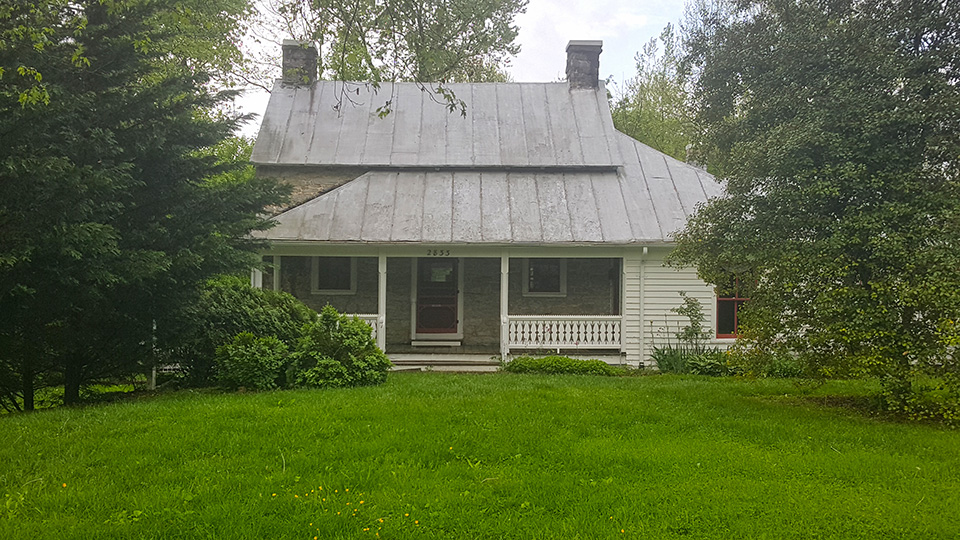 Photo: Peter Range House, built circa 1804; located at 307 Twin Falls Drive, Johnson City. Listed on the National Register of Historic Places in 1983. Photographed by User:Boppertoad (own work), 2019, [cc-4.0], via Wikimedia Commons, accessed December, 2020.
---
Johnson City as described in 1939 [1]
Johnson City, a trade center and shipping point for a lumbering and farming area, partly dependent for employment on railroad division shops, began to grow rapidly after the establishment of the rayon plants in Elizabethton to the east. Large numbers of people who came to work in the Elizabethton plants could not find quarters in the boom city and decided to live here and commute. New stores were opened to accommodate the increased population and various new businesses came into existence — box factories, tanneries, lumber yards and lumber mills. The result is that the center of town, which is cut by the tracks of the three railroads converging here, has a brisk, modern appearance. The homes are on higher ground, many on streets shaded by hardwood.
Neighborhoods
Antioch Place
Austin Village
Barnes Property
Bartons Creek
Baxter Street Addition
Beechwood
Biltmore Estates
Boone Trail
Boones Creek Corp Park
Boyd-Preas Addition
Brentwood
Briarwood
Brookmead
Buckston Hills
Camelot
Car Mol Estates
Cardinal Forest
Carriage Hills
Carter Crossing
Cedar Crest
Cedar Rock Village
Central Heights Addition
Cherokee Hills
College View
Commons at Oak Grove
Copper Hill
Cottage Colony
Cottages at Willow Springs
County Down
Devault Estates
Duck Creek
Dulaney Addition
East Park
Eastway
El Rancho Acres
Fairlawn
Five Oaks
Forest Hills
Foster
Garland Acres
Garland Farms Estates
Gates at Highland Ridge
Gilmer Park
Glen Oaks
Glen Ridge
Gray Addition
Green Acres
Greenfield
Greenfield Heights
Greenwood Acres
Gump Addition
Hamilton Estates
Hays Farms
Hidden Oaks
Highland Heights
Highland Heights Addition
Highland Parc
Highland Ridge
Hillrise Woods
Hills at Waterford
Holly Hills Addition
Hunters Lake
Hunterwood
Huntington Green
Hyde Park
Idlewylde
Indian Trail
Keeland Heights
Keystone
King Springs Addition
Kingsport Pike Addition
Lacey Martin Addition
Lake Harbor
Lake Harbor Estates
Lake Meadows
Lake Ridge
Lake Ridge Estates
Lakewood
Lands End
Lilly Landing
Linvelle Estates
Madison Place
Magnolia Terrace Addition
Martindale
Martindale Estates
Martins Glen
Masters Knob
Matson Heights
McNeil Farm
Meadow View Addition
Miller Addition
Millercrest
Millstone
Minga
Mizpah Hills
Monteray Hills
Mountcastle Hills
North Acres
North Hills
Norwood
Oak Park
Oakland Acres
Oakland Gardens
Oakland Heights Addition
Park Place
Pine Grove
Pine Ridge
Pinecrest
Piney Grove
Piney Grove Park
Pioneer Heights
Poplar Hill
Princeton Gardens
Princeton Hill
Quail Ridge
Quail Woods
Red Oak
Ridgefield
Ridgeland
Rivers Edge
Riverside Park
Rolling Hills
Roundtree
Sawyers Pond
Scenic View
Se Miller Estates
Sea Biscuit
Seminole Woods
Sequoyah Heights
Serenity Hills
Shadowood
Sherwood Forest
Simmons Ridge
Sinking Creek
Southwest Addition
Spring Valley
Stanmoore Estates
Steeplechase
Sterling Springs
Stone Ridge
Strawberry Fields
Sunny Slopes
Sunny View
Sunrise Terrace
Sunrise Valley
Sunset Ridge
Tanglewood
Taylor Ridge
The Estates
The Oaks
The Ridges
The Sanctuary
The Villas at Willow
The Woodlands
Timbercrest Addition
Timberlake
Town Acres
Towne Acres
Treadway
Tri City
Tunbridge
Twin Hills
Virginia Plantation
Watauga Commons
Waterbrooke
Waters Edge
Wellington Park
West Main Street Addition
West Park Addition
Wexford Estates
Whispering Pines
White Rock View
White Rock Village
Whittling Wood
Wilder Addition
Willow Springs
Willow Springs Reserve
Willowbrook
Willows Ridge
Wiseman
Wm Clark Farm
Woodhaven Village
The downtown streets are particularly lively on Saturday when everybody for miles around comes in to shop and to see a movie; the mountaineers are easily identified by the dark tan of their lean faces and by the blue jeans they usually wear.
The first settler in the vicinity was David Jobe, who came to Watauga about 1777, but settlement of the region progressed slowly until 1854, when Henry Johnson, for who the city was later named, arrived from North Carolina, and opened a store in the settlement then known as Blue Plum. After the East Tennessee and Virginia Railroad, now a part of the Southern, built a water tank here in 1858, Johnson saw an opportunity to sell his land at a profit; and at his own expense, he constructed a depot for the railroad. Trains were soon scheduled for a stop at Johnson's Tank, or Johnson's Depot.
During the Civil War the town, then called Haynesville in honor of Landon C. Haynes, a Confederate States Senator from Tennessee, saw much military activity but the wartime boom was soon over. After the close of the war, Henry Johnson renewed his activities for the development of a city. For some years he served as postmaster, depot agent, merchant, hotel keeper and magistrate. In 1869 a charter of incorporation was granted to Johnson City, and Johnson was elected the first mayor.
Works Progress Administration, Federal Writers' Program, Tennessee: A Guide to the State, American Guide Series, Tennessee Department of Conservation, Stratford Press, 1939.
---