Latrobe City
Latrobe City Hall is located at 901 Jefferson Street, Latrobe, PA 15650.
Phone: 724‑539‑8548.
---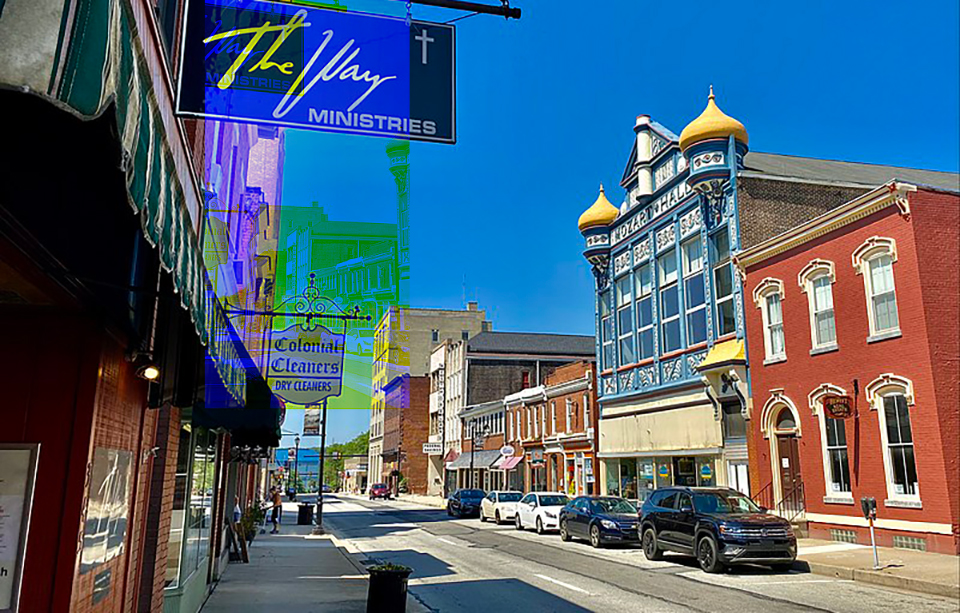 Photo: Looking southwest along Main Street from just past the corner of South Alexandria Street in downtown Latrobe; wikipedia username Andre Carrotflower, photographer, 2021, [cc-4,0] via wikimedia commons, accessed October, 2022.
---
The City of Latrobe [1] s located in central Westmoreland County in the Laurel Highlands region between Ligonier and Greensburg. Given its scenic location nestled in the Chestnut Ridge, Latrobe is home to many natural, recreational, historic, and cultural resources. From the abundance of such assets in and around the City, Latrobe has a bright future to create an enhanced quality of life and to revitalize its business district to become a destination spot for residents of the area, visitors to the region, and students of nearby colleges and universities.
Neighborhoods
Beginnings [2]
Latrobe grew from a thickly-forested site along the Loyalhanna Creek in central Westmoreland County near Chestnut Ridge. Oliver Barnes, an agent and civil engineer for the Pennsylvania Railroad, purchased the site to build a rail yard. He subsequently saw the site, forty miles from Pittsburgh, near the creek and timber and coal resources, as an excellent location for a town, one of many such towns established in southwestern Pennsylvania during this period. Barnes purchased a tract of land from Thomas Kirk in February of 1851, and in May of 1851, he planned lots on a flat area in a bend of the creek. While the rail yard was built a short distance to the northwest at Derry, a railroad station and support buildings were erected upon several acres near the town center. Barnes named the town for his fellow engineer, Benjamin H. Latrobe, Jr., who was also involved with the Baltimore and Ohio Railroad. Latrobe's father, Benjamin H. Sr., was the nationally known architect. The nascent town grew quickly; it was incorporated as a borough in May of 1854. Early industries such as paper and grist mills developed in Latrobe because of its proximity to the creek. As Pittsburgh emerged as a steel production center during the post Civil War era, coal deposits around Latrobe, and most of southwestern Pennsylvania, were in high demand since coal was a key ingredient to steel manufacturing.
Comprehensive Plan, Latrobe, Pennsylvania, 2010, updated 2018, www.cityoflatrobe.com, accessed October, 2022.
Clinton Piper, Preservation Consultant, Citizens National Bank, Westmoreland County, PA, nomination document, 2002, National Park Service, National Register of Historic Places, Washington, D.C.
---