East Nantmeal Township
East Nantmeal Township municipal offices are located at 3383 Conestoga Road, Glenmoore, PA 19343.
Phone: 610‑458‑5780.
---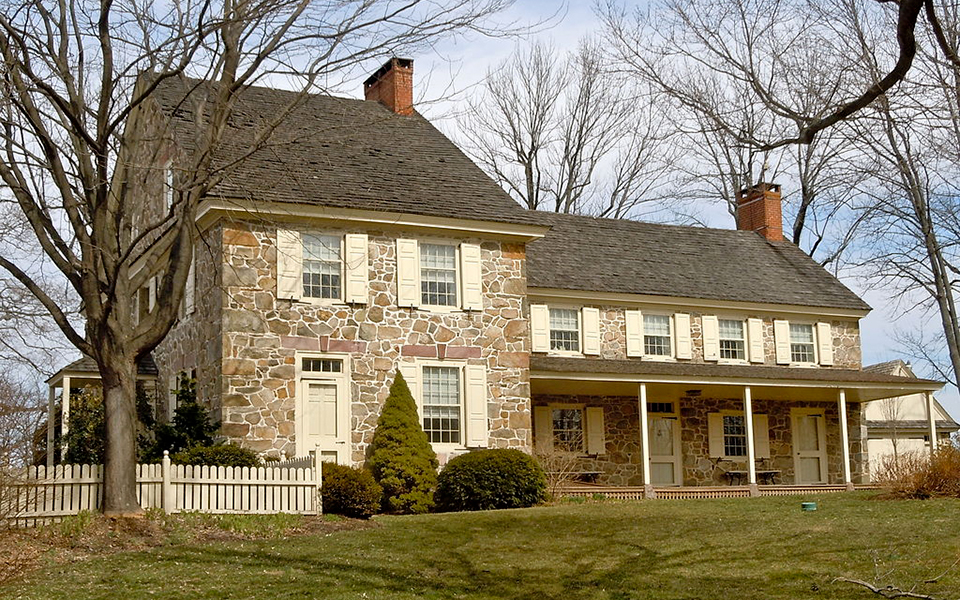 Photo: Thomas Bull House. built sometime between 1783 and 1796; Bull was a stone mason, and also, the manager of Warwick Furnace; he served as a Lieutenant Colonel in the Revolutionary War. Photographed by User:Smallbones (own work), 2012, [cc-by-1.0, public domain], via Wikimedia Commons, accessed January, 2016.
---
Neighborhoods
East Nantmeal is home to four resources that are listed on the National Register of Historic Places:
Thomas Bull House (above), listed on the National Register in 1979.
Reading Furnace Historic District straddles French Creek which form part of the boundary between East Nantmeal and Warwick Townships; began as an iron furnace in 1736, developed as a farm in the early 19th century, and then remodeled as a country estate for Arthur Pew in 1936. The remodeled mansion (1812) was designed by architect Richardson Brognard Okie.
Warwick Furnace Farms forms a significant part of the history of the early iron industry and of the families Nutt, Rutter, Savage and Potts.
Welkinweir (the Grace and Everett Rodebaugh Estate); a 162 acre preserve encompassing three buildings, gardens, ponds, natural wildlife habitat, trails, wetlands and woods. Grace and Everett Rodebaugh purchased the aging farm in 1935 as a weekend retreat and summer home. They retained architect Fridtjof Tobiessen to "make the mansion livable." This may be the only significant residential commission of Tobiessen, whose principal works were public schools, memorials, and churches.
"Part of the northwestern section of Chester County was first opened to white civilization in the first decade of the eighteenth century when Welsh settlers entered the wooded hill country and named it for their birthplace in Radnorshire, Wales. Nantmeal, as it was originally spelled, means "sweet water" or "land of the sweet stream." In 1739 the original township was divided into East Nantmeal and West Nantmeal. The western township was divided in 1789 and again in 1852 to form Honeybrook and Springton (now Wallace) townships." [1]
Edward Pinkowski, Chester County Place Names, Philadelphia, Sunshine Press, 1962
Nearby Towns: East Brandywine Twp • Elverson Boro • South Coventry Twp • Upper Uwchlan Twp • Uwchlan Twp • Wallace Twp • Warwick Twp • West Brandywine Twp • West Nantmeal Twp • West Vincent Twp •
---