Bellefonte Borough
Borough municipal offices are located at 236 West Lamb Street, Bellefonte PA 16823.
Phone: 814-355-8209.
---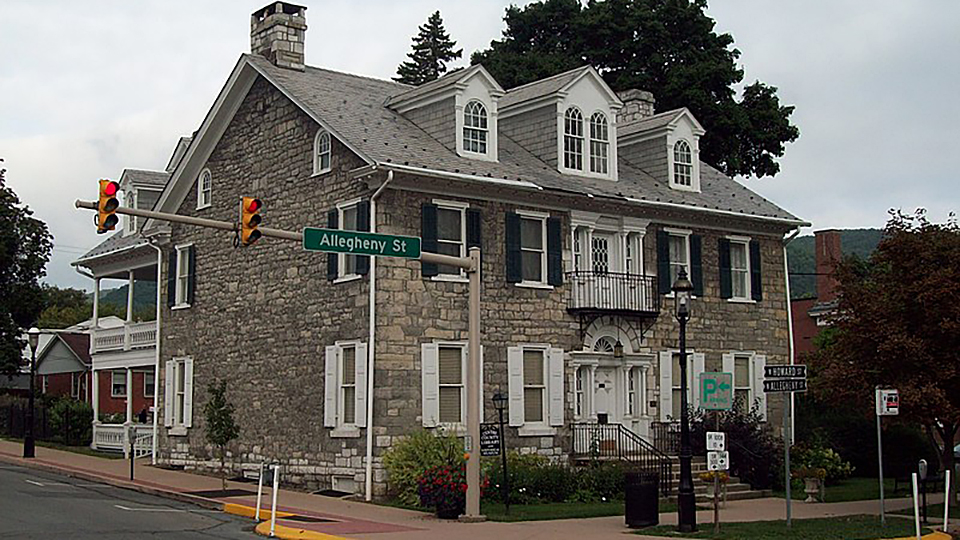 Photo: Miles-Humes House, circa 1814-1816, located at 203 North Allegheny Street, Bellefonte. Listed on the National Register of Historic Places in 1976. Photographed by User: Pubdog (own work), 2010, public domain, via Wikimedia Commons, accessed August, 2021.
---
Neighborhoods
Bellefonte [1], the County Seat, was laid out in 1795 by Colonel James Dunlap and his son-in-law, James Harris. Incorporated as a borough from Spring township, it is the oldest in Centre County. (Linn's History records this date by Act of Legislature as being March 28, 1806, and Godcharles records the date of March 8, 1806.)
Three Governors of our Great Commonwealth came from Bellefonte: Andrew Gregg Curtin, Civil War Governor; General James A. Beaver, and Daniel H. Hastings.
Historical Sketch [2]
No description can do justice to its charms. It is picturesquely situated on a western slope, the surface of which is varied by elevations and depressions, and it may be said of it, as of ancient Rome, that it "Stands upon seven hills." The pride and glory of Bellefonte, and the inspiration of many visitors,is the beautiful fountain from which it derives its name. The name Bellefonte, which is the French for "Beautiful Spring," was bestowed upon the town because of the large spring that has ever since supplied the town with an abundance of pure water. The name supposedly was suggested to a Mr. and Mrs. James Harris by Charles Maurice, Duke of Tallyrand-Perigord, later Prince of Benevento, who was a political exile in the United States in 1794-5, and who is reported to have visited the Harris home at "Willow Bank." The older and larger village of Milesburg at the confluence of the Bald Eagle Creek and Mill Creek, was a strong bidder for the county seat of justice, but lost the coveted prize to Bellefonte, in a way that is more or less traditional.
One of the first settlers of Bellefonte was William Petriken, a tailor,and his first customer in Bellefonte was Daniel Turner. Other early settlers were John G. Lowery, James Harris, John Dunlop, John Wall, the latter a blacksmith. The town was laid out in 1795 by Col. James Dunlap and James Harris Esq. The first lot owners, besides those of the proprietors, were William Petrikin Esq., Adam McKee, Alexander Diven, John Ball, and Hugh Gallagher.
The first house erected was by Col. James Dunlop, and more recently occupied by Jacob Valentine, and was the house in which the courts were first held in 1801. James Harris erected his at Willow Bank, just outside the Boroughlimits. William A. Ketrikin erected his house shortly after that of Col. James Dunlop. The Petrikin house was later lived in by D. M. Wagner.McKee's tavern was built in 1797, and T. R. Reynolds later lived there. John Hall built in 1797 near the foot of Spring St. Alexander Diven also same year and it was later occupied by Edmund Blanchard. John Dunlop built the Bellefonte Forge in 1797 at the edge of town. James Smith, son-in-law of Col Dunlop, built a grist mill, where Duncan Hale&Co. later stood, in 1797.
The same year Roland Curtin came to Bellefonte and opened a store,where Joseph & Bros. later were located. In 1801 some of the residents in Bellefonte were William Alexander (Hatter), Col. Dunlop, Hugh Gallagher, John Hall, Conrad Kyler, John McCord, Adam McKee, GeorgeMcKee, Samuel Patterson, William Petrikin Esq., William Riddle, GeorgeWilliams, Joseph Williams, Dr. William Harris, David Irvine, Abraham Lee, Isaac Lee, John G. Lowery, John McKee, Jeshur Miles, John Miles,Robert T. Stewart. James Harris built a grist mill in 1807. The Post Office was established April 1st, 1798, and James Harris was the first Post Master and served until the appointment of R. T. Stewart in 1810. Bellefonte has an elevation of 730 feet, and is most beautifully situated,with scenic beauty that can not be surpassed. Travelers and tourists from all parts of the Nation find in it a place of unexcelled beauty, and unusual hospitality. Many prominent men who lived and labored here, have attained national fame and honor.
Marks, William E., Biographical Survey, Centre County, 1941
Marks, William E., History of the Early Settling of Bald Eagle Valley, publisher unknown, date, possibly 1936
---