Enid City
Enid City Hall is located at 401 West Owen K Garriott Road, Enid, OK 73702.
Phone: 580‑234‑0400.
---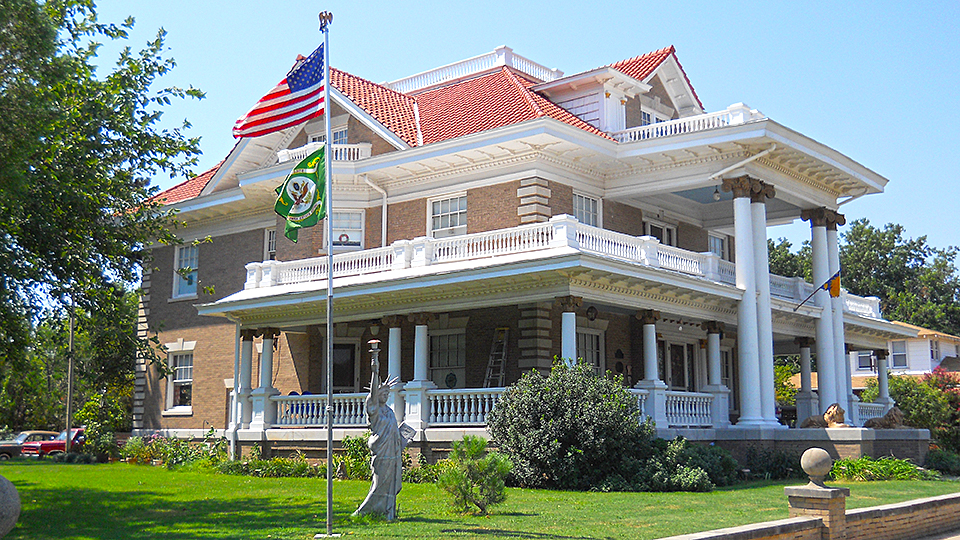 Photo: McCristy-Knox Mansion, circa 1909, located at 1323 West Broadway, Enid. Listed on the National Register of Historic Places in 1987. Photographed by wikipedia username:Kiddo27 (own work), 2011, [cc-3.0], via wikimedia commons, accessed October, 2022.
---
Enid as described in 1941 [1]
Enid has grown from the tent city which sprang out of the prairie dust on the day of the Strip opening, September 16, 1893, to a typically prosperous, self-contained municipality. Its business section lies on a gently shelving hill, from which the clean and spacious residential streets stretch out. A fourteen story hotel and two office buildings, eleven and fifteen stories high, modern and utilitarian in design, give the business section a big-city appearance. Fronting the public square are the older business structures, while the newer buildings are spread around in every direction. Fifty-four church organizations occupy forty-one buildings. The city schools have an enrollment of nearly six thousand students.
Neighborhoods
Bobs Farm
Cedar Ridge
Chestnut Village
Chestnut West
Country Club North
Country Club West
El Paseo
Evansdale
Garland Park
Geightner
Heritage Hills
Hunters Hill
Indian Hills
LaMesa West
Neilson
Nicholas Oaks
Oakwood Hill
Oakwood North
Pheasant Run
Quail Creek
Quailwoods
Rolling Acres
Rolling Oaks
Seven Pines at Oakcrest
Sherwood Heights
Skyview Estates
T T Eason Mansion
Tamarron
Tara Estates
The Meadows
Unruh
Waterford Courth
Waverly
Wilderness Cove
Willow Creek
Willow Lake
Willow Run
Willow West
Willowbrook Village
Woodlands
[ continue ]

continued

This "Queen City of the Cherokee Strip" and seat of Garfield County's government began life some time before the historic day of the opening as a watering place for nomadic Indians and stagecoach teams. It successfully avoided having the name Skeleton thrust upon it (from its proximity to the head of Skeleton Creek) and acquired its real name from an official of the Rock Island Railroad who was fond of Tennyson's Idylls of the King and felt that Geraint's wife ought to be honored by having a city named for her.

Enid had been chosen as the site of a government land office in the Cherokee Strip in advance of the opening, and the government surveyors and troops moved in approximately a year before in order to run section lines and plat townsites.

On that opening day in 1893, it was discovered that certain enterprising Cherokee Indians, with profit in mind, had chosen allotments within the area planned for the town. Discovery of the scheme caused Secretary of the Interior Hoke Smith to order the townsite located three miles south of the original settlement around the railroad station. Consequently, with the government land office, the county courthouse and the post office separated from the depot, rivalry between the north and south sections developed into a feud. Each claimed the name of Enid, and the other (depending on which faction one belonged to) was tagged a suburb, North or South Enid. The Rock Island had refused to recognize the government's ruling, continuing to run its trains through South Enid without stopping, when on July 13, 1894, a freight train went off the tracks into a ditch near South Enid. Investigation brought about the discovery that the bridge supports had been weakened by sawing. Rock Island officials announced that while the company would respect any law the government might enact, it would not surrender to mob action. Secretary Smith's decision was upheld, however, by a presidential proclamation, and on September 16, 1894, a freight and ticket office was established in South Enid, which became the present city. A six-foot hatchet, symbol of strife, was later buried with due and proper ceremony by members of both factions.
Workers of the Writers' Program of the Work Projects Administration in the State of Oklahoma, University of Oklahoma, Oklahoma: A Guide to the Sooner State, American Guide Series, University of Oklahoma Press, Norman, 1941.
---