Sayreville Borough
Sayreville Borough Hall is located at 167 Main Street, Sayreville, NJ 08872.
Phone: 732-390-7071.
---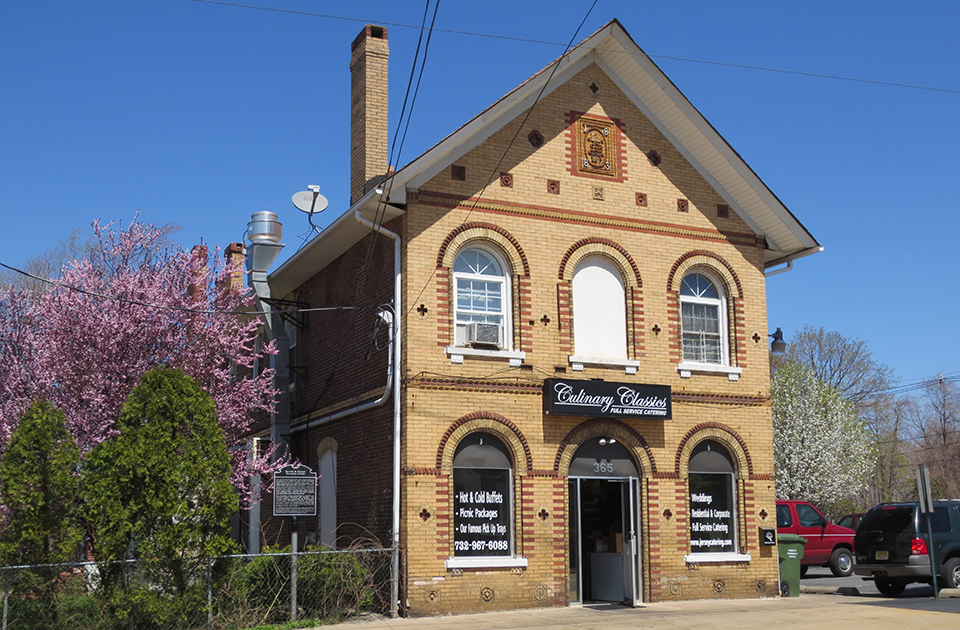 Photo: Sayre and Fisher Reading Room, circa 1833, located at Main Street and River Road, Sayreville. Listed on the National Register of Historic Places in 1979. Photographer: wikipedia username: KForce, 2013, (own work) [cc-3.0]; accessed October, 2022. The Reading Room is an expression paternalism of 19th-century employer-worker relations and a rare surviving remnant of one of the largest brick producers in the United States, Sayre and Fisher Company..
---
First incorporated as a township in 1876, Sayreville was re-incorporated as a borough in 1919. Prior to incorporation the area was known as Roundabout after the bending nature of the RIver. In the 1960s it was re-named for James R. Sayre, co-founder of the Sayre and Fisher Brick Company.
Neighborhoods
Colony Club
Generals Park
Harbour Club
La Mer
Main Street
Meadows at Sayerbille
Melrose
Morgan
Oak Tree East
Oak Tree West
Park Village
Patriot Hill
Reflections
Sayrewoods
Sheffield Mews
Sheffield Towne
Spinnaker Point
Townelake
White Oaks
Winding River
Woodside
The Borough of Sayreville [†] is a mature suburban community located in Middlesex County on the Raritan and South Rivers, the Cheesequake Brook as well as the Raritan Bay. The Borough encompasses an area of 18.7 square miles and borders South Amboy, Perth Amboy and the Raritan Bay to the west, Old Bridge to the south, East Brunswick and South River to the east and City of Perth Amboy, Edison and Woodbridge to the north.
† Sayreville Borough Master Plan, 2013, www.sayreville.com, accessed October, 2022.
Nearby Towns: Aberdeen Twp • Edison Twp • Metuchen Boro • Old Bridge Twp • Perth Amboy City • South Amboy City • Woodbridge Twp •
---