Vineland City
Vineland City Hall is located at 640 East Wood St Vineland, NJ 08360
Phone: 856-794-4000.
---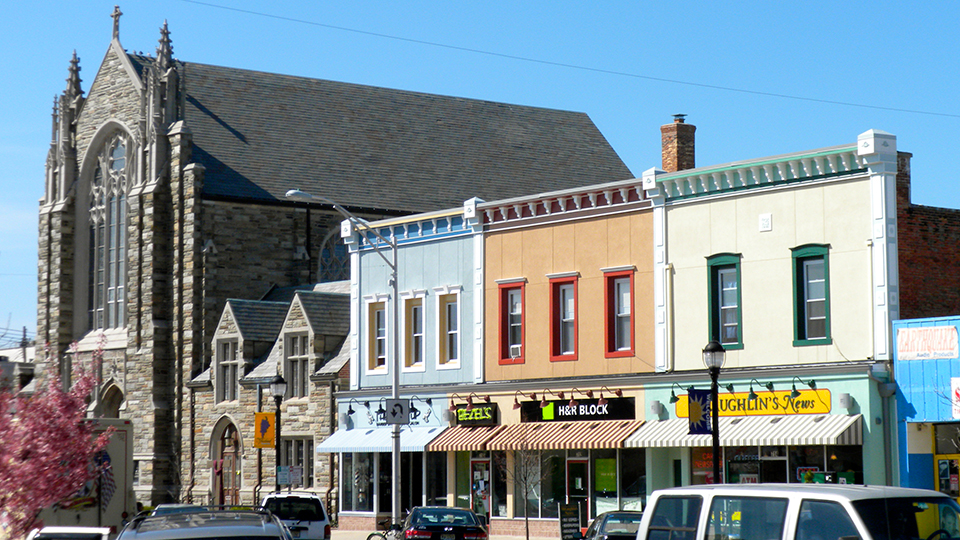 Photo: Landis Avenue in Downtown Vineland. Photographed by User:Smallbones (own work), 2020, [cc-by-1.0, public domain], via Wikimedia Commons, accessed October, 2020.
---
Neighborhoods
Aspen Greene
Berrymans Branch
Brendale Condos
Briar Glen
Cedar Crest
East Vineland
Fairview Manor
Garrison Estates
Harlen Court
Independence Walk
Kings Crossing
Landis Point
Lincoln Woods
Little Flower Estates
Louis Court
Mainland Condos
Oak Ridge
Penn-Lincoln
Pheasant Run Condos
South Vineland
Spring Hollow
Terrace East Condos
Timberbrook
Whispering Woods
Beginnings [†]
When 28-year-old Philadelphia attorney Charles Kline Landis decided to carve the town of Vineland out of the South Jersey Pine Barrens in 1861, he had some very specific ideas about its design. Unlike the neighboring towns of Millville and Bridgeton, which were primarily devoted to industry, he purposefully divided his community into a one-mile-square central business district that was ringed by farmland. For Landis, Vineland's growth and development depended equally on four components: education, business, industry, and agriculture. Although only a handful of pioneers settled there in the early days, Vineland grew quickly thanks in no small part to Landis' promotional skills. It soon became known as "Beautiful Vineland," a cultural mecca that welcomed newcomers regardless of their race, ethnic background or religion.
Vineland's potential as an agricultural community was proven within a few short years. During the 19th century, record numbers of strawberries, blueberries, cranberries, and, yes, grapes, were shipped to major cities along the east coast. Later, the town became known as the "Egg Capital of the East," as poultry farms produced Grade A eggs that were shipped to cities like New York and Philadelphia. Vineland also boasted shoe factories, button manufacturers, barrel and box makers, iron foundries, and lumber yards. At the same time, its cultural side was fed by artists like Thomas Braidwood and writers like Augusta Bristol who gathered at different studios and literary salons to share their work.
Just three short years after it was founded, the settlement boasted a new institution with the grand name of the Vineland Historical and Antiquarian Society. The members, who first met regularly at different private homes, gathered a collection of unique objects that were hand- carried in a wooden case to their meetings. Before long, they established a small wood-frame museum on property that was donated at Seventh and Elmer Streets. But as Vineland's population grew, they realized the need for a larger establishment to house all of the artifacts and records that were given to the Society. In 1910, a new red brick museum was opened at the same location, featuring a lecture hall, exhibit space and a research library.
† Beautiful Vineland, Vineland Historical and Antiquarian Society, 2013, www.gardenstatelegacy.com/, accessed October, 2020.
Nearby Towns: Buena Boro • Newfield Boro •
---