Fishing in Cape May County New Jersey
New Jersey's Largest Port
---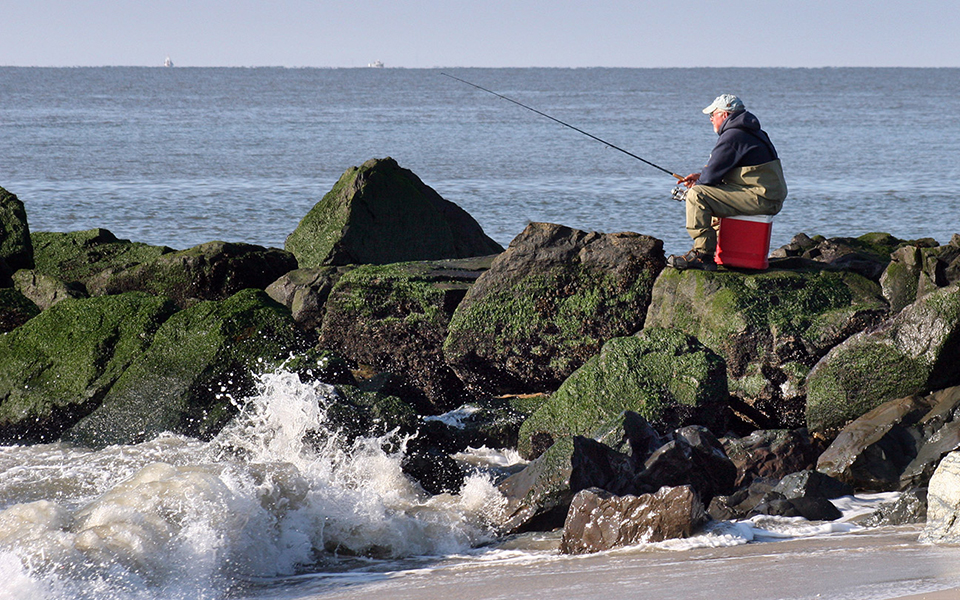 ---
The Cape May [†] peninsula's 108 miles of coastline preordained that its past, present and future would be tied to the water. Even before it was settled by Europeans, the area was known to be a fishing haven for the Lenape Indians as far back as the early 1600s. By the middle of that century, New England whalers in search of whales and land began settling the area.
In the late 1600s, 35 families settled what is now Cape May proper. Their proximity to the coast led most to make a living by harvesting the waters and marketing their catch to Philadelphia, Wilmington and even Baltimore. The barrier islands on the ocean side of the peninsula served as perfect sites for whaling camps, adding yet another dimension to the fishing industry there.
Although the area developed as a tourist center over the centuries, it never lost its appeal as a seaport. Today, it serves as New Jersey's largest — and the nation's sixth-largest – boasting an active, state-of-the-art fishing fleet.
Many of the vessels that call this port home are equipped with on-board flash freezers or refrigerated sea water systems, giving them an advantage in keeping fish aboard, especially during the summer months.
Cape May also boasts some of the most modern fish processing and packing facilities found anywhere in the world. Fish from these facilities are sent all around the globe. This epitomizes Cape May's penchant for quickly reacting to shifting international needs, allowing fishermen and processors here to court buyers in all major markets.
A global view helps the port reach markets for species like mackerel and squid, which are not in high demand in the United States but which are prized overseas. The companies located here also are quick to pick up on other species, such as croaker, which can be harvested in our waters and marketed overseas. So successful was one company in gaining international market share that it saw the need to expand to other ports in the United States to be able to meet the demand for similar species.
Commercial fishermen in Cape May have been proactive in efforts to maintain the sustainability of their resources. They have worked closely with the Fisheries Information and Development Center (FIDC) to improve and refine the data collected on species biomass. The fishermen continue to pursue an agenda of meshing anecdotal information from commercial vessels with statistics developed by scientific trips.
† New Jersey Fishing and Aquaculture: Harvesting the Garden State's Waters,, 2005, www.state.nj.us, accessed June, 2022.
---
---