Bismarck City
Bismarck City Hall is located at 221 North 5th Street, Bismarck, ND 58506.
Phone: 701‑355‑1300.
---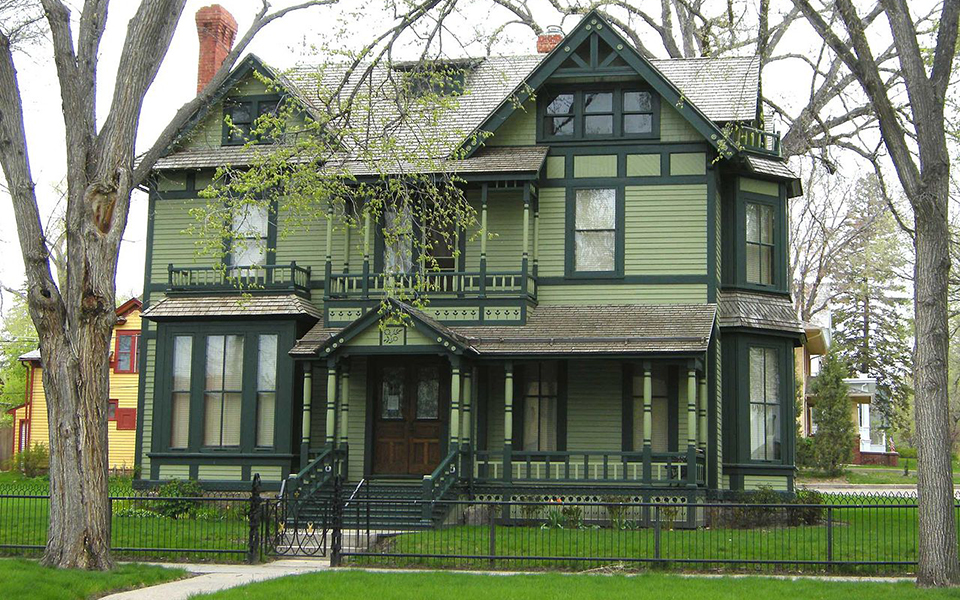 Former Governors' Residence, circa 1893, located at 320 Avenue B, E., Bismarck. Listed on the National Register of Historic Places in 1975. Photographed by wij=kipedia User: Plazak own work), 2010, [cc-3.0], via Wikimedia Commons, accessed July, 2022.
---
What would become Bismarck began as the Town of Edwinton in 1872, located at the point where the North Pacific Railway crossed the Missouri River. The name was changed a year later to Bismarck in honor of Otto von Bismarck [1815-1898], Chancellor of Germany. In 1883 Bismarck became the capital of the Dakota Territory. When the territory was split to create the new states of North and South Dakota, Jamestown was designated to be North Dakota's state capital, but efforts of Bismarck's citizens, some surreptitious, fixed the capital in Bismarck where it has remained.
Neighborhoods
Ambiente
Anderson
Arbor Villas
B and R Estates
Barkers
Becker Estates
Beulah Meadows
Boulder Ridge
Boutrous
Brandon Heights
Brendel Addition
Brookfield Estates
Buffalo Jump Addition
C W Acres
Calkins
Caseys
Centennial Park
Century Park
City View Heights
Cliffords
Clootens
Colonial Estates
Contessa
Cottonwood Lake
Country Club Heights
Country West
Countryside Estates
Dakota Breeze Addition
Dauenhauer Addition
Duemlands
Eagle Crest
East Lincoln
Eastside Heights
Eastview
Edgewood Village
Elks Addition
Fairways
Fernwood
Fisher Addition
Flannery and Wetherby
Fort Lincoln Estates
Fox Island
Frenchs
Gateway
Gomke Estates
Good Shepherd North
Grand Prairie Estates
Grand View Pines
Grandview Heights
Gussner Acres
Hanson
Harry Gallup
High Meadows Addition
High Plains Country Estates
Highes
Highland Estates
Homan Acres
Horizon Heights
Horizon View
Huchler Park
Imperial Valley
Indian Hills
Jennings
Johnsons
Keating
Keystone
Kilber North
Kings View
Kirkwood
Knudsen
Kreugers
Larson
Legacy Addition
Liechty
Lincoln Meadows
Lindteigens Landing
Linquist-Miller
Marcovitz
Marian Park
Mayfair
McKenzie and Coffins
Meadow Valley
Meadow View
Meadowlark
Menard
Mills Addition
Missouri Slope
Morningside Heights
Nagels
North Valley Estates
Northen Sky Addition
Northridge
Northwest Acres
Parkwood Heights
Pats Acres
Pearce Estates
Pebble Creek
Peets Addition
Pinehurst
Prairie Hills
Prairie Place
Prairiewood Estates
Promontory Point
Pumpkin Patch
Rainbow Acres
Ridge Estates
River Heights
Riverwood
Rocky Heights
Rolling Meadows
Rues
San Antonio Estates
Sandy River Estates
Sasse
Sattlers Sunrise
Schafer Heights
Schmitt
Schulzs
Secluded Acres
Secluded Acres West
Shannon Valley
Sherwood Heights
Sleepy Hollow Heights
Smith Estates
Sonnet Heights
Southland
Southport
Southwood Terrace
Spiritwood Estates
Stonecrest
Suttles
Sykes Addition
Tatley Meadows
The Pointe
The View
Three Bears
Tibesars
Torrance
Valley View Terrace
Viola
Vision Heights
Wachters Addition
Washington Heights
Washington Meadows
Western Hills
Weston Village
Westwood
Westwood on the Rive
Wheatland Hills Addition
Whispering Bay
Wilderness Cove
Wynkoop
Zollers
Beginnings [†]
1872-1921—A settlement emerges where the western extension of the Northern Pacific railway is planned to cross the Missouri River. The plat of Edwinton is recorded in 1872 and renamed to Bismarck. Bismarck was chosen as the capital of Dakota Territory. The city survived major fires downtown and at the Capitol and rebuilt stronger and more resilient. Growth was booming by the 1920s.
1922-1971—The City of Bismarck begins formal planning, establishing a Planning Commission and adopting a zoning ordinance. The first Plan for Development was completed in 1941. Post-war development was spurred by rapid suburbanization, and the center of the city moved north toward the newly constructed Interstate 94. The Garrison Dam also allowed building in floodplains to the south.
1972-2021—Growth continues steadily, with a slow-down in the 1980s and an oil boom in the 2010s. After a period of urban renewal early in this era, Bismarck later values and strengthens its traditional core areas. Rural development becomes prevalent, along with efforts to manage this growth. The city regains its ability to plan for extraterritorial areas outside of city limits. As costs of infrastructure rise, the city focuses on efficiency/
† Togeter 1945, Bismarck's Comprehensive Plan, www.bismarcknd.gov, 2022, accessed July, 2022.
---