Burlington City
Burlington City Municipal Offices are located at 425 South Lexington Avenue, Burlington, NC 27215.
Phone: 336‑222‑5000.
---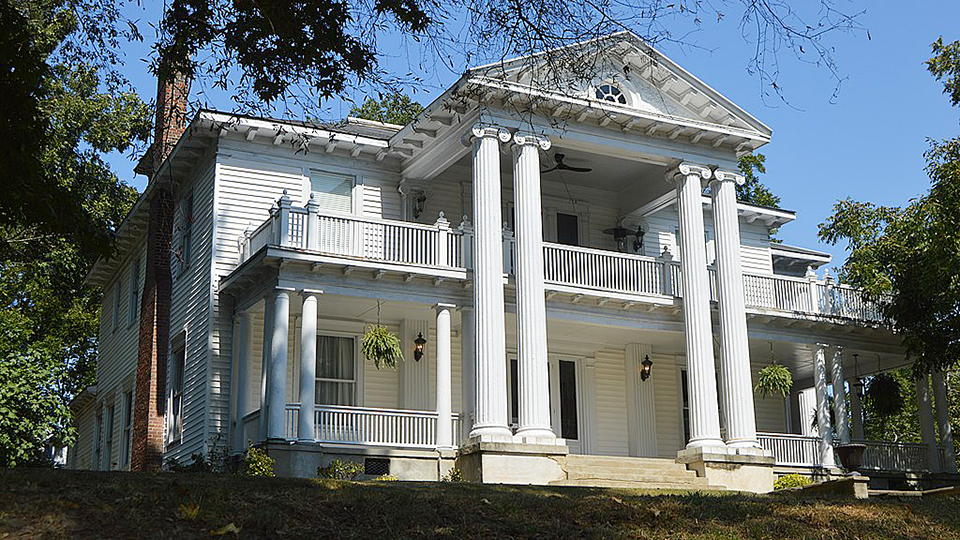 Photo: J.W. Murray House, lcirca 1900, ocated at 703 W. Davis Street (West Davis Street-Fountain Place Historic District). Listed on the National Register of Historic Places in 1991. Photographed by User:Nyttend (own work), 1984, [cc-by-1.0 ], via Wikimedia Commons, accessed June, 2021.
---
Beginnings [1]
Burlington is a small city containing a variety of historical and architectural significance that collectively reflect its character as it developed primarily from the middle 19th through early 20th centuries. A few buildings survive from the community's earliest years as Company Shops, the settlement established in 1854 by the North Carolina Railroad Company for its headquarters and maintenance and repair shops. Many more properties from the 1880s through the 1920s represent Burlington's rapid growth and development as a textile center of national importance. Altogether, these structures provide a relatively comprehensive view of a community whose development is based upon the railroad and a primary industry.
Neighborhoods
Alamance Acres
Alamance Hills
Apple Ridge
Apple Tree Village
Arden Crossing
Avalon
Beaver Hills
Beaver Hills Estates
Beverly Hills
Brassfield Meadows
Bridgewater
Brookwood
Brookwood Trollinger Sec
Bryan Acres
Buckland
Burch Landing
Burchwood Commons
Burlington
Cambridge Square
Camden Creek
Cane Meadows
Carriage Way
Carson Farms
Carson Farms East
Carson Farms West
Central Heights
Cherokee
Cherokee Park
Cottage Hills
Country Club Estates
Country Club Forest
Cox Farm
Crossroad Acres
Crowfield
Cypress Ridge
Delaney Crossing
Dew Estates
Downtown Historic District
Durham Meadows
East Colonial Heights
Edgewood West
Elder Heights
Fairchild Heights
Fairfield
Forest Haven
Fountain Place
Foxfire Estates
Franklin Place
Georgetown
Grabur Heights
Grand Oaks
Green Acres
Greenland
Gregson Court
Grey Gables
Greystone
Grove Park
Hawthorne
Heritage Glen
Hester
High Falls
Holtwoods
Hoskins Woods
Huntington
Indian Valley
Ingle Park
Ingle Park Gardens
Isley Ridge
Jackson Park
Jordan Creek Estates
Jordan Crossing
Kellam Place
Kenross
Kenwood Heights
Knollwood
Lake Mackintosh
Lakeview Estates
Laurel Meadows
Longview Acres
Macarthur Landing
Macarthur Place
Mackintosh on the Lake
Magnolia Park
Mapleview Condos
Marys Place
Mayfair Mills
Meadowlark Estates
Middleton Place
Millstone
Miss Minnies Place
Mont Clair Hills
Moser Estates
Northridge
Northside
Oak Forest
Oak Grove
Oak Grove Crossing
Park Place
Piedmont Estates
Piedmont Heights
Pinebrook
Pinewood Forest
Preston
Red Oak Acres
Ridgecrest Court
Robin Hood Forest
Saddle Club Villas
Sartin Shore
Shadow Brook
Shawnee Condos
Sherwood Condos
Sherwood Forest
Somerton
Spring Haven
Spring Valley
Squaw Valley
Sunset Heights
Suzy Q Estates
Taylors Ridge
The Waterfalls
Town And Country Estates
Townsend Forest
Trails Crossing
Tri County Acres
Turrentine Place
Valley Ridge Condos
Villa Mora
Village Green Condos
Water Ridge
Waterford
Waterford West
Wellington Place
Westerwood
Westhampton
Westridge Square
Westwood
Whitt Acres
Windermere
Witherdale Heights
Woodland Forest
Woods at Grove Park
York Place
Settlement had begun in this piedmont area as early as the middle of the 18th century when German, Scotch-Irish, and Anglo-American farmers were attracted to the rolling terrain of the Carolina colony by the availability of fertile land, in contrast to the already-crowded conditions in the middle Atlantic colonies. Agriculture in this early period was restricted to subsistence farming, although farmers began raising grain crops before the end of the century.
I t was shortly after the North Carolina Railroad Company was chartered by the state legislature in 1851 that the area's development pattern shifted to the course that was to produce an urbanized community. The piedmont's increased influence due to an influx of settlers necessitated access to markets in geographically isolated areas for its agricultural and new industrial products. As construction of the new railroad line began, the North Carolina Railroad Company sought to establish its repair shops and headquarters midway on its line. After the leaders of Graham refused to allow construction of the shops in their town, the company purchased a 631 acre tract of land from area landowners about 2 miles northwest in 1854. Construction of the new town was initiated with the erection of shops and buildings and the workers' and administrators' housing beginning in 1856. The company ambitiously added depots, offices and a fine hotel.
The Civil War slowed community growth for several years. The railroad continued to operate, serving as an important link in the Confederate war effort, especially during the final months of the conflict. At the end of the war, as in much of the South, recovery was slow in Company Shops resulting in little construction for several years. Through the 1860s most businesses were either owned or controlled by the railroad company, but as the community grew, it became a market center for the surrounding area and people unconnected with the railroad were drawn into the town. Private concerns and small manufacturers began to operate and serve the needs of the community. In 1872 Burlington had several shoe factories, a chair factory, a wheelright, a gunsmith and 8 general stores in addition to railroad company operations.
During the post-war years the North Carolina Railroad Company gradually relinquished its control over the community through the divestiture of land. The railroad leased its line to another company, offices were moved and many railroad employees were transferred or moved elsewhere.
In recognition of the town's new economic base, the town of "Company Shops" changed its name to Burlington in 1887. The town was an excellent site for a cotton mill, with steam power allowing mills (already plentiful in Alamance County) to be built away from the rivers. With an established town and a rail line, the Central Manufacturing Company chose Burlington to operate a company mill beginning in 1880.
Some of the mills continued operating, in earnest, into the 1980s.
Claudia P. Roberts, consultant, Burlington North Carolina Multiple Resource Area, nomination document, 1983, National Park Service, National Register of Historic Places, Washington, D.C.
---