Town of Virginia City
Virginia City Town Hall is located at 316 E. Wallace Street, Virginia City, MT 59729.
Phone: 406-843-5321.
---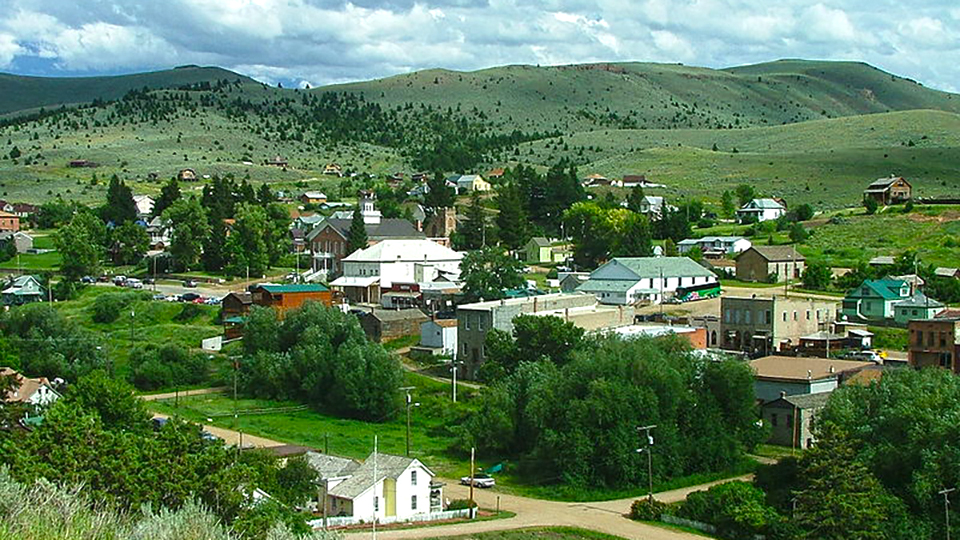 Virginia City, Montana, view from the road agent cemetery on the hill. Photographed by wikipedia username: SchmuckyTheCat, own work, 2004, via wikimedia commomns [cc-3.0], accessed December, 2022.
---
Virginia City [†] emerged in late spring 1863, when a regional gold rush that began in nearby Grasshopper Creek in 1862 shifted to Alder Gulch, "the richest placer gold strike in the Rocky Mountains." With the mass influx, U.S. legislators carved the boundaries of a new Montana Territory out of Idaho Territory in May 1864, naming Bannack its first capital before later moving the capital in February 1865 to Virginia City. At the time, the mining town was a peaking bonanza: by mid-1864 "the population of the seven camps along the fourteen-mile, gold- laden gulch exceeded ten thousand, with five thousand people living within Virginia City itself." Just a few years later the population plunged: the staggering inundation swiftly exhausted local prospects, and July 1864 brought the next big gold discovery and new rush (to Last Chance Gulch-Helena). Virginia City continued to form the foundation of settler colonial society in Montana—publication of Montana's first newspaper, the Montana Post, began there in August 1864, and the Territory's first public school opened in town in March 1866—but by 1870, just 860 townspeople remained. It nonetheless served as the influential capital of Montana Territory (pop. 20,600) for another five years, until April 1875, when the capital moved to Helena.
† Delia Hagen, PhD, Hagen Historical Consulting, Black Montana's Heritage Places, nomination document, 2022, National Register of Historic Places, Washington, D.C.
---