Springfield City
Springfield Municipal Offices are located at 840 Boonville Street, Springfield, MO 65802.
Phone: 417‑864‑1000.
---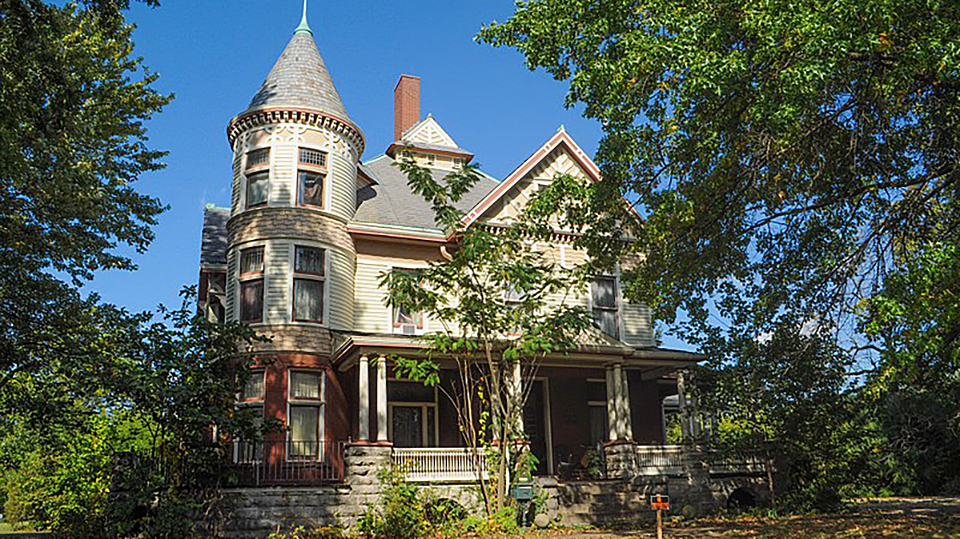 Photo: Bentley House, circa 1892, located at 603 East Calhoun Street, Springfield. Listed on the National Register of Historic Places in 1980. Photographed by wikipedia username: Diedrichb (own work), 2017, [cc-3.0], via Wikimedia Commons, accessed January, 2023.
---
Neighborhoods
Abbey Lane
Aero Acres
Airport East
Allen Dale Estates
Allen Place
Anderson
Andrus Place
Anoka Place
Ashcroft Estates
Ashland
Ashley Park
Ashton Woods
Atkinsons
Audubon Place
Augusta Hills
Bailey
Barrington Park
Battlefield Ridge Estates
Beechwood Heights
Bel-Air
Belvue Heights
Ben Avon heights
Bent Tree
Berkeley Heights
Berkeshire Trails
Beverly Hills
Bishops
Blackman Woods
Boulevard
Bradford Estates
Brenthill
Brentmoor
Brentwood Estates
Brentwood South
Brentwood Terrace
Briarwood
Briarwood Terrace
Broadmoor Manor
Broadway Acres
Brookside
Bryan Place
Bryson Landing
Cambridge Terrace
Campbells Woodland
Canterbury Lane
Cardinal Crest
Carpenter Heights
Carriage Hill
Carriage Park
Carriage Place
Carthage Road Place
Carver Woods
Castlewood Crest
Catalina Place
Catalina Terrace
Catalpa Court
Catalpa East
Catalpa Station
Catlins
Cedar Creek
Cedar Crest
Cedar Crest Estates
Cedar Crest South
Cedar Hills Estates
Cedar Mill
Chamberlains
Chapel Hill
Cherokee Estates
Cherokee Hills
Cherokee West
Cherry Heights
Cherry Hills
Cherry Mill
Cherry Ridge
Cherry Valley Estates
Chesterfield Courts
Chesterfield Crossing
Chesterfield Park Estates
Chesterfield Village
Chestnut Place
Chestnut South
Chimney Hills
Cinderella Village
Cinnamon on the Hill
Cinnamon Square
Clear Creek Valley
Clouds
Cloverleaf Heights
Coachlight Village
Cobblestone Creek
College Street
Colonial Place
Comar
Commercial Street Historic District
Cooper Estates
Copper Mill
Copper Mill Estates
Copper Ridge
Cottage Heights
Country Club Estates
Country Club Place
Country Club West
Country Estates
Country Land
Country Lane Estates
Countryland
Courtney Place
Creekside
Crescent Ridge
Crestview Estates
Crown Heights
Crown Meadows
Crystal Creek
Deer Creek
Deer Lake
Deer Park Estates
Deer Run
Del Prado Hills
Delaware Place
Diamond Woods Estates
Doling Heights
Dulin Estates
Dundees
Dunrobin
Dutch Terrace
Eagle Heights
Eagles Landing
Eaglescliffe
Eaglesgate
Eaglesgate 2nd
East Kickapoo Estates
Eastwood Hills
Edgewood Park
Eggleston
Eldorado Place
Elfindale
Elm Crest
Emerald Park
Emerald Place
Emerald Pointe
Empire Estates
Enchanted Woodlands
Englewood
English Oaks
Evergreen
Evergreen Park
Fair Oaks Place
Fairfield
Fairfield Acres
Fairmount
Fairview
Fairview Heights
Fairway Place
Fawn Valley Estates
Fearns
Ferguson
Five Oaks
Forest Hills
Forest Home
Fox Grape
Fox Grape Terrace
Fox Hollow Estates
Foxwood
Fremont Court
Fremont Heights
Fremont Landing
Fremont Suburbs
Freys
Friendly Village
Frisco Heights
Frisco Trails
Fulbright
Fulbright Springs
Galen Terrace
Gannwood
Garrett Place
Georgia Terrace
Glen Abbey
Glen Acres
Glendale
Glendale Heights
Glendale Hills
Glendale Terrace
Glenwood Village
Glidewell
Goff Rancho
Golden Acres
Golden Gardens
Golden Heights
Golden Meadows
Golden Oaks Village
Grand Acres Village
Grand Catalpa Heights
Grand Terrace
Grandview Park
Grandview Terrace
Granite Springs
Graydon Place
Green Hills
Green Meadows Estates
Greentree Hills
Greenwood Hills
Greystone
Grovehill
Hamels
Hancock Place
Hanover
Harris Woods
Haseltines
Haseltines Orchard
Hattiesburg Hills
Hawthorne Place
Haydens
Heart of Westside
Hearthside Hills
Heather Brooks Estates
Heatherwoods
Hendricks
Heritage Village
Hi-way Park Estates
Hiawatha
Hickory Hills
Hickory Ridge
Hickory Villas
Hidden Valley
High Meadow
High Meadow East
High View
Highland
Highland Gardens
Highland Park
Highland Springs
Highland Suburbs
Highline
Hill and Dale
Hilltop Heights
Hobarts
Hoffmans
Hokes Hill
Holiday
Holiday Hills
Holland
Holyoke Park
Homeland
Homewood
Horizon Hills
Horseshoe Bend
Huntington Park
Huntington Pointe
Indian Meadows
Indian Trails
Indigo Ridge
Inside
Ironbridge
Ivanhoe Place
Jackson Place
Jacobs Landing
James River Estates
James Valley Farm
Jamestown
Jaybird Meadows
Jefferson Heights
Jefferson Place
Jeffwood Place
Jenkins
Johnswood Village
Jones
Junction City
Kay Pointe
Kelletts
Kensington Hills
Keystone Estates
Kickapoo Estates
Kickapoo Prairie
Killians
Kings Mill
Kingsbury Forest
Lake Ridge
Lakewood Village
Lampes
Langston Station
Latoka Heights
Le Chateau
Legendary Hills
Lennox Place
Lewis Ranch
Lexington Square
Link Est 5th
Link Estates
Linwood Heights
Linwood Square
Lions Gate
Lone Pine
Lurveys
Madison Place
Maple Grove
Maple Lane Extension
Maple Park West
Maples Heights
Maplewood Heights
Mardeana Hills South
Marlborough Manor
Maryvale
Masseys
McCabes
McCanse
McClernon Springs
McCluers
McKoin Place
Meador Park
Meador Park Estates
Meadow Lake
Meadowbrook
Meadowlark Heights
Meadowmere Place
Mel-Mar Acres
Mellow Ridge
Melrose Place
Melville Acres
Mentor
Merrimans
Merry Place
Miles Tulip Acres
Mill Ridge
Millstone
Millwood
Millwood Park
Mission Hills
Mockingbird Hill
Monterey
Moores
Morningside
Mt Vernon Heights
National Blvd Heights
National Place
Nichols Street Heights
Nixon
Normal Park
North Kentwood
North Oakland
North Parkwood
North Springfield
North Valley
Northern Lights
Northwest
O Day Place
Oak Grove Estates
Oak Hill
Oak Hill Terrace
Oak Knolls
Oak Knolls South
Oak Park
Oak Ridge
Oakland
Oakwood
Oakwood Park
Oakwood Place
Olde Ivy
Olsens
One Parkway Place
Orchard
Orchard Crest
Orchard Crest Heights
Orchard Crest West
Orchard Heights
Ozark Heights
Park Crest
Park Crest Heights
Park Crest Towers
Park Crest Village
Park Place
Park Terrace
Parkcrest Heights
Parkview Place
Parkwest Village
Parkwood
Peachtree Village
Pearson Creek
Pearson Meadows
Pearson Pointe
Pentecostal
Phelps
Phelps Park Terrace
Pickwick Place
Piggs
Pin Oak Place
Pine Wood Place
Pioneer Estates
Plainview Oaks
Plaza Park
Pleasant Hill
Pleasant Valley
Pleasant View Acres
Plymouth Court
Portland Heights
Prairie Fields
Prairie View
Prairie View Heights
Prairie Village
Preston Place
Primrose Place
Prospect Place
Pursley Heights
Pythian Park
Quail Creek
Queen City
Quinn-Linden Place
Ramsey Woodland
Rathbuns
Ravenwood
Ravenwood South
Reids
Ridgecrest Estates
Ridgeview Terrace
River Oaks Estates
River Road Estates
Riverbreeze
Rivercut
Riverview Estates
Riverview Heights
Roanoke
Rockaway Lane
Rockhill Village
Rockridge Estates
Rockwood Heights
Rolling Hills
Rolling Hills Place
Rosebrier
Rosemount Estates
Rosewood Acres
Rountree
Royal Oaks
Ruskin Heights
Sagamore
Sagamore Hill
Salem Meadows
Savannah Park
Scenic Acres
Scenic Heights
Scenic Station
Scenic Towers
Scenic View
Scotts
Setting Sun
Seville Square
Shadowood
Shady Acres
Shady Dell
Sherman Avenue
Sherwood
Sherwood Village
Shyanne Estates
Sinissippi Hills
Smith Heights
Smiths Heights
Sommerset Place
South Creek
South Downs
South Fork
South Haven
South Kickapoo
South Kings
South View Terrace
Southdale Terrace
Southeast
Southern Gates
Southern Hills
Southern View
Southgate Terrace
Southland Village
Southporte
Southside
Southside Heights
Southvale Terrace
Southway Center
Southwest Timbers
Southwest Village
Southwood Estates
Sparks Grand Oaks
Spring Creek
Spring View Heights
Springday Hills
Springlawn Park
Springs
Stone Meadow
Stonegate Estates
Stonehinge Estates
Strasbourg Estates
Stratton Park
Suburban Heights
Sugartree Meadows
Sunburst Hills
Sunchase Condos
Sunny Slope
Sunrise Settlement
Sunset
Sunset Acres
Sunset Hills
Sunshine Terrace
Sunshine Valley
Supreme Estates
Tanoak
Terrace Park
Terry Park
Teton Estates
The Brookes
The Estates at Summit Ridge
The Lakes Wild Horse
The Meadows
The Oaks
The Palisades
The Summit
The Terraces
Thomans
Thornridge
Thornwood Hills
Thousand Oaks South
Timber Ridge Estates
Timberbrook
Timbercreek
Timberlake Estates
Timberline Estates
Timberwood
Town and Country Estates
Turnberry Estates
Twiggers
Twin Lakes
Twin Oaks Courts
Twin Oaks Place
Twin Springs Estates
Union
University Heights
Valley Forge
Valley Park
Valley View Estates
Villa Marie
Villa Park Heights
Villa Park Meadows
Village Green
Village West
Villas of Marlborough
Vintage Hills
Vintage Hills Commons
Vintage Hills Manor
Vinton Place
Virginia Place
Wakefield
Walker
Walnut Street
Walnut Terrace
Warner
Webster Park
Wedgewood Heights
Wellington Hills
West Central
West Highlands
West Hill
West Village
Westbrook
Westbrook Place
Westbury
Western Heights
Western Hills
Westminster
Westmoreland Heights
Westport
Westport Cove
Westside
Westwood Acres
Wexford Heights
Whispering Meadows
White Oak
Whitlocks
Widmans
Wild Horse
Wildwood Estates
Wilkerson
Willow Water
Wilomere Terrace
Windsmore
Windsor Heights
Windsor on the Hill
Windsor Place
Wivenhoe Park
Woodbine
Woodbury
Woodcliffe
Woodfield Park
Woodland Heights
Woodland Hills
Woodland Terrace
Woodlawn
Woodsboro
Wren Hollow
Wynnewood Hills
Yadons
Yoakum Heights
Youngs
Zobeth
Multiple historic properties were entered on the National Register of Historic Places in 1999 and are collectively referred to as Historic and Architectural Resources of Springfield, Missouri. The text, below, was adapted from a copy of the original nomination document.
Springfield is located in the southwest section of Missouri and is the seat of Greene County. Springfield is the third largest city in the state and in 1990, had a population of just over 140,000 residents. In the late 19th century Springfield developed as the major rail, manufacturing and industrial center of southwest Missouri and has remained the prominent city in the region into the 20th century. Springfield has an extensive commercial heritage which is reflected in its built environment.
Springfield began as a pioneer settlement on the edge of the western frontier in the early 19th century. Its initial commercial development consisted of businesses such as blacksmiths, millers, carpenters and other enterprises necessary to support a pioneer town's existence and growth. As the town matured, agriculture along with a few individual entrepreneurs began to shape the local trade. But over time transportation by far had the largest impact on Springfield's urban, commercial, and industrial development. From a stage line, to the railroad, and eventually US Route 66, various avenues of transportation transformed what originally had been a crossroads of Native American trails into a regional trading and distribution center.
Kickapoo, Delaware, and Osage tribes, occupied what is now southwest Missouri before white settlement began there in the early 19th century. As explorers pushed the boundary of the frontier westward, demand for the land increased, and the government removed the Native Americans soon after Missouri became a state in 1821. Adventuresome pioneers heeded the call of those who touted the land as beautiful and fertile, and they set out from Kentucky, Tennessee, and North Carolina in search of a fresh start.
Among those seeking a new life was John Polk Campbell from Maury County, Tennessee. Having traveled through southwest Missouri in the mid-1820s, Campbell returned in 1830 with his family and slaves to settle there permanently. Arriving about the same time were William Fulbright, A. J. Burnett, Joseph Rountree and their families. They built homes, cleared the land, sowed crops and soon established a small but thriving community, which included some basic commercial enterprises.
Junis Campbell, John's brother, started the community's first store in 1831. Blacksmith shops, cabinet makers, millers, and additional dry goods merchants soon followed his lead. Residents also added a schoolhouse and a church, revealing their intentions of establishing a permanent home for themselves and future generations. By 1833, nearly one hundred families lived in the area, a sufficient enough number to warrant the establishment of an independent county. Citizens chose the name Greene County, after Revolutionary War hero Nathaniel Greene, and selected John Campbell as county clerk and his brother Junis as the county treasurer.
John Campbell continued to be a key figure as he donated fifty acres around the public square to establish the town as the county seat. In 1836, the townsite was surveyed and platted, and lots were sold. Campbell's design for Springfield was based upon his home town of Columbia, Tennessee and had a central public square with the streets radiating from the square in the four cardinal directions. Two years later the town of Springfield was officially incorporated and contained some three hundred residents. The main arteries in town were Boonville and South Avenues, which led north and south from the public square, and College and St. Louis Streets, which traversed east and west. Olive, Walnut, and Mulberry Streets were major surrounding avenues.
In the following two decades, Springfield grew steadily. The first bank, a branch of the Missouri State Bank, opened in 1845 and provided capital for new businesses. Early industries included the carding of wool for homespun cloth and the tanning of hides for leather. A horse powered carding machine was in operation east of the Boonville Avenue Bridge and a tanning yard existed on the west side of Boonville Avenue, which spawned other endeavors like the making of boots, shoes, saddles and other leather goods. Area farms provided an ample supply of produce, grains, poultry and livestock. Dry goods stores, such as the Johnson and Wilson Company, offered a variety of merchandise including hardware, groceries, books, stationery, and footwear, and for payment they accepted beeswax, tallow, hemp, and furs as well as cash.
By the late 1850s a variety of shops lined the streets leading to the public square, making it the primary business district. In 1858, sixteen of Springfield's commercial establishments sold over $300,000 in merchandise. Among the many businesses were several wagon, harness and saddle shops, and a livery stable along with numerous tailors, milliners, shoe shops, and jewelers. The town was also home to two tin shops, three meat markets, two printing offices, and three confectionery stores. Those traveling through the area had a choice of three hotels and could visit Springfield's one saloon. Those deciding to stay had twenty carpenters, two brick masons, three painters, and four land agents available to help them get settled and construct buildings. Residents also had access to ten lawyers, five doctors, four clergymen, and one dentist.
The town's early blacksmith shops included Cary Jamison's on West Walnut Street, and John Lair's on St. Louis Street, both of which were established ca. 1855. Around this same time Allen Mitchell and John Caynor opened the O.K. Flouring Mill on West Mill Street, and Hancock Hardin and Company began a tobacco factory on Main Street. In 1858, W. H. Worrell opened a confectionery store on the corner of College Street and the square, various planning mills were established, and the town's first foundry was opened.
In 1858, the Butterfield Stage made its first run through Springfield on its route to California. This provided the already booming town with greater exposure and important connections to other regions. To advance and keep up its image as a progressive community, the town expended public funds for the first time and spent $417.39 in 1859 for street and sidewalk improvements. In 1860, Springfield furthered its connection to the rest of the world with the arrival of the telegraph.
Springfield's prosperity was interrupted by the coming of the Civil War. Throughout most of the conflict the town was under military occupation and both county and city government were suspended. In 1861 the original courthouse burned, but it was rebuilt in the northwest corner of the square, where it remained until 1914. After the war, however, Springfield quickly resumed its healthy commercial activity. Rapid growth occurred and industry flourished in the form of cotton, woolen, and planning mills, foundries, and meat and grain enterprises. The influx of new residents after the Civil War resulted in the enlargement of the city limits in 1869. This annexation included the area now bounded by National and Fort Avenues, and Grand and Division Streets.
---