Brown County Courthouse Offices are located at 14 South State Street, New Ulm, MN 56073. Phone: (507) 233‑6600.
---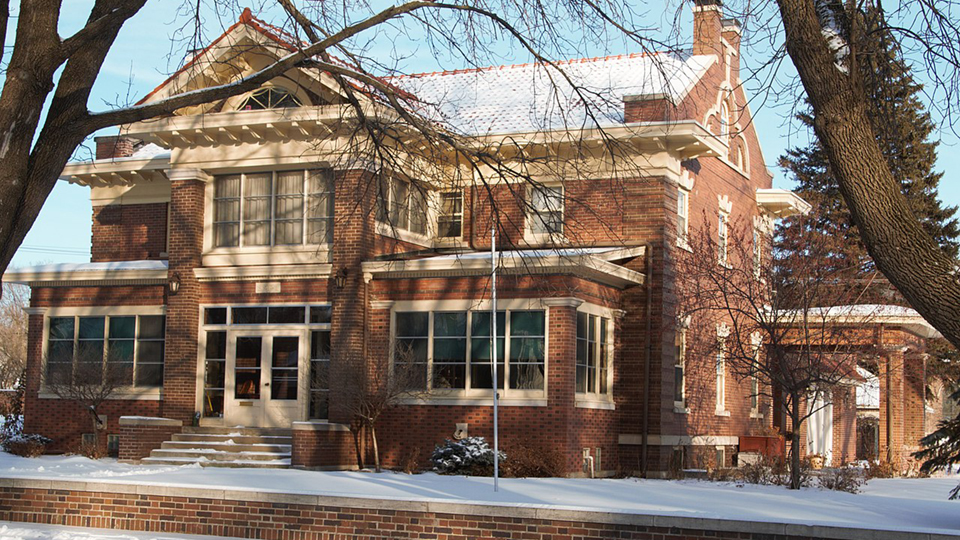 Photo: Adolph C. Ochs House, circa 1911 Colonial Revival, 303 North Marshall Street, Springfield. Listed on the National Register of Historic Places in 1979. Photographer: wikipedia username: Jonathunder, 2020, accessed April, 2021.
---
TOWNS
Albin Twp
Bashaw Twp
Burnstown Twp
Cobden City
Comfrey City
Eden Twp
Evan City
Hanska City
Home Twp
Lake Hanska Twp
Leavenworth Twp
Linden Twp
Milford Twp
Mulligan Twp
North Star Twp
Prairieville Twp
Sigel Twp
Sleepy Eye City
Springfield City
Stark Twp
Stately Twp
Brown County [†] is located in South Central Minnesota and is bordered by Nicollet, Blue Earth, Renville, Cottonwood, Watonwan and Redwood Counties. County population based on the 2000 census estimates is 26,911 with the County Seat, New Ulm, estimated at a population of 13,594. Countywide the population has declined by 0.3 percent while New Ulm has seen a +3.5 percent increase in the period since the 1990 census data.
Land use in Brown County is a contrasting mixture of urban/rural and industrial/agricultural. Approximately 72% of the residents live in cities with a population greater than 500. Industrial activities are present in each of the three highest populated cities; New Ulm, Sleepy Eye and Springfield. Brown County is agriculturally oriented with 335,000 acres or 85% of land use in crop production with corn and soybeans being the primary crops. Hogs are the primary livestock in the County.
There are three Major Watershed Basins associated with Brown County. The northern portion of the County lies primarily within the Middle Minnesota River watershed with the Little Cottonwood River Basin included. In this area the local drainage is north and east toward the Minnesota River which forms the northern border of Brown County. The central and western portions of the County lie primarily within the Cottonwood River Major Watershed. The Cottonwood River joins the Minnesota River south of the City of New Ulm. The south central portion of the County is drained by the Watonwan River Major Watershed with the Lake Hanska watershed being the main source for drainage to the south of the County.
† Brown County Comprehensive Water Plan: 2008-2018, www.gberba.org, accessed April, 2021.
HISTORIC SITES
Adolph C. Ochs House
Bendixon-Schmid House
Bernard Fesenmaier House
Boesch, Hummel, and Maltzahn Block
Frederick W. Kiesling House
Gov. John Lind House
New Ulm Commercial Historic District
Otto Schell House
Shady Lane Stock Farm
South Broadway Historic District
South German Street Historic District
St. Michael's School and Convent
W. W. Smith House
Wanda Gag Childhood Home
---
Home
Whats New
Site Index
LivingPlaces.com © 1997‑2023
Search
Contact
Privacy
Disclaimer