Meridian City
Meridian City Hall is located at 33 East Broadway Avenue, Meridian, ID 83642.
Phone: 208‑888‑4433.
---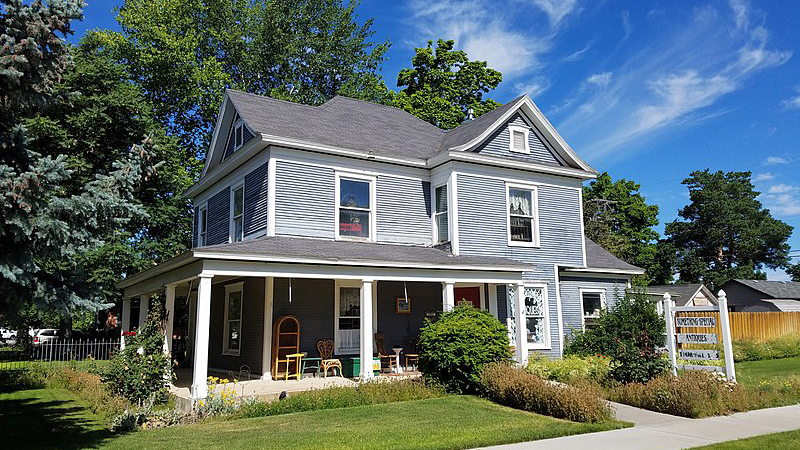 Photo: The Tolleth House House circa 1907, located at 134 East State Avenue. Listed on the National Register of Historic Places in 1996. Photographed by User: Tamanoeconomico own work), 2018, [cc-4.0], via Wikimedia Commons, accessed August, 2021.
---
Beginnings [1]
Meridian began developing around 1893. By 1903 the population had grown to 200 and Meridian was incorporated as a village. A creamery was built in 1897, followed soon by other dairy-related businesses. Meridian subsequently became the dairy center for the State of Idaho.
Neighborhoods
Acre View
Alexandria
Alpine Pointe
Ambercreek
Applegate
Ashford Greens
Austin Creek
Autumn Faire
Baldwin Park
Bear Creek
Bedford Place
Bellingham Park
Berkeley Square
Birchstone Creek
Bitterbrush
Bittercreek Meadows
Blackrock
Breinholt
Brenda Estates
Bridlewood
Brookside Square
Buckeye Place
Cabella Creek
Calaveras
Candlelight
Cardigan Bay
Castlebrook
Catherine Park
Cedar Springs
Cedarcreek
Chamberlain Estates
Champion Park
Chateau Meadows
Cherry Lane
Chesterfield
Chisum Valley
Clear Brook
Clearvue Estates
Cobblefield Crossing
Copper Basin
Coral Creek
Country Terrace
Crossfield
Crossroads
Crystal Cove
Dakota Ridge
Danskin Ridge
Destiny Cove
Devlin Place
Devonshire
Dovemeadows
Dynasty Estates
Eastside Park
Edinburgh Place
Elk Run
Englewood Creek
Estancia
Fairview Terrace Estates
Fieldstone
Flowers Estates
Franklin Square
Glacier Springs
Glennfield Manor
Golf View Estates
Green Hill Estates
Green Valley
Hartford Estates
Havasu
Haven Cove
Heritage Common
Highgate
Hightower
Hollybrook
Hunter Pointe
Hunts Bluff
Inglenook
Iron Horse Estates
Israelle Heights
Israelle Heights
Jaydan Village
Kastle Falls
Kearney Place
Kelly Creek
Kentucky Ridge
Keziah
Kingsbridge
La Mirada
La Playa Manor
Lansbury Lane
Larkspur
Lochsa Falls
Locust Grove
Lyndhurst Grove
Macaile Meadows
Meadow Hills
Meadow View
Medford Place
Meridian Greens
Meridian Heights
Meridian Manor
Meridian Park
Meridian Place
Merrywood
Messina Meadows in Tuscany
Midtown Square
Misty Meadows
Morning Glory
Napoli
Packard Acres
Paramount
Patriot Ridge
Pear Blossom
Peregrine Heights
Phillips Addition
Piedmont
Pine Brook
Pleasant Valley
Raven Hill
Razzberry Crossing
Red Feather
Rolling Hill
Sagecrest
Sageland
Saguaro Canyon
Salmon Rapids
Seabury
Setter Cove
Settlers Bridge
Shaferview Estates
Sharp Estates
Shepherd Creek
Sheridan Place
Sienna Creek
Silver Oaks
Silverleaf
Soda Springs
Solitude Place
Sommersby
Southridge Estates
Southwick Estates
Sportsman Point
Spring Creek Estates
Stetson Estates
Stonebriar
Summerfield
Sunnybrook Farm
Sunshine Estates
Sutherland Downs
Sutherland Farm
Tapestry
The Enclave
The Lakes in Tuscany
The Landing
The Villas in Tuscany
Thunder Creek
Tiburon Meadows
Timberfalls
Tremont Place
Tully Cove
Tumble Creek
Turnberry Cross
Turtle Bay
Turtle Creek
Tustin
Tuthill Estates
Vallin Courts
Vantage Pointe
Ventana
Verona
Vienna Woods
Vineyard Point
Wandas Meadow
Waterbury Park
Watersong Estates
Weaver Acres
Wesley
Whitestone
Wild Fire
Wilkins Estates
Wilkins Ranch
Willows
Windham
Windwalker
Wingate Place
Woodburn
Wyndstone Place
From its early days, through the 1940s, Meridian was home to a large fruit growing, packing and shipping industry. Here were found large apiaries as bees were vital to a successful fruit-growing industry.
An interurban electric railway connected Meridian to other area towns and provided a convenient means for hauling milk and fruit to various market centers.
Meridian was the fastest growing city in Idaho, with population increasing 300% from 1990-2000, and more than 200% from 2000-2007. It is now [2011] southwest Idaho's center for commercial and retail development.
History of Meridian, www.ci.meridian.id.us, accessed May, 2011.
Nearby Towns: Eagle City • Star City •
---