Athens City
Athens City Hall is located at 301 College Avenue, Athens, GA 30601.
Phone: 706‑613‑3010.
---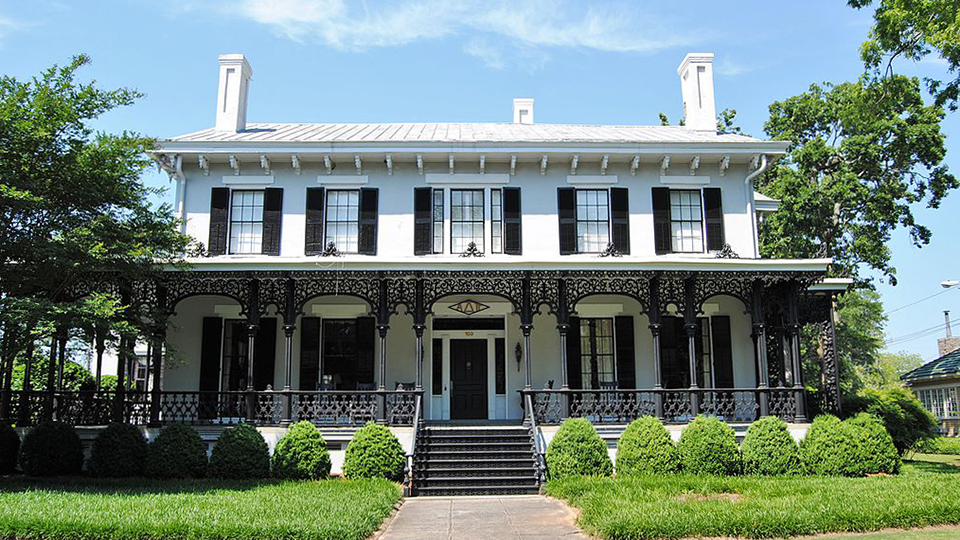 Photo: Dr. James S. Hamilton House, circa 1857-1861, located at 150 S. Milledge Avenue, Athens. The DIstrict was listed on the National Register of Historic Places in 1985. Photographed by wikipedia username:Gwringle (own work), 2015, [cc-3.0], via wikimedia commons, accessed October, 2022.
---
Known as Athens-Clarke, the Clarke County and the City of Athens operate under a unified, consolidated government aince in 1990.
When the University of Georgia was incorporated in 1784, Georgia became the first State to support a state-chartered university.
Neighborhoods
Acadia
Adams
Annas Walk
Anniston Place
Ansley Park
Ansonborough
Appleby Mews
Arlington Commons
Athens Warehouse Historic District
Avalon
Barrington
Baxter Street Lofts
Bedgood-Glenwood
Beech Creek Preserve
Beechwood
Belair Heights
Belle Springs Woods
Berkley Hills
Berkshire Commons
Birchmore Hills
Blackmon Shoals
Bloomfield Historic District
Bowden Park
Bridgewater
Brightwell Shotgun Row
Brittany Place
Brittanys Garden
Brookewood Mill
Brookfield Village
Brooklyn
Brookstone
Buckingham Terrace
Buena Vista
Burkland Hills
Camelot
Campus Overlook
Cardinal Creek
Carriage Court
Carrington Plantation
Cedar Creek
Cedar Shoals Estates
Chadds Walk
Chaddwyck
Chatham Park
Cherokee Mills
Chestnut Glen
Chicopee Commons
Cobblestone Creek
Cooperhill
Cottages at Homewood
Creekside Manor
Crystal Hills
Davis Estates
Dearing Street Historic District
Downtown
Downtown Athens Historic District
Drayton Square
Eaglewood Court
East Hampton
East Highland
East Side
Elders Landing
Emerald Pointe
Epps Bridge Crossing
Escoe Estates
Falling Shoals
Fernbank
Five Points
Five Points
Foley Commons
Forest Heights
Forest Hills
Founders Grove
Fox Hall Farms
Foxridge
Gameday Condos
Georgetown
Georgia Square
Georgia Traditions
Georgian Hills
Glen Meadows
Glen Oaks
Glenwood
Godfrey Shoals
Greenbrier
Greenmont
Greenwood
Greystone
Habersham
Hampton Park
Harris Heights
Harris Hills
Hickory Pointe
High Ridge
Highlands at Woodlake
Hillside Park
Hodgeson Place
Holiday Estates
Holly Hills
Hunters Pointe
Hunters Ridge
Huntington Place
Huntington Shoals
Idlewilde
Ivywood
Knob Creek
Knottingham
Lake Wellbrook
Lakewood Manor
Lantern Walk
Laurel Springs
Lavender Glenn
Lavender Woods
Lea Haven
Lexington Estates
Lexington Heights
Lindsay Ridge
Lumpkin Square
Madison Lane
Madnyville
Mallard Creek
Marvin Corner
Masters Oaks
Mcnutts Creek
Meadow Creek
Milford Hills
Milledge Circle Historic District
Milledge Place
Newtown
Normaltown
Norwood
Oak Grove
Oak Park
Oakridge
Oglethorpe Avenue Historic District
Old Heritage Farms
Old Lexington Trace
Olde Lexington Gardens
Park East
Park Oaks
Peabody
Pinecrest
Pinedale
Plantation Estates
Pulaski Heights
Quailwood
Reese Street Historic District
River Bottom Plantation
River Oaks
River Shoals
River Station
Riverbend East
Riverbottom
Rivercliff Estates
Riverpark
Rivers Edge
Saddle Shoals
Sandy Creek Estates
Savannah Heights
Saxon Woods
Sayemore Heights
Sedgefield
Shadow Moss
Shiloh Farms
Skyline Park
Sleepy Hollow
Smokerise
Smokey Hills
Snapfinger Woods
Spring Lake
Spring Valley
St Charles
Stadium Village
Sterling Woods
Summerville
Summit of Athens
Swanson
Tall Oaks
Tallassee Oaks
Tamara Hills
Tanglebrook
Tanglewood
Telfair Place
The Enclave at Putters
The Georgian
The Lodge of Athens
The Retreat
The Retreat South
The Seasons
The Station at Milledge
The Summit
The Village at Jennings Mill
The Villas at Snapfinger
The Vineyard
Timber Creek
Tivoli
Towns Walk
University Heights
Urban Lofts
Victory Estates
Village at Kay Place
Village at Rivercrest
Villas at Snapfinger
Wakefield
Waterford
Waverly Woods
Wedgefield
Welbrook Farms
West Cloverhurst Avenue Historic District
West Hancock Avenue Historic District
West Side
Westgate Park
Westwood Hills
Whitehall Mill
Whitehall Village
Wickersham Plantation
Willow Mist
Windy Hills
Woodhaven
Woodlake
Woodlands of Athens
Woodlawn Historic District
Woodridge
Woods of Habersham
Woodstone Park
When Athens became a town in 1806 it was the most northern settlement in the State, and nearest to the borders of the Indian reservation. The first store was opened by Stevens Thomas, and the second by Elizur Newton. The descendants of these men long occupied prominent positions in Clarke County.
The City of Athens was constituted a municipality in 1872 under a charter from the General Assembly.
The city is built on ridges that rise up from the Oconee River, and from several small streams that lead into that river.
46 streets received their official names in 1859, including Lumpkin, Clayton, Hancock, Prince, Thomas, and Baldwin. Until that point, no street in Athens had an officially recognized name and many were entirely nameless.
The social life of Athens in antebellum days had many marked peculiarities. The town had attracted, by virtue of its educational advantages (Franklin College, now the University of Georgia) a large number of wealthy and cultured people; the history of the State is dotted at very frequent intervals with the names of Athens men. The University commencements were occasions of most lavish hospitality, and scarcely a home could be found at such times that did not hold a distinguished guest. As there were no railroad facilities for many years, everybody came in private carriages; those from Savannah and the lower portion of the State making Athens their stopping place on the way to Madison Springs and the picturesque summer resorts around Clarkesville and Tallulah Falls. Those concerned with the affairs of State followed the Governor and Senatus Academicus to Athens and all were accorded a generous welcome. Many of the political slates in State and national politics were concocted at such times in the handsome drawing rooms that fringe the University campus. Before an audience of this description, made attractive by beauty as well as renown, the young recipients of college honors made their best bows and delivered their best speeches.
Charles Morton Strahan, C.M.E., Clarke County, GA. and the City of Athens, Charles P. Byrd, Printer, Atlanta, 1893.
Early Athens History, www.athensclarkecounty.com, accessed July, 2012.
History of UGA, www.uga.edu, accessed July, 2012.
Nearby Towns: Watkinsville City •
---